Introduction
Apple's (NASDAQ:AAPL) economic success places the company amongst some of the best consumer brands in the world in terms of return on invested capital and revenue growth.
Chart 1 - Better returns on capital employed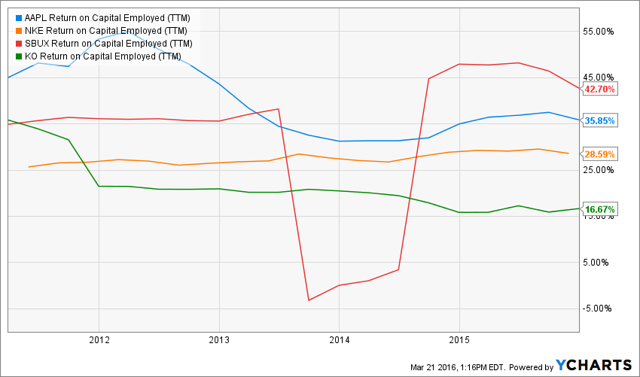 Click to enlarge
Chart 2 - Better revenue growth.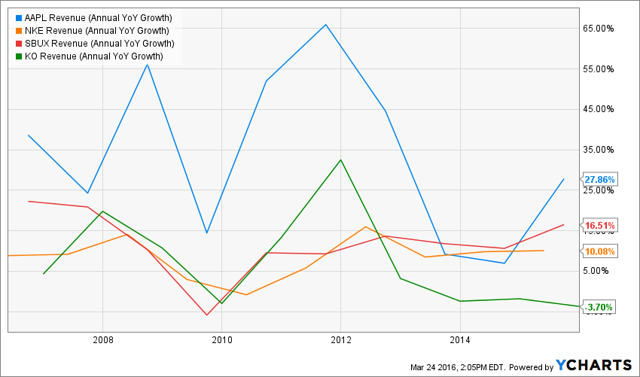 Click to enlarge
The companies who own these consumer brands are often thought of as having an enduring competitive advantage. This advantage explains the company's high overall ROIC and revenue growth, which in turn results in higher valuations. However, this is not the case with Apple. Despite having comparable, if not better numbers, Apple trades at a substantial discount relative to Nike (NYSE:NKE), Starbucks (NASDAQ:SBUX), and Coca-Cola (NYSE:KO) on the basis of earnings.
Chart 3 - Cheap Stock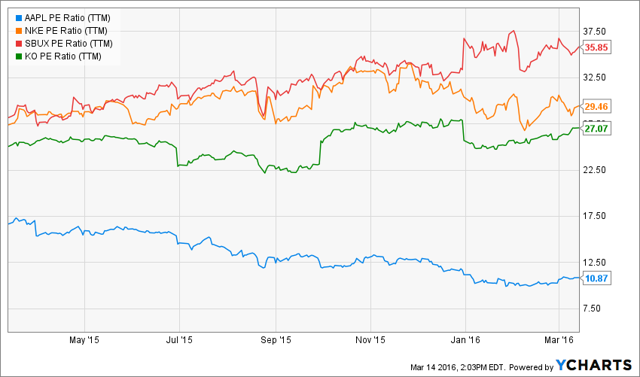 Click to enlarge
Too Big to Grow - Qualitative Background
Despite the discrepancy described above, Apple's stock has enjoyed a tremendous rise. Apple became the most valuable company in the world in 2012, surpassing $550B in value. The last two companies, Exxon Mobil (NYSE:XOM) and Microsoft (NASDAQ:MSFT), to approach this level were not able to sustain the momentum. This implies that there are limitations to how long a company can maintain such a large value.
Chart 4 - The "Cap" on Market Cap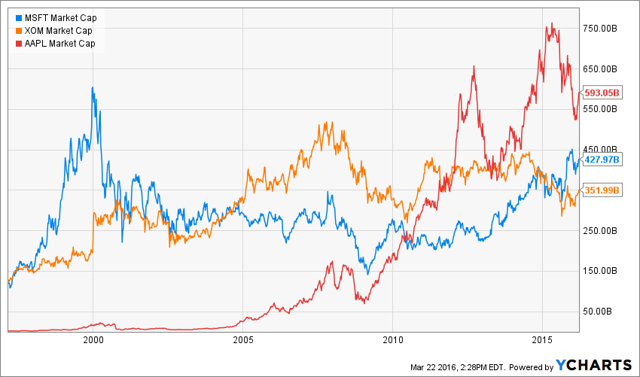 Click to enlarge
If they exist, these limitations have to manifest themselves in the economics of the business. Poor long-term stock performance is caused by two distinct forces:
Slowing revenue growth - The "law of large numbers" comes into play. An incremental dollar of sales adds more growth to the top line of a small company than a large company. The larger a company's base of revenues, the smaller impact a new dollar of sales has on a percentage basis. Even for the most dominating products, markets get saturated, requiring growth to be sourced in a less optimal way.
Declining Returns on Invested Capital - Success attracts competition. The larger the profit margin, the harder companies work to get a piece of it. New entrants offer competitive products at lower prices to gain market share. This forces the incumbent company to either reduce pricing (which depresses margins) or invest aggressively.
As a result, the discrepancy in Apple's relative valuation can only be explained by an anticipated decline in either revenue growth and/or in ROIC. In what follows, we will analyze if a decline in either one of the metrics is probable and what magnitude of decline is necessary to justify Apple's share price today.
Slowing Revenue Growth, but Steady ROIC
Slowing Revenues Growth - One of the easiest ways to explain Apple's discount, is to rely upon the law of numbers and market saturation. It is inescapable that revenue growth should slow down as the smartphone market continues to mature. As it stands, Apple enjoys 29% market share in the smartphone market. However, as of the first quarter of 2016, overall iPhone sales grew by only +1%. Overall, US smartphone sales totaled 169M units in 2015 and is only expected to grow to 180M by 2020, or ~1% per year[1]. Apple's past revenue growth is heavily skewed by smartphones being a new phenomenon 7 years ago. Now, however, the US market is mature, meaning growth needs to come from other products or other less wealthy countries.
Return on Invested Capital - Competitive dynamics can be explained by relative differences in value provided to the customer. In order to force the incumbent company to change its behavior, customers must be drawn by a more compelling value proposition. One way to measure the ability of any company to retain and grow its customer base is to measure the overall cost of ownership of its product(s) against its competition. Fortunately, there is an active resale market for smartphones. As a result, it is a straightforward process to calculate overall monthly depreciation rates of various phones ((purchase costs - resale price)/phones age in terms of months) and to calculate the different phones' "useful life" (purchase cost/monthly price decline). Comparing the differences in these numbers provides a quantitative measure of relative value.
Below is an analysis of 584 completed used high-end phones sales (with similar features) during March and February of 2016. The analysis is broken down into two tables showing phones that are 11 months and older and phones that are newer than 11 months.
Table 1- iPhone Cost of Ownership Premium Analysis (for Holding Period >= 11 Months)[2]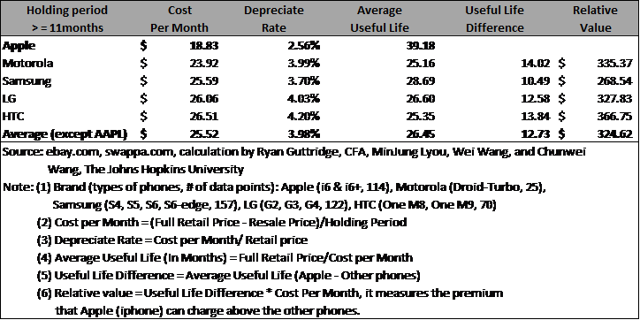 Click to enlarge
Table 2 - iPhone Cost of Ownership Premium Analysis (for Holding Period < 11 Months)

Click to enlarge
This data reveals that iPhone enjoys a significant advantage in "useful life", 39 months vs. an average of 26.5 months. The value of the extended life can be quantified in terms of the competitor phones by multiplying their depreciation rates by the difference in overall useful life. On average, iPhone provides an extra $330 in value. Taken another way, iPhone's $18.66 monthly cost of ownership makes it value competitive with many lower end phones.
This superior value retention relative to other high-end phones implies Apple has no incentive to lower prices or the need to invest aggressively to maintain its market share. As a result, Apple's returns on invested capital are sustainable.
Analytical Approach - Quantitative Analysis
Our analytical approach is designed to calculate the different levels of "sustainable cash flow" a business is likely to produce. From a statistical point of view, one cannot evaluate a point estimate without knowing the distribution from which it is derived.
As a result, we focus on calculating a distribution of the sustainable levels of free cash flow per share.
To start this process, we manually rebuild a company's balance sheet and income statement with data from the past five to ten years. The statements are then modified and normalized in terms of revenue. These data are used to develop a set of operational metrics (value drivers), and to calculate the historical variance of the metrics.
The value drivers (historical averages unless otherwise specified) and their respective standard deviations are then put into a Monte Carlo simulation in order to generate a distribution of potential sustainable levels of free cash flow per share. The final step is to compare this distribution to a point estimate which in our case is today's stock price.
This methodology allows us to identify situations in which the market's subjective expectations diverge significantly from historical norms, and provides guidance as to the likely direction of the stock price.
Sustainable Cash Flow Model Inputs
Revenue Growth
It is clear that Apple revenue growth is likely to slow. As a result, this analysis assumes Apple's revenue does not grow for the 10-year forecast period. Additionally, we have increased the standard deviation of Apple's revenue to $60B (this compares to the 5-year standard deviation of $40B). The effects of these combined assumptions are to allow for instances where Apple revenue declines by 80% (-4 standard deviations) in the simulation.
Margins and Asset Turnover
Due to Apple's significant resale value advantage, it appears its margins are sustainable. As a result, they are set equal to their 5-year averages. In order to allow for increased volatility going forward, these averages were varied by the 10-year standard deviation.
The rate of new investment was set so as to keep the overall asset productivity constant; because revenue growth is zero, this requires an overall rate investment equal to depreciation.
Table 3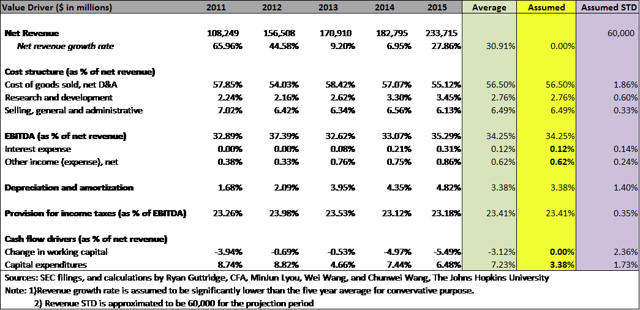 Chart 6 Apple: Share-Price Distribution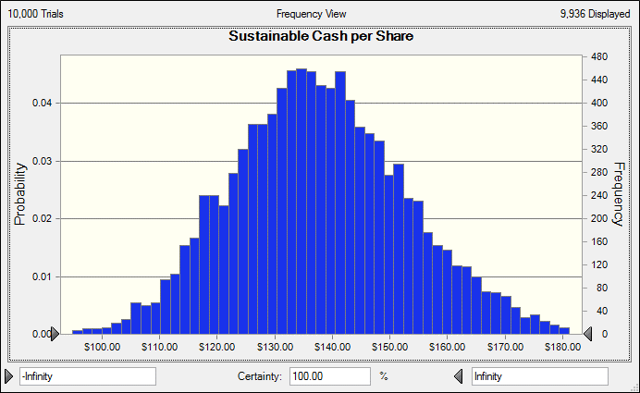 Click to enlarge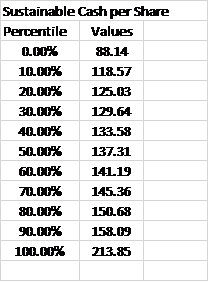 What this simulation shows, that lack of revenue growth is not enough to justify Apple's low relative valuation. Despite no revenue growth, today's stock price of $110 is below 90% of all values. As a result, in order for today's stock price to be sustainable, a significant and permanent deterioration in the company's ROIC has to occur in combination with a decline in sales.
Conclusion
Slowing revenue growth is not enough to explain Apple's low valuation. In order for Apple's low valuation to be reasonable, its margins and business model have to deteriorate. While the data can always change, Apple's current significant cost of ownership advantage means this is unlikely for the foreseeable future. Indeed, provided the trend in the resale data persists, Apple can be expected to continue to gain market share by offering a better value proposition. As a result, Apple stock is poised to break the trend established by MSFT and XOM. Shareholders should enjoy continued steady gains over time, making Apple the first company to sustain and grow a valuation in excess of $550B.
________________________________________________________
[1] www.statista.com/statistics/263441/globa.../
[2] This data includes 584 observations manually gathered from a number of public websites and is the beginning of much deeper review and tracking effort regarding resale prices.
Disclosure: I am/we are long AAPL.
I wrote this article myself, and it expresses my own opinions. I am not receiving compensation for it (other than from Seeking Alpha). I have no business relationship with any company whose stock is mentioned in this article.
Additional disclosure: This article was written by Ryan Guttridge, CFA, Minjung Lyou, Alves Wang, and Alex Almy. Ryan is a Professor of Finance at the RHSmith School of Business at the University of Maryland. The remaining co-authors are graduate students at Johns Hopkins Carey School of Business. We did not receive compensation for this article (other than from Seeking Alpha), and we have no business relationship with any company whose stock is mentioned in this article. This article is not a specific recommendation to buy or sell. Any potential investor should consult a qualified Financial Advisor before making any investment.