When looking at the numerous recent articles on SunEdison, Inc. (NYSE:SUNE) and corresponding hundreds of comments, I thought to myself "boy, do I need some of that". While fishing for easy clicks and followers, I figured I would at least provide some useful and provocative information for supporters and detractors of the stock to chew on. Like the stock, the bonds have tanked, particularly after the report that SUNE might be going bankrupt while its yieldcos admitted that it's at a significant risk of filing soon. But the bond market is starting to show a recovery as it attracts high-yield traders who are willing to place money on a risky bet that turns out well.
Out of its numerous convertible debentures, SUNE has three series of bonds which has pricing readily available on Morningstar:
2.75% coupon maturing 01/01/2021
2.375% coupon maturing 04/15/2022
All three series trade at less than 10 cents on the dollar and at yields to maturity of at least 70%. Someone who buys the 2021 bonds at $6 per $100 par value would expect an annual return of 90% for the next four and two-thirds years assuming the interest is paid and the principal is returned. In other words, the bondholder expects a very high yield in order to offset the perceived risk that this best-case scenario is extremely unlikely.
Given the various negative drivers like the heavily leveraged balance sheet, operating losses, delayed reporting and investigation by the SEC, it's no surprise that the bonds are trading this low. The bond market is pricing in the expectation that these senior unsecured convertible bonds will only get a fraction of their value in a liquidation sale or restructuring. In other words, the bond market believes that the current equity is destined to eventually be worthless.
However, that does not mean that the equity will go to zero any time soon. A stock that I'm familiar with (see my articles calling for its restructuring here and here), Lightstream Resources Ltd. (OTCPK:LSTMF), has bounced 100% from January lows due to the recovery in the price of oil. The company formerly known as Petrobakken Energy has 8.25% coupon maturing 02/01/2020 senior unsecured notes trading at just $3.50 per $100 par value or a yield to maturity of 237%. Those notes have traded around that level for all of 2016. Yet the stock still trades and has actually been good to investors who bought it this year. So SUNE's bonds trading at a deep, deep discount is not alone an automatic indicator that bankruptcy is imminent, though investors should be aware of that risk and buy and sell with that in mind.
What might be more useful to analyze is not where the bonds sit today, but where they sat relative to days or weeks ago. All three series of bonds have had some recovery compared to their lows at the start of the month, but I will focus on the 2022 series. The 2018 series has had a nice bounce, but be aware that its close price of $9 on 4/15 was impacted by a mere $2000 par value trade at the end of the trading day. The one month price chart for the 2022 series shows a $6.25 close on 4/15 with a low of $3.10 on 4/6: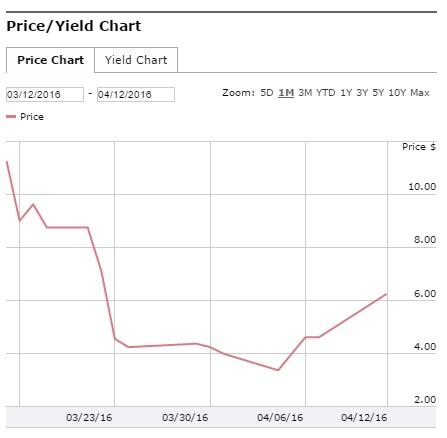 While the increase has been a minor lift after a very large drop in price, the transaction history paints a clearer picture: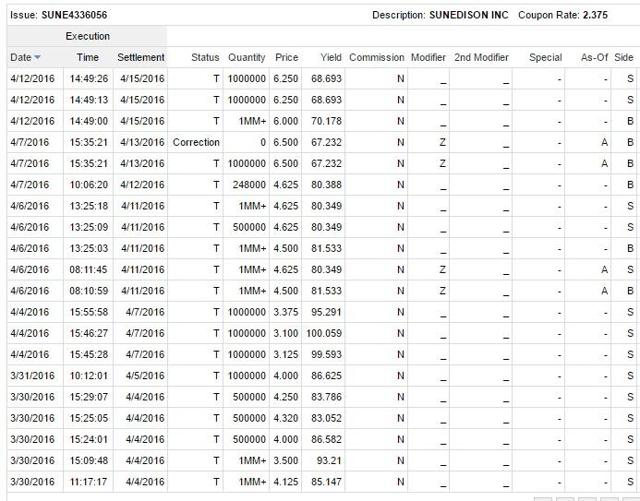 Click to enlarge
Up until 4/4, the bonds were ravaged by selling, denoted by the S in the final column of the above chart. Since then, more buyers [B] than sellers have come in to take the yield down from 95% to 69%. 4/12 trading was particularly interesting as over $3 million par value of buying came in near the end of the day. The final two transactions were marked as a sell, but considering that they came in less than one minute after the larger $1M+ buy, I believe that the seller was enticed to sell into the recently-placed bid of that buyer. $1M par value of bonds trading at $6 per $100 would be a $60,000 investment.
Despite the ruckus it has made in the market, I have largely ignored SunEdison up until now. When I did my first bit of due diligence last week, I was originally bearish. The availability of $0.50 puts on a stock like this which allows you to open a bearish position while not being exposed to short squeezes is a gift. However, after doing a bit more research and taking into consideration that the risks are largely priced in, I think this stock is due for a rebound. Although I would recommend keeping the position small and taking profits when you have them and I will be following my own advice, the buying on the bonds recently gives me more confidence in my position on the equity.
What does an interest in bonds mean for equity holders? It could mean several things and not all of them are guaranteed to be good. Taken at face value, bond traders are more bullish on SUNE than they were a week ago. If they value the company as a whole to be higher, there is greater chance that existing equity does not get wiped out. However, given the low price of the bonds, it could be simply a matter of speculation on junk bonds by a fund or someone who may be buying up the bond float in order to pressure for an expedited restructuring which leaves existing equity holders with next to nothing.
SUNE equity holders need to tread carefully, but I don't think that is new advice for anyone familiar with the stock. But following the bond price to see if "smart money" is buying or selling SUNE debt will give shareholders additional information to help with their own decisions as to whether they should buy, sell or hold. I believe that the recent recovery in bond prices leaves some hope for a spike in SUNE's stock price in short order. On March 28th, the stock closed at $1.26 before the bankruptcy bombshell hit. The 2022 bonds traded at $4 to $5 on March 24th, the final day they traded up until the 28th. After a rash of selling over the next several days, the bonds have actually recovered to a price higher than where they were on the 24th. While equity has been chopped down by about two-thirds in that time span, the bonds have actually increased in price. The next coupon date is 4/15, so the bond may also have been bid up by someone who wanted to get the interest at the last possible moment.
Full disclosure, the last company that was in a similar situation to SunEdison which I said was worth a few speculative dollars was Arch Coal. Not all of these speculative bounce plays work and you should take your profits, or some off the table when these stocks do recover. But at least this time around SunEdison is a clean energy stock so it has brought this situation onto itself rather than due to a government actively trying to kill the industry, like what the current U.S. administration has done to coal. So time will tell if SunEdison can get itself out of this financial mess.
A note on Lightstream's tanking bond price
I long ago closed my put option position on Lightstream and have no interest in shorting a 30 cent stock, but the negative movement on Lightstream's bond price is not something I can overlook: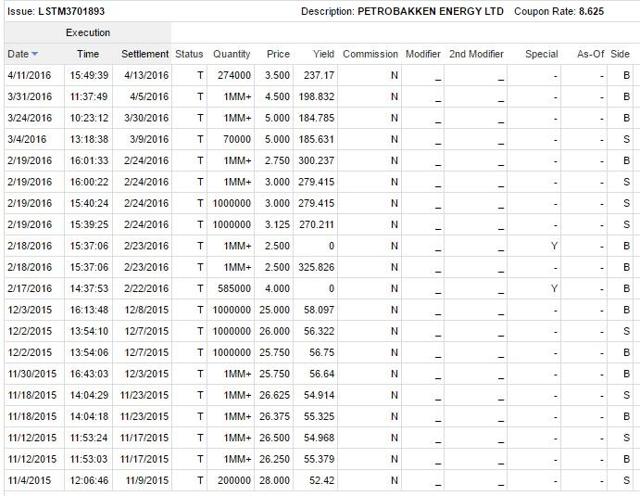 Click to enlarge
Lightstream's Canadian symbol, LTS.to, has traded in the $0.30s recently, more or less where it was in November and close to a double off of January's lows. In the meantime the bonds have tanked from about $25 and a yield of about 55% to $3.50 and a yield of 237%. The best price the bonds have traded in 2016 has been $5. The bond market cannot give Lightstream's bonds away fast enough. Lightstream's bonds are trading at yields well in excess of SUNE, a company which recently had its yieldcos out it as a potential bankruptcy risk on top of the delayed financials and SEC investigation. If that is not a sign that Lightstream's equity is dead in the water, I don't know what is. For anyone who is long on Lightstream, I would strongly suggest to buy the bonds over the stock. In a scenario where a white knight-vulture swoops in and buys the company for $0.50 like on Long Run Exploration, chances are the bonds will be worth substantially more than $3.50 per $100.
I'm aware of the irony that in an article where I claim a long position on SUNE, I am bringing up the bankruptcy argument on Lightstream. With SUNE, I believe that people largely understand what they are getting themselves into, or are holding a major losing position and are praying for a recovery. Lightstream has trended upward over the last few weeks despite the fact that the bond market is clearly saying that the company is in grave trouble, in fact, much worse off than SUNE based on the yield that's being commanded on the bonds.
Disclosure: I am/we are long SUNE.
I wrote this article myself, and it expresses my own opinions. I am not receiving compensation for it (other than from Seeking Alpha). I have no business relationship with any company whose stock is mentioned in this article.
Editor's Note: This article covers one or more stocks trading at less than $1 per share and/or with less than a $100 million market cap. Please be aware of the risks associated with these stocks.