In the book Quantitative Value Investing (which came out on Amazon last month) I reveal an investing strategy based on the principles of value investing and momentum.
This strategy was back-tested using the simulator at Portfolio123 and showed significant outperformance against the benchmark. As shown in the simulated equity curve below, the red line presents the strategy equity and the blue line is the S&P 500 benchmark: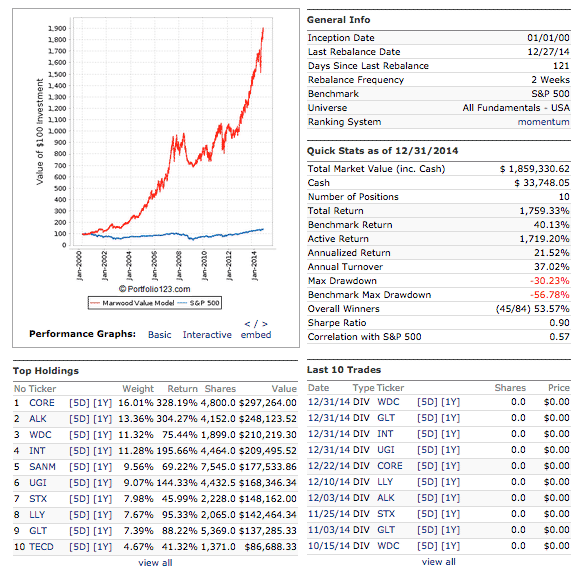 The strategy mentioned uses a number of financial rules to identify cheap stocks; rules such as price-to-earnings, free cash flow, earnings growth, as well as some discretionary factors.
While no back-test can ever be relied upon fully, I do believe that this strategy is useful for screening out inadequate companies and lining up higher potential opportunities.
After running the stock screen this morning, one potential candidate that sticks out is General Motors (NYSE:GM). With a price-to-earnings ratio of 4.95 and a forward PE of 5.18, the stock is clearly on the lower end of cheap.
I will now go into some more reasons why I think General Motors is a good buy at this price point.
Continued Improvement Amongst Peers
First of all, General Motors is showing signs of continued improvement. Automakers benefited from strong US sales in March and are set to smash 2015 records. General Motors is no exception.
Even so, most company analysts expect a slow decline in the industry until 2020. However, GM has managed to deliver positive results in many areas which are particularly encouraging since coming back from the brink of bankruptcy in 2010. This has seen the stock outperform its peers throughout 2015 and the beginning of 2016.

Src: Morningstar
Q1 2016 showed a rise in sales of 0.9% and while low, retail channel volume boosted to 5.9%. This is largely due to strong sales from Chevrolet and GMC brands - 6.8% and 12.8% retail sales growth respectively.
GM also displays initiative for the longer term by gradually reducing its retail fleet business - a step in the right direction as it should help increase residual values and so boost sales. The net result of higher residual values means GM's models become a more attractive purchase in the long term due to higher resale value and it means the company can offer leases with lower monthly payments.
On top of this, various models in the GM fleet are seeing record results, such as light trucks. GMC, for example, saw its best year in light truck sales since 2005 with several models growing by double digits. Even more encouraging is the new-generation Malibu Sedan which is seeing its best sales since 1980.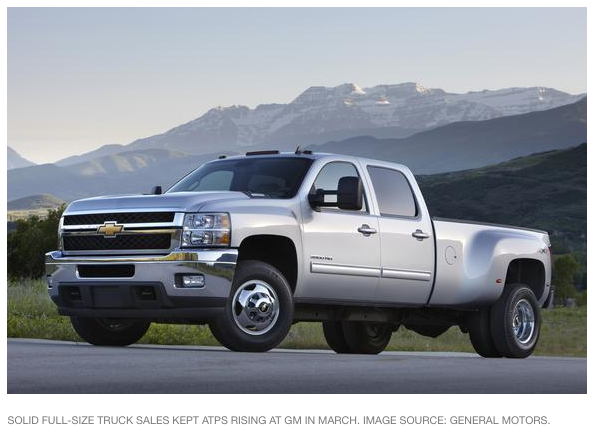 Cost Reduction Working
On top of positive growth figures, GM has also taken effective steps to reduce costs. The most beneficial of these was to introduce a voluntary employees beneficiary association for the retiree health costs of United Auto workers, netting a saving of US$3bn a year.
Alongside that major saving, GM North America has managed to bring its breakeven point down in line with the industry standard of around 10-11 million unit sales. Morningstar forecasts that normative demand for light cars in the US is around 16-18 million, and that when auto demand picks up in the coming years, GM North America will see excellent earnings growth.
An Eye On The Future
As well as keeping an eye on costs, GM is also keeping up with the pace of change and disruptive threats to traditional auto industries. This includes its 9% investment in startup Lyft, purchasing Sidecar, consolidating its legacy car sharing business, Maven, as well as booting its connectivity and data gathering via OnStar.
All in all, we believe that these investments represent a significant shift away from the old fashioned and outdated management style that had hurt the business in the past.
Since the 2010 government bailout, instability has certainly been a concern with several high profile departures. The company has seen four CEOs since the company emerged from old GM's bankruptcy. However, the current CEO, Mary Berra, has instilled confidence and seems set to continue in the role for some time, which would bring some much needed continuity to the leadership.
Analyst View
We believe GM to be good value and one of the strongest selections within its industry. We also like to listen to other points of view and our optimism is shared by a number of other analysts. Analysts at Credit Suisse have an outperform rating out on the stock while UBS analysts also rate the stock as a buy.

Click to enlarge
Meanwhile, Morningstar states that, "General Motors' car models are of the best quality and design in decades".
Additionally, the company's status as a leader in truck models combined with other highly competitive models and a lower cost base means that GM is starting to "realize the scale to match its size." As a result of this, Morningstar believes GM has excellent earnings potential due to its healthy North American unit where it now can focus on four brands instead of the original eight.
Morningstar has issued a strongly positive report of GM Motors holding their fair value estimate in place at $48, some 60% above the current market level.
Risks
Risks to the firm also seem to be manageable, in our opinion, in both the short and long term. One risk is the ignition recall scandal which may have dented buyer confidence in GM, as well as the government backed buyout of the firm. In general, a long period of sales declines would probably result in bankruptcy for the firm.
However, the likelihood of them going bankrupt is nearly zero. One reason being it can break-even with near-depression level sales figures. We also see no statistical evidence that government intervention dampens consumer demand over the long term.
Another significant risk however is the underfunded pension scheme which as of the end of 2015 was underfunded by US$21bn billion. GM contributed US$4bn in cash in 2010, and a further US$2.2bn in common stock in 2011, but management doesn't envisage being forced to make such contributions to the qualified plan for 5 years, although this could possibly change.
The price of gas is also a risk with a rise above US$4 a gallon most threatening, especially with GM introducing several new pickup trucks and SUVs. However it currently seems well timed with gas prices falling.
In terms of management of the company, there are further positives. In particular, its capital allocation history has greatly improved thanks to buybacks when the stock is undervalued and a clear capital allocation plan was articulated in March 2015. As well as this, there has been an encouraging development with regard to dividends, which were initiated in 2014 with 20% increase in 2015 and a further 6% increase for 2016.
As well as this, there are plans for buybacks of $9bn during 2015-17, with $3.5m completed in 2015. While recall fines and pending government litigation make buybacks hard to predict, it is encouraging to see the firm's announcement of a $5bn buyback in March 2015 and a further $4bn announced in Jan 2016.
Round-Up
Our quantitative investing model identified General Motors as a potential investment opportunity and this prompted us to take a closer look at the fundamentals of the company.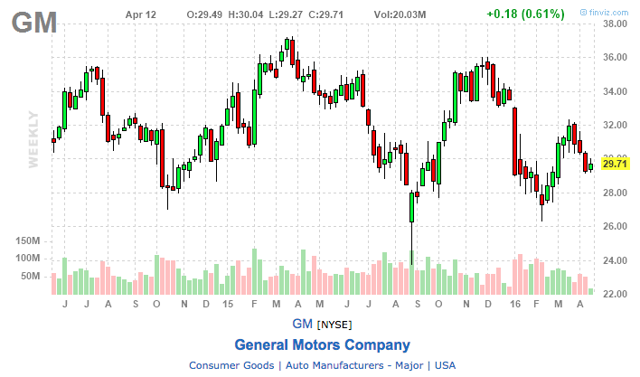 Click to enlarge
Altogether, we think there is very limited downside risk to the current share price and believe a fairer assessment of value to be around the $45-$50 mark. As such, we think General Motors is poised for upside in 2016 and this momentum will be boosted further by the drop in gas prices across the board.
Disclosure: I/we have no positions in any stocks mentioned, but may initiate a long position in GM over the next 72 hours.
I wrote this article myself, and it expresses my own opinions. I am not receiving compensation for it (other than from Seeking Alpha). I have no business relationship with any company whose stock is mentioned in this article.