Dividend Aristocrats are companies that are time-tested on their abilities to pay dividends. The sheer number of years they have increased dividends stands testimony to their ability to keep moving up irrespective of whether the economy moves up and down.
The obvious investment angle here is to take advantage of that dividend growth and assure yourself of long-term returns. But is this always true? Obviously, all dividend aristocrats were not created equal; some of them are more susceptible to disruption. Therefore, for true long-term returns, it's necessary to look at how wide a moat certain companies have built around themselves, and factor that into your investment decision.
After having studied several aristocrats, I've identified three that have wide moats and plenty of room to grow dividends whether or not the economy supports their top lines at any given point in time.
Lowe's (LOW)
In the home improvement market, there is Home Depot and then there is Lowe's and then that's it. These two companies have such a strong hold over the market, that no matter who tries to compete with them in the future, it's going to be an uphill task to gain traction. Of course, you might say that local suppliers are often a better choice for contractors in certain circumstances, but the reach and depth of these two companies is incomparable in this segment.
They are niche operators, and thereby well-insulated from being totally disrupted by e-commerce. There is bound to be some impact from the online side of things, but no so much as it is in the general retail industry, where the balance of power is changing every day because of new e-commerce players.
Though the fortunes of Lowe's is inevitably tied to the health of the housing industry and directly related to the wellbeing of the economy, they can never be taken out of business. They will go up and down, no doubt, but they will keep chugging along.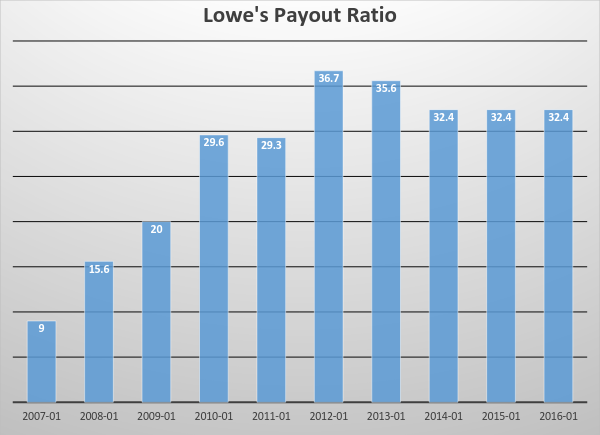 Data Source: Morningstar
Lowe's payout ratio has always been well below the 50% mark, so the company has plenty of room to keep increasing its dividends. Capital expenditure has been under the $2 billion mark since 2010, while free cash flow has slowly moved north and now stands at around $3.5 billion.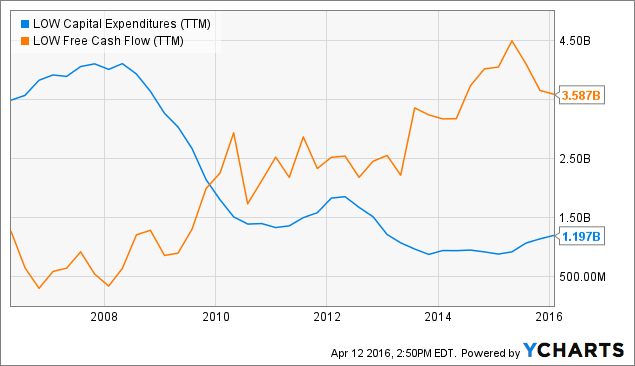 LOW Capital Expenditures (NYSE:TTM) data by YCharts
With less than $12 billion in long term debt and an operating income of nearly $5 billion in 2016, Lowe's is financially strong enough to keep moving forward.
Colgate-Palmolive (CL)
Colgate-Palmolive is a consumer products company with several leading brands to its name. Everybody knows it's a defensive sector to be in, but the best part about Colgate is that their operations are global - and with $16 billion in revenues, the company still has opportunities to grow its top line.
Colgate-Palmolive, Procter & Gamble and Unilever have all been struggling to keep their top line momentum up over the past five years, but having the kind of predictable income streams they do, they have the power to withstand almost any type of onslaught - economic or otherwise - and still come out on the other side relatively unscathed.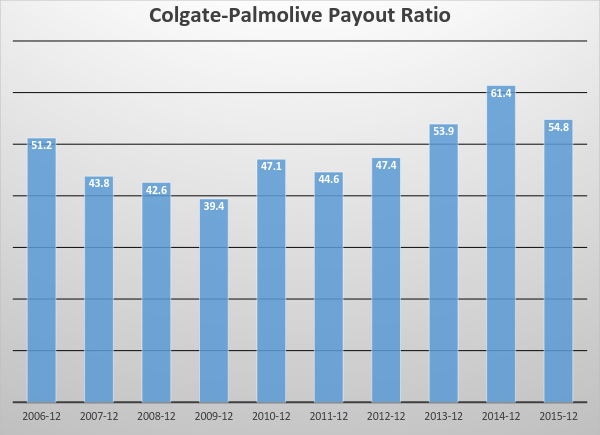 Data Source: Morningstar
Colgate-Palmolive's payout ratio has been a bit above the 50% mark as the company has struggled to keep its top line growing steadily over the last five years. However, considering the fact that free cash flow has been consistently above $2 billion and CapEx has been under $1 billion for over 10 years is proof of the fact that they have the firepower to continue having their name on the dividend aristocrat list for the foreseeable future.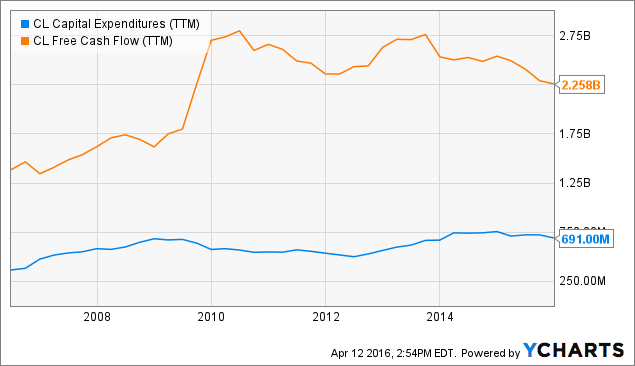 CL Capital Expenditures (TTM) data by YCharts
With nearly $1 billion in cash and around $6.2 billion in long-term debt, Colgate's financial strength is more than adequate to fuel dividend growth for at least the next 10 years.
Walgreens Boots Alliance (WBA)
Walgreens Boots is the largest retail pharmacy with operations in over 25 countries. Their global business is certainly not one that can be easily disrupted. Their size and scale is such that any new competitor will take years to even think of competing with this company. With more than $103 billion in revenues, Walgreen Boots is big enough to survive any type of recession. And of course, the type of business they're in provides immeasurable resilience against economic downturns as well.
It might look like an anomaly that the biggest earner of the three actually has the lowest payout ratios of them all, and this is probably the most attractive element of Walgreens Boots as an investment opportunity. At payout levels consistently well below 50%, a long term debt of $13 billion and a consistent CapEx spend over a long historical period, this is one of the most solid dividends play available in this group of stocks.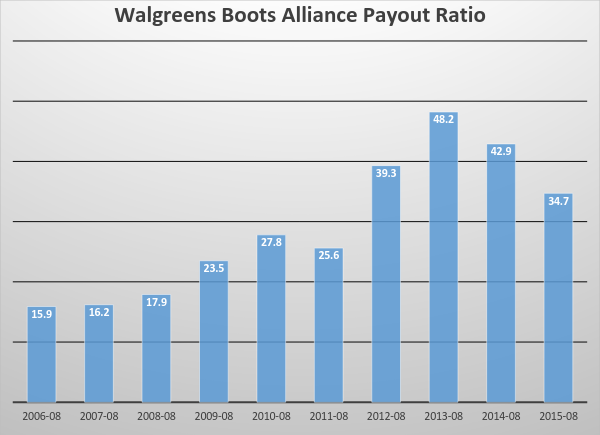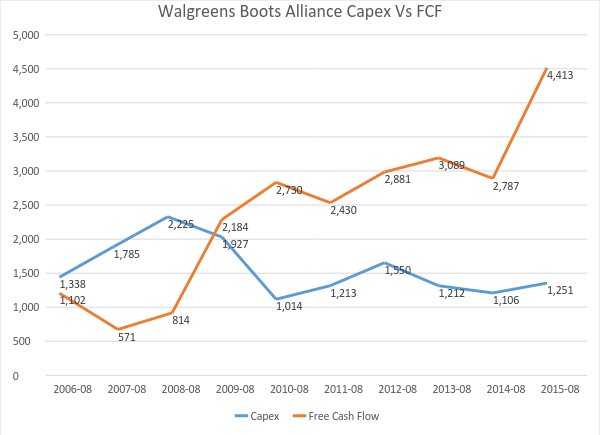 I invite you to follow me for the best long-term investment opportunities in technology, retail, consumer goods and other evolving industries.
Disclosure: I/we have no positions in any stocks mentioned, and no plans to initiate any positions within the next 72 hours.
I wrote this article myself, and it expresses my own opinions. I am not receiving compensation for it (other than from Seeking Alpha). I have no business relationship with any company whose stock is mentioned in this article.