In this article I want to discuss a trade that I put on my watchlist recently. It's a trade that is independent of the general 'market'.
The trade is about two stocks. Mednax MD and Best Buy BBY.
Mednax is a company that is specialized in neonatal, anesthesia, maternal-fetal and pediatric physician sub-specialty services. The company operates in 34 states and Puerto Rico. In other words: it's a health care company with a 6.1 billion USD market cap.
Best Buy on the other hand is a widely known company that has been around for many years. The company sells electronic products through its stores mainly in the USA. Only one tenth of sales are international.
This trade is based on the most important leading indicator. Readers who frequently read my article know what I am talking about. It's the ISM report. Both the manufacturing and the non-manufacturing report provide us with interesting insights when it comes to industry sentiment.
Health Care sentiment has been strong and is strengthening even further. On the other hand we see weak computer & electronics. However this industry did well last months I see further weakness as an opportunity to trade computer & electronics on the short. Hence my BBY pick. The two pictures below give you a better overview.
The first picture displays the 6 months average of computer & electronics (red line) and health care sentiment (green line). The dark grey line is the difference between these two sentiments and can be seen as a leading indicator for the ratio spread between Mednax and Best Buy.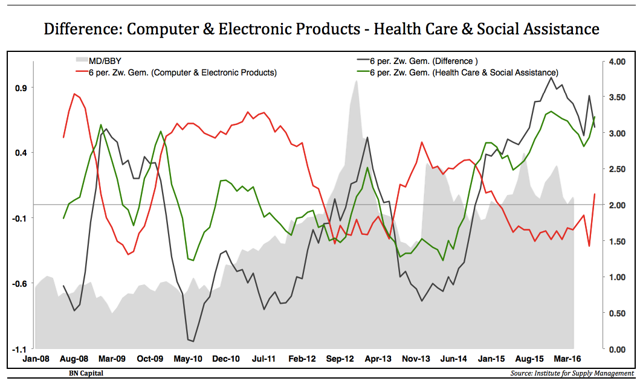 Click to enlarge
The second graph is a less 'messy' version of the chart above. Correlation between the sentiment difference and the Mednax/Best Buy spread is clearly visible.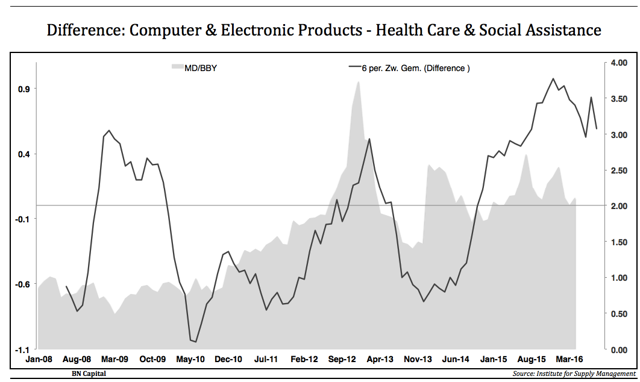 Click to enlarge
8 out of 14 analysts recommend a strong buy for Mednax whereas Best Buy has one sell recommendation, one underperform and 7 hold. Best Buy has 16 analysts covering the stock. I don't write this because I listen to these recommendations. It is just interesting that analysts reflect the current sentiment. Computer & electronics stores are facing not only cyclical problems but also secular changes like the switch to online ordering.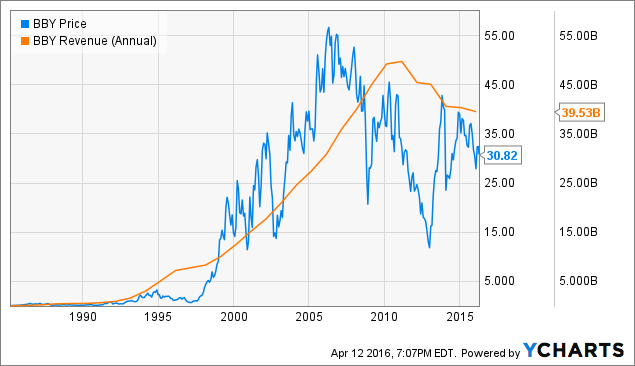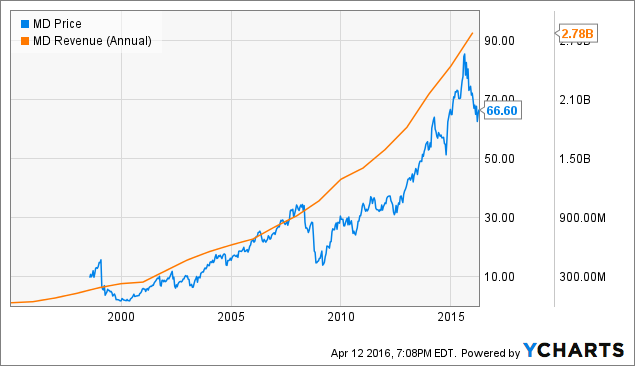 I like this trade because it is depending on the difference in strength between two industries without being dependent on the 'market'. The long term correlation between the MD/BBY spread versus the S&P 500 is 31%.
To me a few other things are important. According to my own calculation, the beta of Mednax (0.69) is way lower than Best Buy's (1,05) beta. This means that my MD long exposure is 1.52 times Best Buy's short exposure. I calculated the betas using data going back to January 2006.
This trade has been added to my watchlist and I will execute the trade on down days.
Disclosure: I/we have no positions in any stocks mentioned, but may initiate a long position in MD over the next 72 hours.
I wrote this article myself, and it expresses my own opinions. I am not receiving compensation for it (other than from Seeking Alpha). I have no business relationship with any company whose stock is mentioned in this article.
Additional disclosure: MD longs are being hedged with BBY shorts