In an article at the end of March on Exxon Mobil (NYSE:XOM), I had focused on the positives in the company's upstream business. Driven by Exxon's focus on improving upstream efficiency and the rally in oil prices, a turnaround was looking likely for the company. Now, this turnaround looks quite achievable as crude oil prices have now touched 2016 highs, with the Brent trading slightly above $44 a barrel.
Crude oil has hit 2016 highs after news emerged that OPEC producers Russia and Saudi Arabia have agreed to freeze their production, helping both Brent and WTI to break beyond their resistance levels. But, in my opinion, this is not the only reason why investors should be betting on Exxon Mobil's resurgence since the company's downstream business, especially refining, is set to record impressive growth going forward. As such, in this article, we will take a closer look at where Exxon's downstream business is headed.
The strength in downstream will continue
Exxon Mobil's downstream business was the one that helped it mitigate the impact of low price realizations in the upstream segment last year, reporting earnings growth of $854 million. The following chart shows the contribution of the downstream segment to Exxon's earnings performance last year: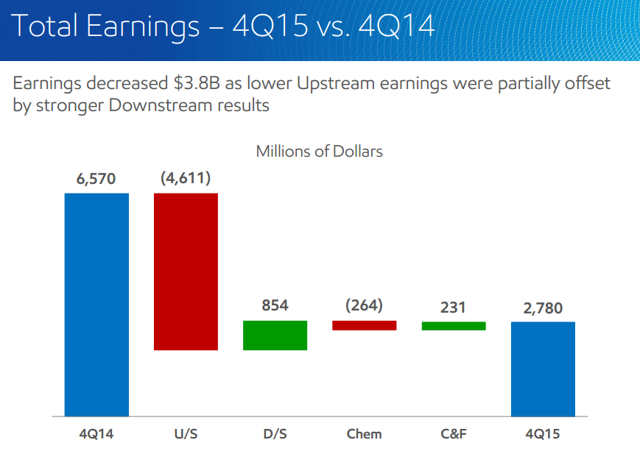 Click to enlarge
Source: Exxon Mobil
The strength in Exxon Mobil's downstream business was primarily a result of the strength in the company's refinery segment and its focus on areas in the petrochemical business where margins are higher. For instance, the company's refining and marketing margins were up $610 million in the previous quarter, while an improvement in the volume mix contributed another $70 million to the bottom line.
The improvement in Exxon's downstream segment was driven by the secular growth in refining margins, which was a result of higher gasoline demand and strong refinery utilization rates last year. In my opinion, the trend of strong refining margins should continue in the future on the back of growing gasoline demand across the globe.
More specifically, Asia will prove to be the key driver of refining margins this year on the back of growing gasoline consumption in China and India. In fact, last year, China and India saw their gasoline demand increase 12% and 14% respectively, with China driving around 25% of global gasoline demand growth.
Looking ahead, there is a lot of runway for growth in gasoline demand in India. This is because gasoline is just 12% of the country's refined petroleum product, while in the U.S., the percentage is much larger at 47%. However, over the past five years, India's gasoline demand has increased at a CAGR of 11%, while other refined products have seen growth of just 5%.
Going forward, this trend of increasing gasoline consumption will continue on the back of an increase in car ownership and rising income in the country. In fact, as compared to the consumption of 500,000 bpd of gasoline in the twelve months ending February 2016, gasoline consumption in India is expected to go up to 800,000 bpd by the end of the decade, according to the Ministry of Petroleum. This represents a CAGR of around 8.15% for the next six years.
On the other hand, even China's gasoline consumption is set to rise at a robust CAGR of 6.2% over the next nine years, according to ICIS-China. Thus, it is evident that demand for gasoline will remain high going forward, especially in Asia, and this will continue driving refining margins.
Exxon's strengthening its position in Asia
To tap the expected improvement in demand in Asia, Exxon has been improving the infrastructure of its downstream business. For instance, the company's Singapore refinery is getting a new cogeneration facility with a power rating of 84 megawatts in a bid to reduce emissions and meet the plant's power needs organically.
This expanded cogeneration facility will allow Exxon to produce energy using natural gas, and will also generate steam that can be used by refinery. As a result of this move, Exxon will be able to close down two of its old boilers that were not as cost efficient, thereby improving its return profile at the Singapore plant.
Meanwhile, in India, Exxon has made an investment in the range of $400 million-$500 million to construct a technology and research and development center. This investment has been made with a view to "improve efficiency and effectiveness by centralizing and integrating business processes," while it will also give the company a greater presence in a country where gasoline demand is growing.
Conclusion
Refining strength was a tailwind for Exxon Mobil last year. As discussed above, the strength in the company's refining business will continue in the long run due to increasing demand in Asia. The good thing is that Exxon is targeting this growth hotspot so that it can make the most of the growth in this market. As such, apart from upstream improvements, strength in the downstream is another reason why investors should continue to stay long Exxon Mobil.
Disclosure: I/we have no positions in any stocks mentioned, and no plans to initiate any positions within the next 72 hours.
I wrote this article myself, and it expresses my own opinions. I am not receiving compensation for it (other than from Seeking Alpha). I have no business relationship with any company whose stock is mentioned in this article.