Fannie Mae (OTCQB:FNMA) and Freddie Mac (OTCQB:FMCC) are two of the most routinely profitable companies in known history once you back out temporary accounting fluctuations. Often referred to as the government sponsored enterprises (GSEs), they enable equal opportunity affordable housing nationwide regardless of race or gender, something that hasn't always existed in America.
The purpose of this article is to go over some interesting parts of the recently released documents. Banking Analyst Richard X. Bove and Hedge Fund Titan William Ackman have suggested that $20 is a fair price point on the commons if the warrants get executed and the companies are capitalized. Whether or not the warrants get executed is still subject to a lot of debate and lately Richard Epstein seems to think that Washington Federal is a landmark case of being prescient in this dimension.
Receivership or Conservatorship - 2008
Since conservatorship began in 2008, the accounting fluctuations and amendments overseen by their regulator have led to the current intractable situation where they have a capital base that is designed to erode to $0 by giving all of their money to the regulator's proverbial cousin. The Federal Housing Finance Agency (FHFA) and the United States Treasury are both parts of the government. Together, they have unilaterally decided to wind down Fannie Mae and Freddie Mac, but this 2012 announcement to enter into the third amendment remains a clear violation of the government's own stated understanding of the differences between conservatorships and receivership:
Should such circumstances arise, the new housing GSE regulatory agency must have more than the powers associated with conservatorship. In particular, the new regulatory agency must have all the receivership authority that is necessary to direct the liquidation of assets and otherwise direct an orderly wind down of an enterprise.
Fannie Mae and Freddie Mac remain in conservatorship, not receivership, and capitalization structure and shareholder rights do not only begin to exist when companies enter into receivership, these exist during conservatorship as well. Otherwise, the purpose of conservatorship becomes the selective voiding of economic value of discretionary parts of the capitalization structure, undermining established bankruptcy and insolvency law worldwide.
Deposition of Jeffrey Alan Foster
I counted the government objections available during the deposition of Mr. Foster and counted 72 for all sorts of reasons not limited to but including, "Calls for speculation, foundation, vague, confusing, hypothetical, mischaracterizes, etc." My count may be off, but when I search the document for the word "objection," I get 138 hits. The point of bringing this up is that more or less the government lawyers were objecting to everything for whatever reason sounded good at the time and it appears that they were overruled since we can see that most of the time the answers to the plaintiff questions followed directly after.
The depositions read like a poorly written episode of Suits where the defense lacks the Harvey Specter Ingenuity to come up with any response except to try and undermine the purpose of the deposition by objecting to every step along the way without fail. Regardless, here's the home run for plaintiffs that I liked the most from the Foster deposition:

I'd love to see video footage of these depositions. Jeff even gets into how the net worth sweep undermines the stated purpose of conservatorship: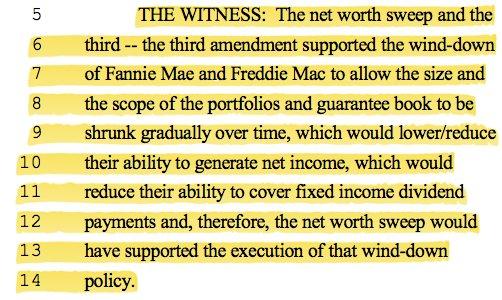 Jeffrey Alan Foster's deposition is simply one example of a huge win for plaintiffs. It gets better: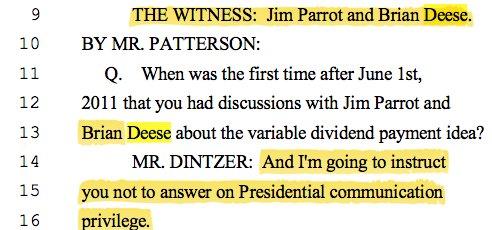 On top of objecting for normal reasons, the invocation of Presidential communication privilege is just another reason to roadblock the deposition of Mr. Foster. I'm not even sure if that's how Presidential communication privilege works, but I'm pretty sure that Mr. Dintzer was simply trying to take advantage of the fact that Mr. Foster isn't a lawyer. Remember, this was very early in the process, back when plaintiffs were just getting rolling. As such, I'm not surprised to see the government seeking to prevent any relevant disclosures or at the very least to muddle them with objections to particulars, anything to prevent a straight answer.
Susan McFarland Deposition - Interim CFO of Fannie Mae
Susan McFarland's deposition makes the third amendment net worth sweep sound like her optimism about the future profitability of Fannie Mae is what caused it. Here's what she has to say about a meeting that she had with multiple Treasury officials a week before the third amendment went into place:
From here, we are missing roughly 100 pages of the deposition. Remember, these are snippets. Plaintiff's circle back and hit on this again and McFarland remained firm: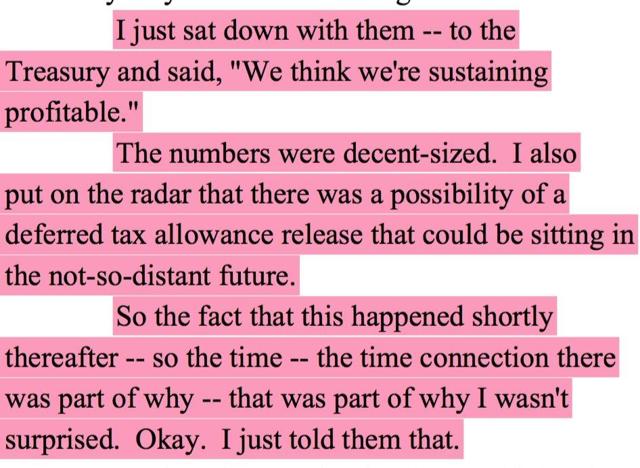 Click to enlarge
Susan McFarland makes the third amendment net worth sweep look like it was her fault for sharing her optimism about her company with her regulator and government officials. McFarland's deposition directly undermines the government's publicly stated rationale behind the net worth sweep.
Mario Ugoletti - Emerging from Conservatorship Under The Structure of the PSPAs Is Difficult
Mario Ugoletti's deposition makes you wonder if the entire Senior Preferred Securities Purchase Agreement was designed to prevent the GSEs from exiting conservatorship in the first place. In full transparency, my position on this is that the agreement has been doing what it has been designed to do, to turn temporary government accounting changes into real cash shortages: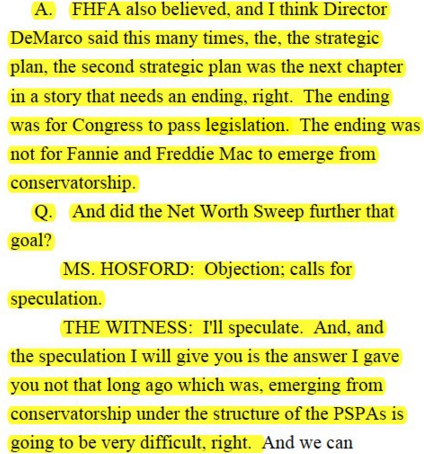 Ugoletti is the Treasury official that signed the affidavit that analyst Richard X. Bove summarizes nicely:
Despite having been told that Fannie Mae was going to have its deferred tax asset returned to the company (the $50 billion mentioned) a Treasury official signed an affidavit stating that it had no such knowledge.
Summary and Conclusion
Judge Lamberth's ruling is that FHFA can more or less do whatever they want as conservator. Now the world is beginning to see what really has been going on behind the veil of conservatorship. Let's not kid ourselves, the words in these deposition transcripts merely put exclamation marks on the fact that since conservatorship has begun, over $100B has flowed away from the GSEs to Treasury, making the GSEs the most successful nationalization in world history so far.
These deposition transcripts support plaintiff arguments that the conservatorship's third amendment was a backdoor nationalization. I'm really looking forward to listening to oral arguments this Friday. It would be amazing if Judge Sweeney ruled on the motion to compel before then, but I'm not expecting a miracle.
The government cover up is starting to lose traction and shares have begun their heroic march higher. This is just the beginning. I own 64590 shares of FNMAJ, 15989 of FMCKI, 9340 shares of FMCCP, 5000 shares of FMCKP, 3500 shares of FMCCT, and 1402 shares of FMCKO. These are preferred securities in Fannie Mae and Freddie Mac with a total par value of $3,144,025 and I have borrowed around $240,000 in order to take this position. If you think shares aren't cheap now because they are up somewhere around 40% from my last one outlining that how goes HERA also goes the FDIA, feel free to reference this article in 12 months and we'll see about that.
Disclosure: I am/we are long FNMAJ, FMCKI, FMCCP, FMCKP, FMCCT, FMCKO, FNMA, FMCC.
I wrote this article myself, and it expresses my own opinions. I am not receiving compensation for it (other than from Seeking Alpha). I have no business relationship with any company whose stock is mentioned in this article.
Editor's Note: This article discusses one or more securities that do not trade on a major U.S. exchange. Please be aware of the risks associated with these stocks.