On Monday, Alcoa (NYSE:AA) released its latest set of results for the first quarter of 2016, but not so surprisingly, the aluminum miner failed to live up to expectations. So far this year, Alcoa shares have already lost almost 5% despite a rally in the past two and a half months, and it looks like the weakness in its stock price performance will continue.
I'm saying this because Alcoa is feeling the pinch of the weakness in the aluminum market, and this clearly reflects in its latest results. For instance, in the first quarter, Alcoa's sales dropped 15% and earnings declined 92%. In fact, low prices of aluminum and alumina had a negative impact of almost 21% on Alcoa's revenue and this trend of a weak top line performance will continue since the company has lowered its sales projections.
For example, in the aerospace segment, Alcoa now sees sales growth of 6%-8% as against the previous forecast of 8%-9%. To counter this weakness, the company will engage in more job cuts and will look to slash another 1,000 jobs as the year progresses. Now, the weakness in Alcoa's performance might seem surprising given that it anticipates a deficit in the aluminum market this year due to higher demand and lower supply. But, in my opinion, expecting an improvement in aluminum prices due to favorable demand-supply dynamics is a bad idea. Let's see why.
Why aluminum prices will remain under pressure
Even though aluminum prices have rallied in 2016, the improvement has not been driven by an improvement in fundamentals. Going forward, it is quite likely that weak demand from China and an increase in supply will bring down aluminum prices. This is because the recent increase in aluminum prices has led to a massive increase in production in China, which produces more than 50% of aluminum globally.
In the present pricing scenario, around 50% of China's smelters are profitable. As a result, aluminum producers in China's southern provinces have decided to bring capacity back online. For example, in the Guizhou province, it is estimated that 1.4 million tons of smelter capacity will be restored this year. This is a retreat from the earlier policy of retiring capacity in light of the weakness in aluminum pricing as Chinese smelters had suspended 3.8 million tons of capacity last year.
What's even more alarming is the fact that new aluminum capacity is being constructed in China. This year, it is expected that China will construct 7 million metric tons of new aluminum capacity, greater than the addition of 5 million metric tons of capacity last year. This is bad news for Alcoa investors since China's increasing capacity will continue to weigh on aluminum prices.
Moreover, China is increasing its aluminum capacity at a time when demand for the product is on the wane. According to Alcoa's latest projections, aluminum demand in China is expected to drop to 6.5% this year as against the earlier forecast of around 8%. As a result, overall aluminum demand is expected to come down, across the globe. This is shown below: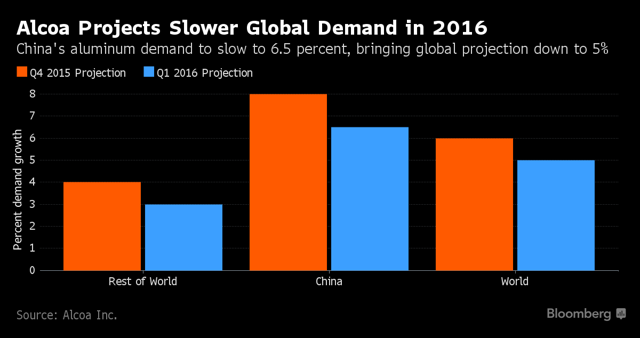 Click to enlarge

Source: Bloomberg/Alcoa
Thus, an increase in production in China, coupled with lower demand for the metal, will lead to a weaker pricing environment this year due to continued oversupply.
What weak aluminum prices mean for Alcoa
Alcoa has suffered a lot due to the weakness in aluminum prices. This can be gauged from the chart given below: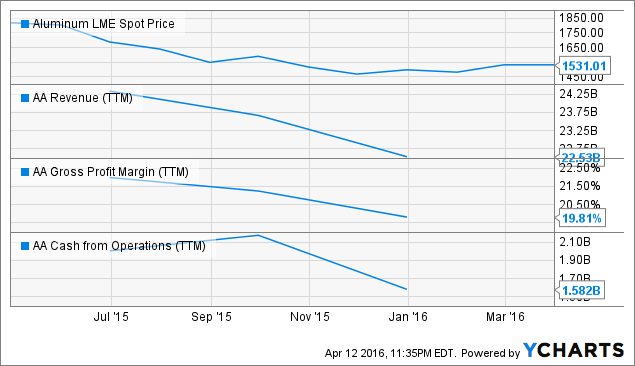 Aluminum LME Spot Price data by YCharts
As we can see above, key metrics such as revenue, margins, and operating cash flow have been on the decline in the past year. This weakness continued in the recently reported quarter as Alcoa's margins declined due to lower pricing. In fact, its cost of goods sold as a percentage of revenue increased by a massive 5.3 percentage points as against last year, while SG&A expenses as a percentage of revenue increased 1.3 percentage points.
More specifically, low metal pricing had an adverse impact to the tune of $283 million on Alcoa's earnings on a year-over-year basis in the latest quarter, exceeding productivity gains of $232 million as shown in the chart below: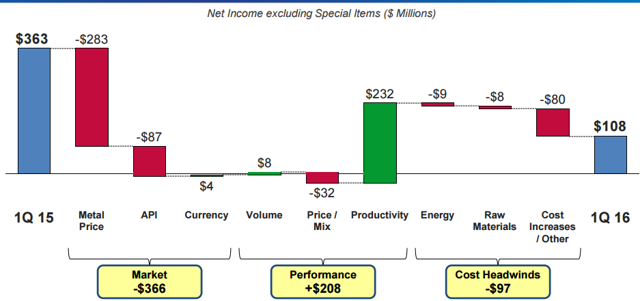 Click to enlarge

Source: Alcoa
Now, as the weakness in aluminum prices is expected to continue going forward on account of oversupply, it will be difficult for Alcoa to improve its bottom line performance.
Conclusion
Alcoa's latest results clearly indicate that weak aluminum pricing is a challenge for the company and this challenge is here to stay. The dynamics of the end-market do not support an improvement in prices, which is why it will be a good idea for investors to stay away from Alcoa since its bottom line erosion will continue in light of the points discussed above.
Disclosure: I/we have no positions in any stocks mentioned, and no plans to initiate any positions within the next 72 hours.
I wrote this article myself, and it expresses my own opinions. I am not receiving compensation for it (other than from Seeking Alpha). I have no business relationship with any company whose stock is mentioned in this article.