Question:

Is it un-American to use DGI and index Funds or ETFs in the same sentence?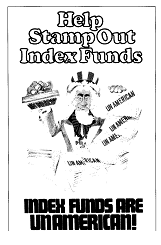 Source: Bogle Financial Markets Research Center
Many believe that dividend growth investing will solve all their retirement problems while another camp of investors tries to maximize their retirement income by building the largest retirement portfolio they can using a variety of total return approaches. It could also be said that a third group, uses a combination of both techniques since they may realize that no one technique can be the best all the time.
My wish is not to try and 'Stamp Out' any of the above ideas, as many tried to do to John Bogle and his index fund idea in the 1970's, but to show you how to squeeze more income out of whatever idea seems to suit your risk tolerance.
Background
In a previous article, which you can find here, I laid out the starting positions of my two portfolios. One is a dividend income portfolio I will call the DGI10 (10 dividend stocks) and the other is a total return portfolio which I will call the TR7 (7 ETFs where shares are sold to fund the income). Both of these started at the end of 2015 with about $100,000 each. The income drawn from both will be based on the IRS Required Minimum Distribution table III, from IRS publication 590, appendix C, starting at age 73 in the table. For 2016 this income for the DGI portfolio will be equal to $100,081/24.7, or $4051.86 per year, or $1012.97 per quarter. So even though the plan will vary from year to year, during the calendar year the income is fixed based on the ending value of each portfolio on December 31st of the previous year. I know on January 1st each year what the income from these two portfolios will be. For 2016 the income for the TR7 portfolio will be $100,069/24.7 or 4051.38 per year, or $1012.85 per quarter. For 2017, the income from each portfolio will be its ending value divided by 23.8 and so on down the RMD table.
As you might already know by reading some of my previous articles on this subject, when using this variable withdrawal method you have to be flexible in how much money you expect to spend in retirement. However, in most cases this variable income is especially welcome because it is usually better than just living off of the dividends and interest of a retirement account, while still giving room for principal appreciation. In a previous article found here, I showed some hypothetical outcomes using total returns ranging from about 4% to 12% over a 15 year time span, which would get you to age 88 in the RMD table.
1st Quarter Results - DGI10
Below is a table showing where these investments have gone after 3 months.

Click to enlarge
What can be seen from the above table is an initial dividend run rate of 4.37%, which at the end of the first quarter has already improved to 4.41%. It should also be noted that 4 of the 10 positions have already increased their dividend this year. I am also looking forward to more dividend increases in the second quarter. The amount withdrawn this year will be a constant annualized rate of 4.05% as dictated by the RMD tables which I displayed in my previous article. After the RMD amount of $1012.97 is withdrawn, the cash remaining in the account is $91.48.
For the DGI10 account we have one stock, HCP Inc. (NYSE:HCP) that is down by over 14% in the quarter, so we must check if any Sell triggers have been hit on this stock. In this case the only sell rule that could come close is the one that compares the 3 year and 5 year total return of the stock to that of the S&P 500 (NYSEARCA:VOO). If it trails both the 3 and 5 year returns of VOO by more than 10% then it is time for HCP to go. In reviewing one of my Morningstar tracking portfolios I see that the 3 year total return for VOO at the end of March is 11.84%, while HCP shows a 3 year return of -7.73%, clearly more than my 10% trigger point, but this is only half the test. For the second half of the test we must look at the 5 year returns. For five years we have 11.54% for VOO and 2.6% for HCP, which is just under a 9% difference, so it is not time to sell HCP just yet, but we must at least put it on a watch list and monitor.
1st Quarter Results - TR7
Below are a couple of tables showing where my ETF investments have gone after 3 months.

Click to enlarge

Click to enlarge
As can be seen from the above, even after taking a 1% distribution from the TR portfolio, it is still up by about 2% so far this year, with the SPY up about 1.3%.
Summary
Unlike some income portfolios which rely totally on the corporate board actions of companies to continue their dividends, these two RMD rule based portfolios have their income defined for the following year and that will not change. For these portfolios the total income I will receive in 2016 is $1012.85 times 4, plus $1012.97 times 4, which will be $8103.28 or $2025.82 withdrawn per quarter. Not a large amount by most retiree standards, but everyone's income is different.
Conclusion
As the year unfolds it will be interesting to see how much market volatility will change the values of these two portfolios.
Once again as I pointed out in the article, I certainly would not want to imply that someone who wants to do DGI for retirement do it with 10 stocks invested in 100% of their retirement savings. As I have mentioned many times, I have one bucket or account that produces consistent checks to pay the bills that don't get paid from other sources, such as pensions or pension like sources. A second bucket sits in a different account accumulating value with reinvested dividends from mutual funds, ETFs, and a couple of stocks.
This study is only as good as the data presented from the sources mentioned in the article, my own calculations, and my ability to apply them. While I have checked results multiple times, I make no further claims and apologize to all if I have misrepresented any of the facts or made any calculation errors.
You also must realize that past performance is no guarantee of the future, and in that regard all the information presented here is past performance up to this point. The information provided here is for educational purposes only. It is not intended to replace your own due diligence or professional financial advice.
Disclosure: I am/we are long D, HCP, MO, O, PM, OHI, SO, VTR,WFC,WY,IEI,TLT,VBR, VNQ, VOO, VIOO, VTV.
I wrote this article myself, and it expresses my own opinions. I am not receiving compensation for it (other than from Seeking Alpha). I have no business relationship with any company whose stock is mentioned in this article.