There is a downside to stocks hovering near all-time highs. That downside is in the form of lower dividend yields for most dividend payers. Finding solid dividend payers with a yield above 3% is not as easy as it once was.
There is one company that continues to post a dividend yield of nearly 5% even after its stock price has gone up by 15% over the past six months. That company is AT&T (NYSE:T).
AT&T: Too Often Left Out Of Retirement Portfolios
Many investors looking for stable income in retirement are turning to companies who have a long history of dividend growth without ever cutting their dividends. This is very sensible and I have written about this before. However, AT&T should not be overlooked given their history and their 4.9% dividend yield.

It is true that AT&T has cut their dividend once before. This happened in 2004. Since then the dividend growth has been meager and was only 2% this past year. But we need to analyze the situation over the long run and see if their dividend yield is enough to offset their weak dividend growth.
Analyzing AT&T Over The Long Run
I want to look at what AT&T can do in terms of income generation over a 20 year period. Let's assume that they maintain a dividend yield of 4.9% and dividend growth of 2%. I will also assume stock price growth of 3% per year over this time period.
I analyzed the situation in our free dividend calculator. I ran this using 1,000 shares of AT&T. The results are below: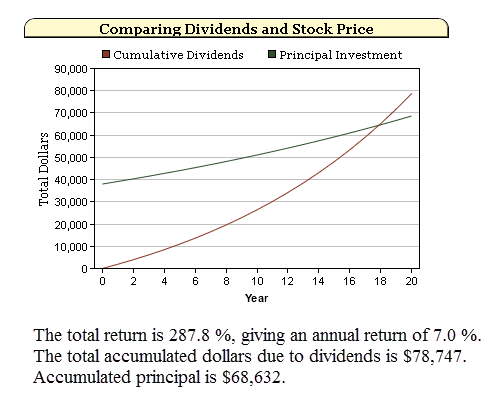 As you can see, this stock will generate an annual return of 7% per year over the 20 year time period. Eventually the cumulative dividends become greater than the actual principal value of the investment.
Now let's compare that to a dividend-growth stock that has a dividend yield of 2.5% and 7% dividend growth every year. In this case, the annual rate of return is 6%, which is less than we see with AT&T.
The Impact On Retirement Portfolios
The difference between a 7% rate of return per year and 6% can be gigantic for a retirement portfolio. I ran a comparison of these two situations in our publicly available Personal Financial Planner. I looked at a couple that is currently 57 years old, plans on retiring at age 65, and will spend $60,000 (pre-tax) per year.
Their current investment balance is $450,000 with 80% in IRAs and the rest in taxable accounts. One third of their money is in treasury bonds and the rest is in dividend paying stocks. They will also have a combined $40,000 in social security payments each year.
Here is how their income vs. their expenses looks if they are invested in the stock paying a dividend yield of 2.5% with 7% dividend growth each year: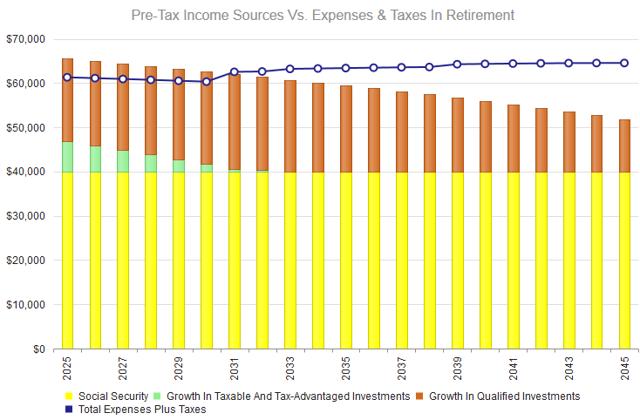 By the year 2033 their income will fail to cover their expenses. Now let's take a look at what happens if they have dividend payers like AT&T, paying 4.9% with annual dividend growth of 2%.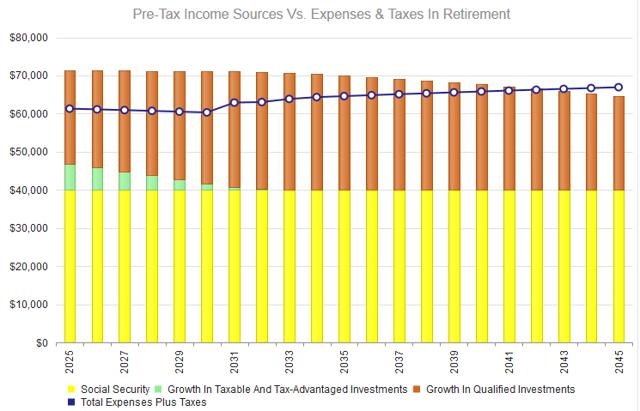 In this case, their income covers expenses in every year until they get to the very end of their plan. This is quite the improvement.
Don't Overlook Companies With Weak Dividend Growth
In many cases slow dividend growth is most definitely a bad sign. But I believe AT&T is a different story. They have shown a commitment to keeping a dividend yield above 4% and their dividend is still growing, albeit at a 2% rate. If they can continue even this mediocre dividend growth, this company will be a boon to your retirement portfolio.
Disclosure: I am/we are long T.
I wrote this article myself, and it expresses my own opinions. I am not receiving compensation for it (other than from Seeking Alpha). I have no business relationship with any company whose stock is mentioned in this article.