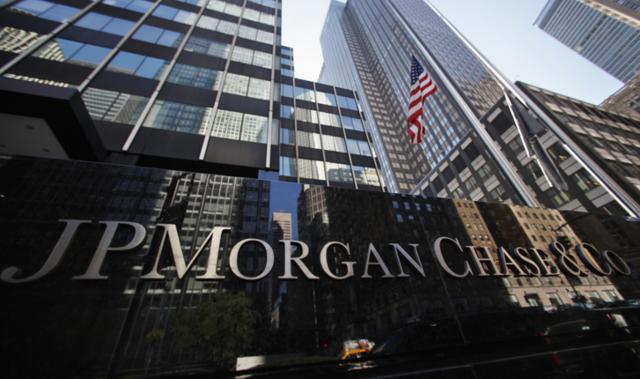 Click to enlarge
JPMorgan (NYSE:JPM) has exhibited tremendous strength in the years since the crisis as it has proven itself to be one of the best managed banks in the world. Indeed, my bullishness surrounding JPM has a lot to do with its CEO as I think Dimon is perhaps the best CEO anywhere, let alone the banking space. This strength has thus far not translated to positive returns this year in the wake of the malaise we saw in the first quarter but with beaten down expectations for Q1 earnings, JPM looks poised to move higher off of any positive news. It seems Q1 earnings may just be the positive catalyst investors need to send shares higher, finally.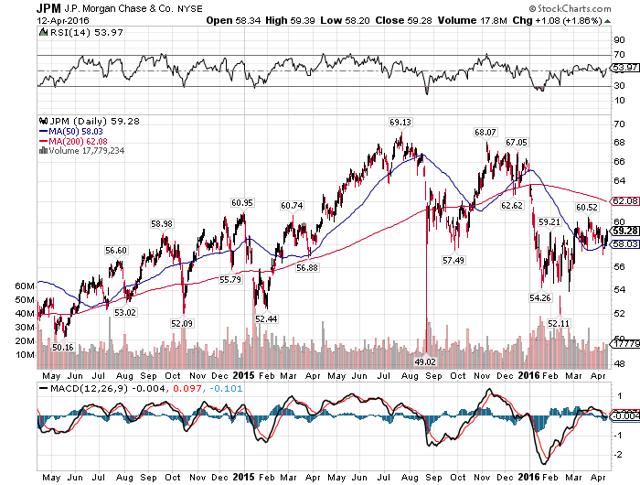 Click to enlarge
JPM's results for Q1 look robust indeed as the company's revenue fell slightly but profits were up sequentially. In the banking space Q1 is all about damage control and at first blush, it seems JPM did an admirable job at doing just that and producing strong profits in the process. Revenue fell 3% Y/Y but was up 1% sequentially as the overall weakness in markets in Q1 seems to have taken a small toll on JPM's revenue base. This is an enormous positive as the fear going into the report is that revenue would be hammered; this was simply not the case.
The company's net interest income was markedly higher, driven by higher loan amounts. This is something I've been making the case for with JPM for a while as the company has spent the last several years deleveraging its balance sheet. JPM was waiting for the proper time to strike with its unencumbered capital and it appears that may have begun to occur. This is an important inflection point with JPM as loan book growth would be very bullish for the stock's longer term prospects. JPM's hesitancy to lend in recent years has been a drag on earnings and while losses have been lessened as a result, the fact is that lower lending will lead to lower profits. If JPM is turning on the spigot, that's terrific news for longs.
Noninterest expense was also driven 7% lower as the company's legal and compensation expenses fell. Expenses have been under laser focus for banks for years now as the weak revenue environment has made profit growth challenging. But JPM produced strong results with its expense controls once again and this contributed heavily to its sequential quarter profit growth.
Another focus in bank earnings for Q1 is the impact of the commodities sell-off and weakening fundamentals of that group. Obviously, the big banks have lots of exposure in a dollar sense to oil and gas as well as mining companies but in JPM's case, the reserves set aside in Q1 for commodity-related losses are very manageable. Oil and gas accounted for $529 million in reserves while mining is an almost inconsequential $162 million. These reserves - I would think - represent most or all of the expected losses the company will incur in those two spaces as prices in many commodities have stabilized. If JPM thought things would be a lot worse, it likely would have reserved for more. The banks have a sort of free pass this quarter to reserve against known evils like commodity losses so I think JPM's relatively small numbers mean things aren't as bad as they may have seemed.
JPM produced a very strong 12% ROTCE in the first quarter, once again a sequential improvement over Q4's 11%. The company's overhead ratio is just 57%, a robust number considering overhead ratios in the low 50s or even high 40s haven't been seen for years with the big banks. JPM is getting there via prudent expense management and with it beginning to lend in earnest again, I expect we'll see EPS growth as expenses come down. Even if JPM keeps its expenses steady, higher revenue from more lending will push its overhead ratio down and profit margins up in the coming quarters.
And with the company's loan-to-deposit ratio at just 64%, JPM still has plenty of fresh powder to lend. I mentioned JPM has been deleveraging and indeed, it has done so more than most other banks. The fact that JPM saw fit to increase its consumer unit's core loans by 25% is very bullish and once its loan book reaches 75% or 80% of its deposits, JPM's profitability will have ramped higher. JPM's leverage with its deposit base - which continues to post robust growth rates in its own right - is still very low. In concert with its low cost base, JPM's earnings leverage in the coming years is substantial.
Given that JPM handily beat expectations and the fact that it is beginning to leverage its massive deposit base, the risk to earnings estimates is certainly to the upside. The Q1 beat sets the stage for a rally off of low expectations but the bullish fundamentals of the bank's operations will sustain the rally this year. The low LTD ratio, falling expenses and low reserves for commodity losses can offset weakness at the trading desks and send JPM's earnings over estimates this year. In addition, continuously building capital means the Fed is more likely to let JPM retire lots of stock and keep raising its dividend, a key provision for JPM's shareholders that demand sizable capital returns.
This year's $5.62 EPS estimate is low as I think JPM will ultimately get closer to $6. If the Fed raises rates this year like it has said it would, the risk is further to the upside. But even barring that upside catalyst, JPM's deleveraging process with its balance sheet has left an enormous amount of lendable capital untapped and with JPM beginning to unleash it, earnings growth will continue to exceed expectations. JPM's brilliant Q1 is just the beginning; I'm looking for a run at $70 this year as EPS estimates move higher.
Disclosure: I am/we are long JPM.
I wrote this article myself, and it expresses my own opinions. I am not receiving compensation for it (other than from Seeking Alpha). I have no business relationship with any company whose stock is mentioned in this article.