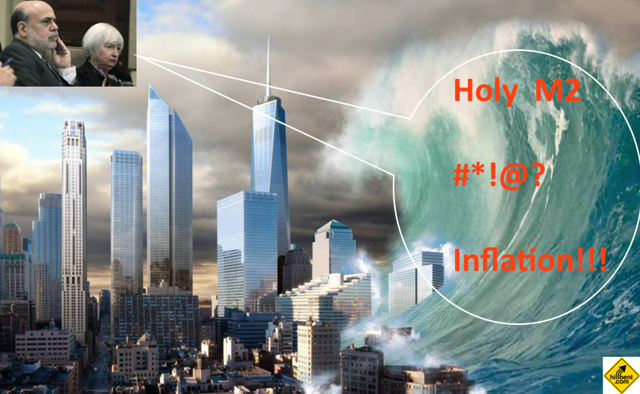 Click to enlarge
Market Commentary
Earlier today, I listened to Jim Rickards (King World News) interview Art Cashin aka "Ice Cubes", the original "OG" market commentator and director of floor operations for UBS, and he made some very salient points about what is essentially the ineffectiveness of QE programs implemented by the Federal Reserve, Bank of Japan and European Central Bank. Instead of trying to rehash Art's message, I have a few of my own thoughts on the matter which I will share, but I strongly encourage you to listen to this 14-minute podcast.
One of the biggest disappointments of this economic recovery is Main Street's pain equivocating to Wall Street's gain. I have witnessed Hank Paulson's Big Bazooka and Helicopter Ben Bernanke's tsunami of capital, which later became officially known as "QE" (quantitative easing), flooding the markets. In the above mentioned interview, Art mentioned the lack of M2's (money supply) velocity within the economy along with the inflationary risks of its rapid growth against the backdrop of global economic weakness. It borders on a nightmare that none of us would probably not want to experience, even if you are a short seller.
After listening, I became curious and decided to review charts of M2's various components. The one that captured my attention the most was "Retail Money Funds", which has not done much except absolutely decline since the recession and the massive injection of QE stimulus into the US economy (see chart below). Retail money funds are an interesting measure because they are primarily offered to individuals. The graph I have shared illustrates Main Street has clearly not tasted enough of its fair share of the QE pie because it looks like those "Greedy Gekkos" on Wall Street ate most of it. Oh well, this is not new news. (For perspective reference, I have also included charts of M2 and Velocity of M2 below as well.)
What alarmed me was watching retail money funds bottom in May-2015 at $604.5bn and then morph into a hockey stick expansion rate of 21% to $730bn as of February-2016. So now I ask if the QE is finally trickling down to Main Street and if this accumulation of funds reflects fear in the markets or will this lead to an overheated economy? If you are a US saver, you are being wrongfully punished by central bank monetary policies. If you live in Europe or Japan, you are even worse off due to negative interest rates.
The historically high level of M2 and recent upturn in the retail component of it represent legitimate inflation risks along with stagflation too, given the economic slowdown. Perhaps the uncertainty of either explains Gold's strong performance and the whipsaw volatility being experienced in various assets classes. Let's hope that the tsunami of capital that the Fed created is not going to come crashing in at the high tide of M2 because with interest rates so low, there are not enough lifeboats to save everyone. Too big to fail will not even be worth debating.
Exactly how does a central bank defend itself against an unexpected tsunami of high velocity M2 and the inflation that ensues? The answer is that it does not and cannot.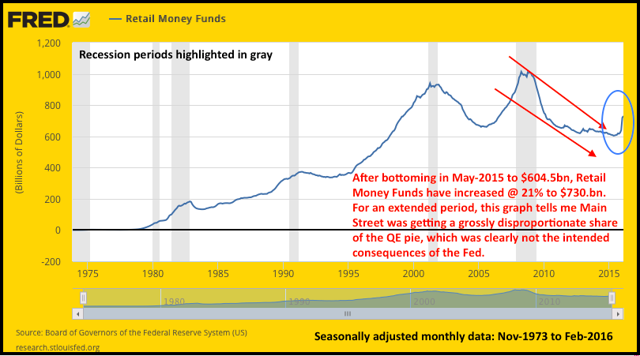 Click to enlarge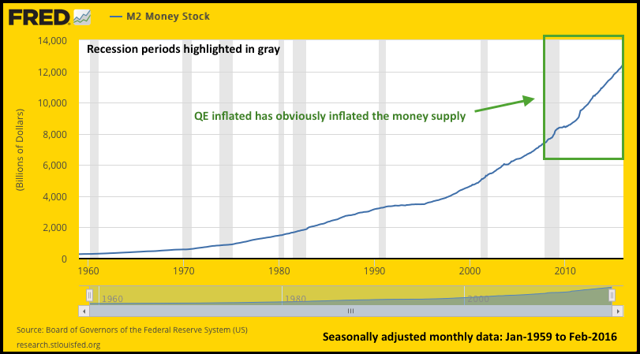 Click to enlarge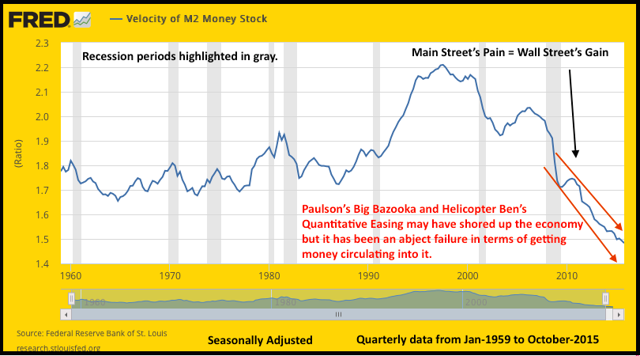 Click to enlarge
Asset Class Performance Summary and Analysis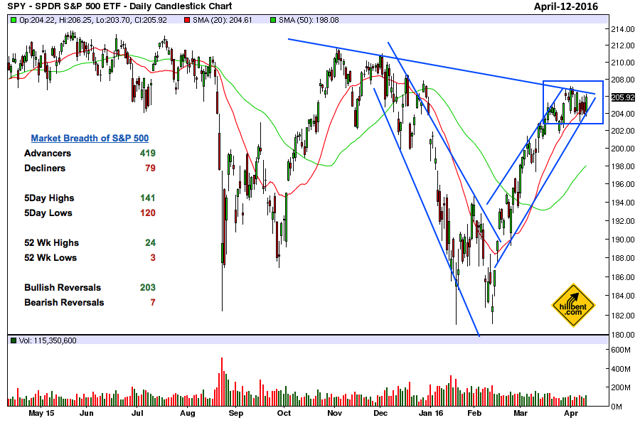 Click to enlarge
Equities:
Thus far, the bulls are legitimizing the 20-day moving average as a support level for equity indexes. US stocks finished in positive territory: SP-500 (NYSEARCA:SPY) +0.93%; Nasdaq-100 (NASDAQ:QQQ) +0.84%; Russell-2k (NYSEARCA:IWM) +1.08%; DJ-30 Industrials (NYSEARCA:DIA) +0.94%. Market internals are flashing early warnings of weakness as the percentage of S&P 500 component stocks trading above their 20day moving average has fallen to 59% and could approach bearish levels below 50%. For now, the widely followed 50 day moving average is holding the "Maginot line" with 84% of the benchmark index's components trading above it.
Some of the strongest moves today came from international markets with strong technical breakouts from Brazil (NYSEARCA:EWZ) and Latin America 40 (NYSEARCA:ILF). In Asia, Pacific ex-Japan (NYSEARCA:EPP) and Japan (NYSEARCA:EWJ) cleared resistance of their intraday downtrends while China (NYSEARCA:FXI) put it its 3rd consecutive positive performance. Making new 8-day highs were the EAFE (NYSEARCA:EFA) and Emerging Markets (NYSEARCA:EEM).
For now, Volatility or the VIX (NYSEARCA:VXX) remains the weakest link in the equity market landscape, but has been consolidating its trading range over the last four trading sessions.
Equity Sectors:
With oil prices breaking out to new highs, previously oversold sectors like Energy (NYSEARCA:XLE) up +2.98% and Materials (NYSEARCA:XLB) up +1.39% encountered no resistance in taking the mantle of market leadership. Consumer Discretionary (NYSEARCA:XLY), although advancing +0.76% today, is showing weakness and vulnerable to violating its 50-day moving average.
Fixed Income:
This time the "rabbit with the gun" was High Yield Bonds (NYSEARCA:HYG) as it was the only advancer in our fixed income ETF universe. The 20+Year Treasury (NYSEARCA:TLT) and other bond indexes (AGG and LQD) appear to be initiating a correction. What does all this mean right now? To be fair, bonds have had a nice run and price correction followed by consolidation is normal and orderly.
Currencies:
If you are optimist or contrarian, the good news for the US Dollar (NYSEARCA:UUP) is that it finally halted its decline and the inverse could be said for the Euro (NYSEARCA:FXE) and Japanese Yen (NYSEARCA:FXY), both of which have been very crowded markets, especially the Yen-carry trade. The significant contraction in volume over the last 3 to 4 periods clearly confirms this.
Commodities:
The bullish reversal in commodities is still sustaining itself. The DB Commodity Index Fund (NYSEARCA:DBC) rose +2.17% and made a new 14-day high. The US Oil Fund (NYSEARCA:USO) gained +3.50% and will face its next test at the March-18th high @ 10.80, which if it can clearly will set it up for a collision challenge at its 200 day moving average. Surmounting this longer term moving average would speak volumes about the future price outlook for oil. Gold (NYSEARCA:GLD), after making a breakout yesterday, was relatively unchanged.
Real Estate:
Further consolidation continued as the DJ Real Estate Index (NYSEARCA:IYR), DJ Home Construction Index (NYSEARCA:ITB) and Residential Index (NYSEARCA:REZ) progressed incrementally with respective increases @ +0.68%, +0.63% and +0.57%. With the exception of the homebuilders, relative strength in this group for the last 12 months has been one of the strongest in the capital markets.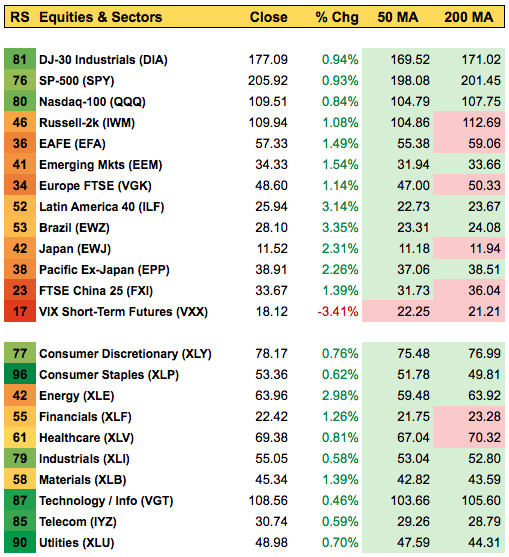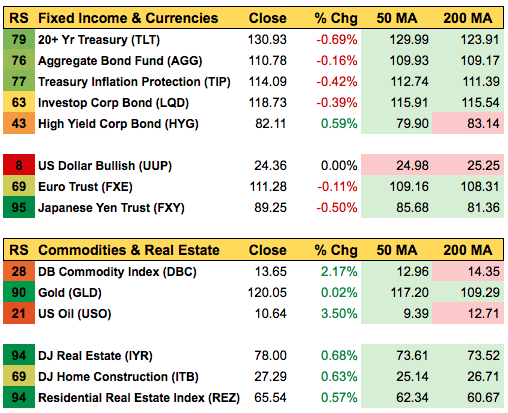 Disclosure: I/we have no positions in any stocks mentioned, and no plans to initiate any positions within the next 72 hours.
I wrote this article myself, and it expresses my own opinions. I am not receiving compensation for it (other than from Seeking Alpha). I have no business relationship with any company whose stock is mentioned in this article.