Cyprus crisis
The US subprime mortgage crisis and the subsequent credit crunch in the US and Europe created serious doubts about the solvency of several European countries with high current accounts and budget deficits over GDP. Doubts were particularly strong about Spain, Portugal and Greece.
The introduction of the Euro several years before had created disturbing economic dynamics in these countries: as a result of negative real interest rates, a massive influx of capital and credit flooded their economies; this situation generated real estate and financial bubbles, inefficient allocation of resources, overinvestment and large commercial deficits financed with private debt.
Finally, when the recession started in the Eurozone, real estate and financial bubbles popped. As a consequence, tax revenues fell dramatically and severe budget deficits appeared in Spain, Portugal and Greece. The deterioration of public finances added up to an already high commercial and current account deficit financed by high levels of private debt.
In this context, Cyprus had been quite conservative. Before the crisis, Cypriot economy was growing at a good rate and current account and budget deficits were well under control.
Nevertheless, Cypriot banks were heavily invested in Greek public debt and Greek banks' financial instruments; that would cause the crisis on the island and ultimately trigger the bailout by the European Commission, the ECB and the FMI.
The Greek crisis made the whole Cypriot banking system insolvent because Cyprus banks' holdings of Greek financial securities became almost worthless when Eurozone leaders decided to wipe out 80% of the value of Greek banks' debt held by private investors, many of them Cypriot banks.
Fears on the ability of Cyprus government to recapitalize its banks in the middle of a recession and a global credit crunch triggered rating agencies downgrades of Cypriot sovereign debt and a bailout from the Troika in March 2013.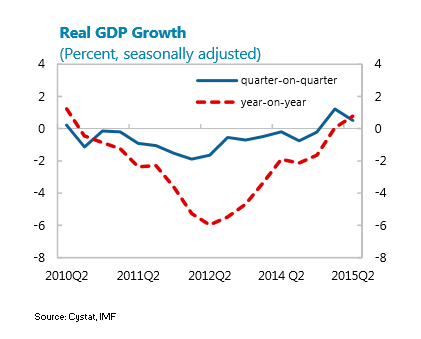 Banking reorganization and the new Bank of Cyprus
In March 2013, the Troika agreed to a €10 billion bailout program in Cyprus. The key points of the deal were 1) restructuring of the Cypriot banking system, 2) implementation of stricter anti-money laundering laws, 3) austerity measures to reduce the Cypriot budget deficit generated during the crisis, and 4) a privatization programme and structural reforms in several areas of the economy.
Laiki Bank, the second largest financial institution of the island was liquidated; remaining sound assets and deposits under €100,000 were transferred to Bank of Cyprus (OTC:BACPY). Toxic assets were moved to a bad bank and slowly wound down. Shareholders lost everything.
Hellenic Bank, the third largest commercial bank of Cyprus and closely linked to the Cypriot Church, was restructured and forced to sell its Russian operations and the Greek subsidiary to Pireus Bank. New investors led by Daniel Loeb's Third Point injected €100 million in exchange for 75% of equity.
Finally, Bank of Cyprus, the island's biggest bank, was forced to sell all Greek holdings, recapitalize and change senior management.
Bank of Cypress was bailed out by certain categories of depositors, and equity was raised among international investors, among whom the most colourful was turnaround specialist Wilbur Ross, an investor in a very similar recap operation in Bank of Ireland in 2011.
John Hourican, former head of the Royal Bank of Scotland (NYSE:RBS) investment bank during the severe turnaround implemented between 2008 and 2013, was appointed CEO. His expertise was complemented by a Supervisory Board of well-known names such as Joseph Ackerman, former head of Deutsche Bank (NYSE:DB).
Bank of Cyprus' shares were traded again at the Athens Stock Exchange at the end of 2014.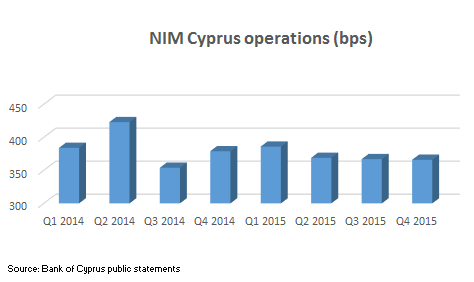 The New Cyprus banking system design
The new Cypriot banking system is smaller, oligopolistic and potentially very profitable during good times.
At the end of 2015, total deposits in the Cypriot banking system totaled €47 billion, with NPLs reaching a massive 47.8% of the outstanding loan book of the island.
The banking system had been reorganized around 4 major banks (Bank of Cyprus, Hellenic Bank, RCB Bank and government-owned CCB) of which Bank of Cyprus is the leader in terms of size, market power, organization, and strategic positioning. These four banks work together with several minor local banks and foreign subsidiaries.
At the end of 2015, Bank of Cyprus held around 41% of total gross loans in the country, 30% of deposits, 27% of life insurance premiums and 15% of non-life ones. Bank of Cyprus possesses the best branch network in the island as well, with circa 130 branches spread around the Cyprus geography.
In terms of pricing structure top line, Bank of Cyprus looks more like a developing market financial institution than a European EU member: NIM (Net Interest Margin) was 355 bps at the end of 2015, compared with the circa 200 bps for peer European and US banks, implying a big potential for revenues in the future.
Costs are well contained, with a Cost/Income ratio of 38% at the end of 2015, but unfortunately capital position, profits and ROE are meaningless, as they are a function of the huge mass of NPLs being cleaned up.
NPLs at the end of 2015 were €14 billion, or a huge 61.8% of the whole loan book. This is a unique situation among EU banks; even with a forceful CEO as Mr. Hourican, it will take years of effort to clean the pile… or a strong macroeconomic recovery.
Thus, Bank of Cyprus, as Bank of Ireland analysed in the article, "Bank of Ireland, best European pick at half price", and even more, is a leveraged bet on the recovery of the Cypriot economy.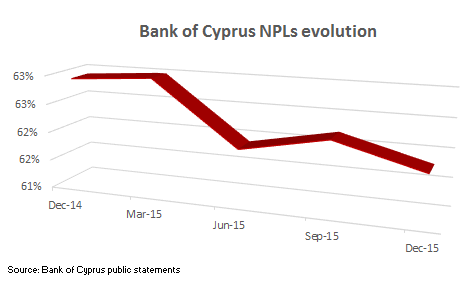 The Cyprus economy is recovering
After three years of structural reforms, Cyprus seems to have turned the corner. The island registered 1.5% GDP growth in 2015; GDP is expected to slightly strengthen in 2016 and accelerate further in 2017 to 2%. Cyprus left the bailout program in March with a surplus of 2.5% and is reducing public debt quickly.
This turnaround has been engineered through a privatization plan, a licencing policy that included casinos and marinas, and the trimming of Cypriot Welfare State in terms of public salaries, pensions and the health system.
Whatever the means employed, as of today, Cyprus looks well poised for the future with a recovering economy, decreasing unemployment and good prospects for the two key industries of the island: tourism and offshore banking services. Taking into account a historic growth rate of circa 3% during the upturns of the cycle since the 2000s, the outlook for the next 3-5 years looks bright.
The improvement of the Cypriot economy over the next three to five years should have a highly beneficial impact on the sizeable NPLs pile at Bank of Cyprus. Some of the loans will perform again and a high NIM top line will fund the provisions necessary to write down a big chunk of those that do not.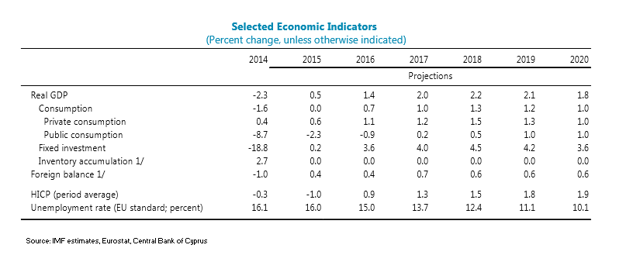 Click to enlarge
Catalyst for the upside move: listing in London and recovery of banking sector
What does all this mean in terms of Bank of Cyprus' stock price? The Bank of Cyprus' stock resumed trading in Athens at the end of 2014 at €0.2 per share. Stock price fluctuated around €0.2-€0.22 before crashing again to the €0.13 level during the Banking Panic of early 2016.
Volume has been low during the whole period and foreign investors do not have so far a market deep enough to dispose of their holding, should they wish to do so.
As described above, the potential for the stock in terms of fundamental value is notable during the next three years, but it is listed in a narrow market that is unlikely to generate enough volume to price it correctly and, in the mind of certain investors, not secure enough from the perspective of shareholders' rights.
To solve this problem, bring new investors to the bank and create a more liquid market for the stock, Bank of Cyprus announced on March the 31st the listing in London, a primary market, in order to provide "access to a greater pool of international capital together with greater profile and visibility in the European financial markets".
This fact, together with the expected recovery of banking indexes in Europe and the US, should provide a powerful catalyst for Bank of Cyprus' value resurfacing in the stock price during the next three years.
Disclosure: I/we have no positions in any stocks mentioned, and no plans to initiate any positions within the next 72 hours.
I wrote this article myself, and it expresses my own opinions. I am not receiving compensation for it (other than from Seeking Alpha). I have no business relationship with any company whose stock is mentioned in this article.
Editor's Note: This article discusses one or more securities that do not trade on a major U.S. exchange. Please be aware of the risks associated with these stocks.