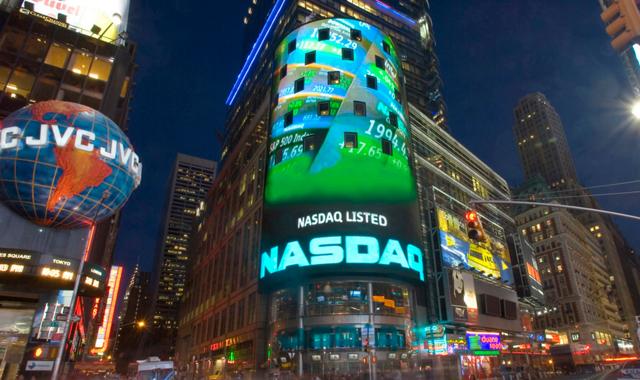 Click to enlarge
It was early in February and the Nasdaq 100 index had just dropped 3.4 percent to close at its lowest level since August 2015 at 4,024 points, when we recommended going long with the PowerShares QQQ Trust ETF (NASDAQ:QQQ). The index was down 10.5 percent year-to-date and looking like an absolute bargain. Well, this was precisely the case when you consider that futures contracts point to the Nasdaq 100 index touching on 4,524 today. Far beyond even our wildest and most bullish hopes back in February. We set a points target of 4,400 for the index and with that now being surpassed we feel it is wise to step aside and lock in those gains.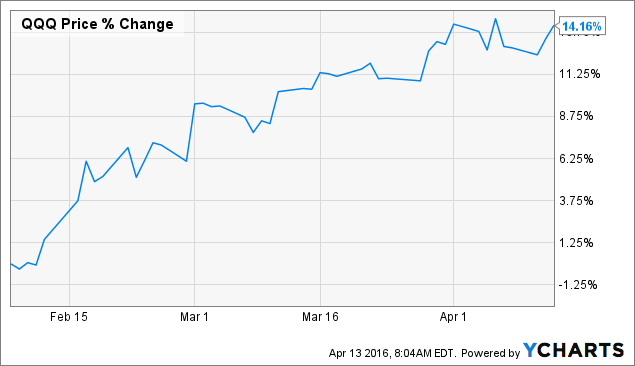 As you can see on the chart above, QQQ has climbed 14.16 percent since we recommended it. We are not calling ourselves soothsayers -far from it! (Though we do like to think we can recognize a bargain when we see one.) Nor are we calling for a short on QQQ. We are merely fearful of a pullback coming in the next few weeks that could wipe out our gains.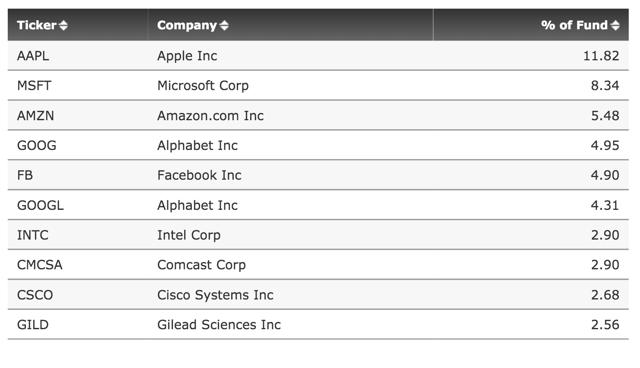 Click to enlarge
Sourced from Invesco
The top ten stocks in the fund hold the key.
As you can see on the table above. QQQ relies heavily on the performance of its top ten holdings. These holdings make up 50.84 percent of the total fund, so if they perform badly the fund will most probably perform badly also. On the rather crowded chart below you can see how the top five holdings - Apple (NASDAQ:AAPL), Microsoft (NASDAQ:MSFT), Amazon (NASDAQ:AMZN), Google (NASDAQ:GOOG), and Facebook (NASDAQ:FB) - have performed and how they've helped propel QQQ higher.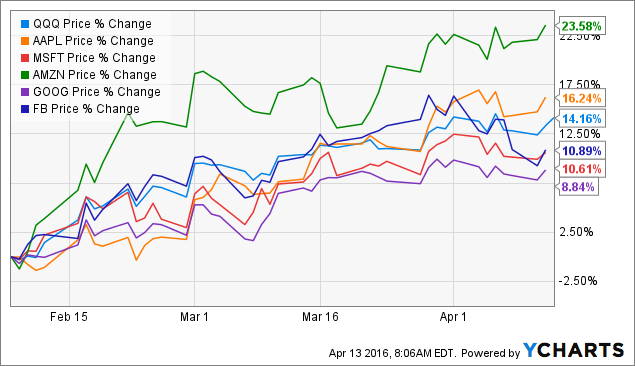 The problem we have now is that as we step into earnings season, we are concerned that these five stocks may only live up to market expectations and not go beyond them. If this is the case, then the likelihood is that there will be subdued buying which may result in the index heading sideways for a bit.
The main stock on the index with the biggest pulling power is of course Apple. We are huge Apple fans and probably own every device conceivable, but admittedly not the iPhone SE which we were not overly excited about. We felt the general reaction to the iPhone SE was underwhelming and didn't expect it to be enough to help the company beat earnings estimates.
If reports that it has been selling out are true, then it could yet end up surprising us and help the company smash earnings estimates. But we are erring on the side of caution with Apple this quarter and believe they will just match the market consensus estimate of $1.97 earnings per share. This is unlikely to drive the share price higher, which could act as a drag on the index.
Is the whole market about to crash?
We aren't expecting the market to come crashing down, but the thought has crossed our mind. It seems like every other week someone is calling a recession, but every week after there never is one. But there has been some excellent commentary recently on Seeking Alpha about the use of GAAP and non-GAAP earnings. Non-GAAP earnings allows companies to be very creative with its earnings and can be used to mask its troubles somewhat.
There have been fears that Wall Street is being propped up by the illusion of earnings growth. Two legendary investors in Carl Icahn and Warren Buffett have taken aim at this in recent months. Icahn was quoted as saying that,
The earnings they are putting out today, I think, they are very suspect. […] You haven't really increased earnings for three years. GAAP earnings [for the S&P 500] have stayed at around $100 a share for three years.
Warren Buffett raised his concerns recently in his letter to shareholders stating,
It has become common for managers to tell their owners to ignore certain expense items that are all too real.
The fear is that a lot of these companies could be masking serious issues which are putting the company's future performance at risk, whilst sending the overall market sky high on nothing more than an illusion. Whether or not this is the case, time will tell. But what we do know at the moment is that the gap between GAAP and non-GAAP earnings has widened to the largest level since the global financial crisis and it has us a little worried.
What we've done.
Because of the concerns we have discussed today, we have closed our long position in QQQ in order to protect a wonderful 14 percent return. There could well be fantastic returns ahead and we may have sold out far too soon. As much as we would kick ourselves if this were the case, we would rather be wrong and sell too soon, than be wrong and hold on too long. If there is a sell-off for whatever reason, we would dive right in again in or around the 4,000 points mark.
We are sure this is going to be a very eventful earnings season and look forward to seeing where the Nasdaq 100 and QQQ are at the end of it. We wish you the best of luck in your investments.
Disclosure: I/we have no positions in any stocks mentioned, and no plans to initiate any positions within the next 72 hours.
I wrote this article myself, and it expresses my own opinions. I am not receiving compensation for it (other than from Seeking Alpha). I have no business relationship with any company whose stock is mentioned in this article.