Chesapeake (NYSE:CHK) just saw a tremendous pop in Tuesday's session and is now up over 34% YTD. An impressive turnaround, assuredly, however I'm sure investors and traders, alike, are wondering whether the current run up is sustainable and what the headwinds are to a long-term investment in Chesapeake. I believe Chesapeake has much to gain over the long-term provided the price of crude sees an increase, based upon the two's strong correlation; right now, Chesapeake's long-term outlook depends on the Doha conference this Sunday.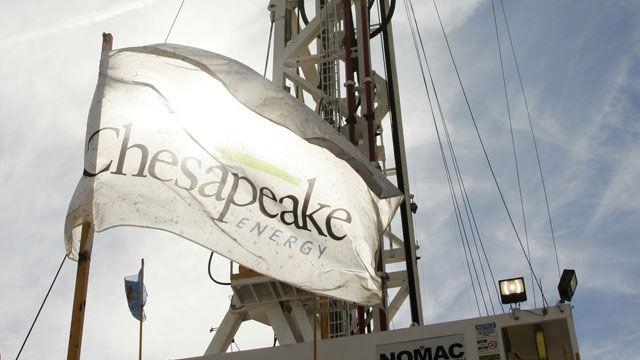 Source: News 9
Chesapeake's Crude Correlation
It's well known by now that Chesapeake has a strong correlation to crude oil, as measured by the WTI. This correlation can be seen in the graph below. This is a natural gas-focused company, however, yet the correlation to the Henry Hub is much weaker. Quantifying the correlation can be done by comparing the correlation coefficients (NYSE:R). Over the past year, Chesapeake to the WTI has held an R of 0.45, which is nearly four times greater than the equity's correlation to the Henry Hub, at an R of 0.083. An R of 1 means the two charts correlate perfectly. As reference, Chesapeake's R to the S&P 500 is 0.375, which shows that even the S&P 500 has a greater positive relationship to Chesapeake than natural gas does.
Thus, to understand if Chesapeake is a sustainable, long-term investment capable of providing above-average returns, gaining clarity on the forward-looking fundamentals for crude oil is a necessity.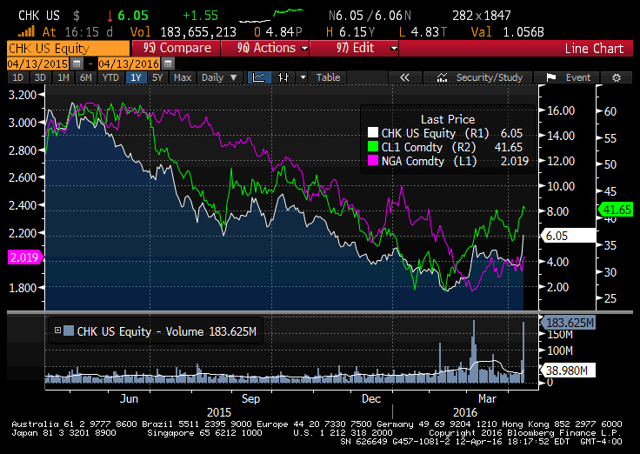 Click to enlarge
Source: Bloomberg
Where Is Oil Headed?
The April 17 Doha, Qatar conference is quickly approaching. This is being seen as the "make it or break it" meeting for crude. Iran has been seen scaling up its exports past the 2 million barrels per month mark and expects to hit the 4 million mark by next March. While there are some short-term headwinds for Iranian oil exports, like port access abroad and seaworthiness of their tanker vessels, this upscale of exporting seems very contradictory to the recent comments that Iran's oil PM is making to join the production freeze.
Russia and Saudi Arabia are now on the same page, to freeze production, but they need to solidify it with Iran. This conference is going to meaningfully move the price of oil, either up or down depending on the freeze decision, which means that it is an important catalyst for Chesapeake's stock. Additionally, it will be setting the tone for the next six to twelve months worth of production levels and could lead to stability in CHK if the decision to freeze is approved.
Yet, recall that the glut is still very real. Despite one week of positivity in the rig count back in mid-March, the count is back down seven rigs week over week and down a large 545 from last year. I fully expect this trend to continue for at least 1H16 based upon the slashed capex budgets of American E&Ps. The bearishness continues with the American Petroleum Institute reporting that inventories for crude built 6.2 million barrels, showing how supply still continues to outpace demand.
I believe if OPEC and other countries can come to the table and agree to freezing production, then a cut on production can be discussed at a later date in 2016 to help move the price of crude oil up. Cooperation now yields potential further cooperation. That's when the tide will turn and create consistency in rig count increases. Furthermore, inventories could also start to show consistency in decreases. This will lead to a price increase in crude and, subsequently, Chesapeake; however, it is all dependent upon the major Doha conference Sunday.
How High Can Chesapeake Go?
I've created a sensitivity analysis for where I believe Chesapeake's equity can be in the NTM. My price target on oil is $58 for next April, fueled by large fundamental events like the Doha conference. Absent of one-time outlier events, I've estimated the stock's sensitivity to changes in the WTI based upon historical price changes and pacing. Per $1 change in the WTI, Chesapeake, on average, moves $0.21.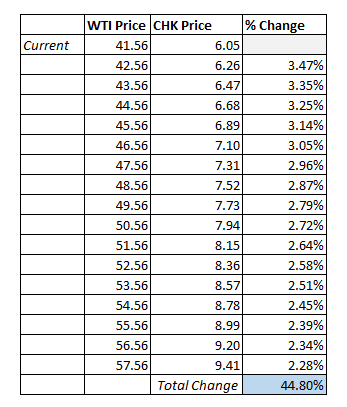 Source: Author
What this model says is that from now until crude oil hits $57.56 a barrel, a $16 increase from the current level, that Chesapeake will gain an impressive 44.80%. Yet, numbers can be deceiving and that's why the fundamental situation, discussed above, is so important. The true return of Chesapeake will be dictated by crude fundamentals.
Panning over to the futures market, particularly later-dated crude oil futures, it's possible to garner an initial timeline for crude oil's recovery past $50 barrel based upon what traders are thinking. Panning to the October 2016 futures, they're only trading up about $4.00 from the current level. For Chesapeake, that means, there's only going to be about $0.80 of growth per share by that date, about an increase of 13%. While that's an excellent return for a dividend aristocrat, blue-chip type of stock, this stock's attractiveness lies in its ability to generate a significant amount of alpha relative to benchmarks because of its leverage. I personally wouldn't be satisfied with that kind of NTM return from Chesapeake.

Click to enlarge
Source: Bloomberg
In my opinion, shareholders, current and prospective should retain much more optimism in their investment in CHK based upon the LT fundamental outlook for crude oil as these events cause aggravated increases in the price of oil and can start to push the later-date futures up. All of this bodes well for Chesapeake.
Investor Takeaway
Crude oil's recovery timeline is uncertain; however, when it recovers, investors will look back and see that Chesapeake was a clear outperformer. Picking up a leveraged equity that correlates in a strong manner to the price of crude oil in the current environment and holding it for the long-term is the smart idea for highly positive returns. Chesapeake looks attractive for the long-term and its high leverage will support a magnified gain. Additionally, I don't think investors can afford to be bearish on Chesapeake given the fundamental situation.
Disclosure: I/we have no positions in any stocks mentioned, but may initiate a long position in CHK over the next 72 hours.
I wrote this article myself, and it expresses my own opinions. I am not receiving compensation for it (other than from Seeking Alpha). I have no business relationship with any company whose stock is mentioned in this article.