What about that "something remarkable" presentation? Micron Technology (NASDAQ:MU) tried to whip up enthusiasm for its April 12th meeting with come-ons like: "Micron is Unveiling Something Remarkable." What a snooze! Among other doodads and a new facility in Austin, a couple of new planar - not 3D NAND - SSDs with third-party controllers from Microsemi (NASDAQ:MSCC) and Marvell (NASDAQ:MRVL)? As Tom's Hardware commented:
The third-party Microsemi and Marvell controllers are field-tested and mature, but they are definitely not the proprietary SSD controllers that Micron has touted during investor calls over the last several years
There was also significant misinformation from Darren Thomas - VP & GM, Storage Business Unit - and Mark Glasgow - VP, Enterprise Sales - each stating that there are only two companies in the world which make DRAM and NAND; presumably they know Micron is one and they've remembered Samsung (OTC:SSNLF) but forgot SK Hynix (OTC:HXSCF)?
Micron's investors have come to expect inept presentations. Obscured in this one was the fact that one of these offerings may now be the industry performance leader in IoPs and another may be on cost parity with a 15,000 rpm HDD. Count on Micron to forget to underscore some actual positives.
While the April 12th "Remarkable" presentation was depressing, the 57-page report from Bernstein's Mark Newman was worse.
"Global Memory: The Good, the Bad and the Downright Ugly - How Samsung Killed the New Memory Paradigm; D/G Hynix." So reads the title of Bernstein's April 11th report. Their analyst, Mark Newman, is arguably the best in the memory space. He is an alumnus of Samsung's semi division and knows this stuff well. Still, he was a little cautious on Micron's upswing in 2013 and 2014 and stayed a little too late at this party (didn't we all) on the downswing in 2015 and 2016.
Before diving into this current report, it's important to review what Newman's "New Memory Paradigm" encompassed. Basically, he had five points (excerpting from his May 2014 report "Global Memory: The Next Leg Of The New Memory Paradigm"):
Memory is becoming highly concentrated.
Memory's technological complexity is increasing.
Memory is becoming increasingly inelastic.
Samsung's strategic motivation has fundamentally changed.
Returns are finally becoming more important.
And for most of the massive uplift in memory stocks during 2013 and 2014, these were all valid.
Newman summarizes the good, the bad, and the ugly upfront in this new report:
The good: "Shrink is indeed slowing leading to lower supply growth, and the DRAM industry has significantly consolidated."
The bad: "Samsung is not behaving as we expected, demand has fallen off a cliff and slower cost declines from shrink exacerbate the issue."
The ugly: "China's potential entry to the memory market and new memory technologies that threaten to cannibalize mainstream memory provide further worries for the longer term."
I've combed through this whole report and most of Newman's reports for the last three years. My guess on what he feels he got most wrong was the lack of oligopoly behavior given the industry consolidation, and the tremendous price decreases reminiscent of the memory business of yesteryear.
What about pricing? Newman has some very gloomy charts and language on three cases. His Exhibit 3: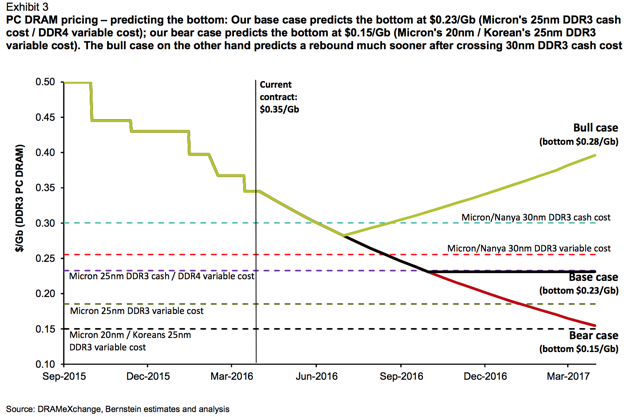 Click to enlarge
What about production cuts? Newman identifies Micron as the high-cost player and presents some chilling slides.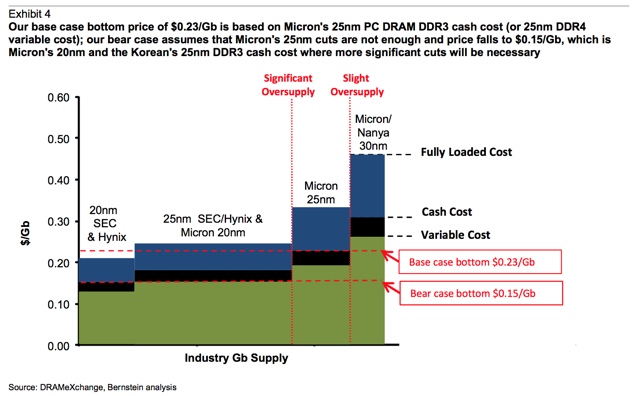 Click to enlarge
Makes sense that the highest-cost player would remove their least cost-effective nodes to their benefit and to the strengthening of the whole industry. Right?
Wrong! Read this interchange between Nomura's Romit Shah and Micron's CEO, Mark Durcan, and CFO, Ernie Maddock, on the last earnings call:
Romit Shah ...Pricing is going to continue to be weak until Micron and the DRAM industry overall cuts production. So, I guess, my question is, what will it take for that to happen?...

Mark Durcan

We don't have any plans that cut production to date. ...

Well, I think -- well, first of all, we're not going to do it unless we see negative cash margins, because we haven't added any incremental capacity. And we think we'd be foolish to be the first ones to take capacity off, given that fact set.

Ernie Maddock

Yes its [important] to remember how much of our cost structure is fixed. And so to Mark's point as long as we're getting a contribution to that cost structure, that fixed cost structure, it's a really ill advised move to be unilaterally cutting production.
This sounds like very dangerous thinking on the part of Micron's management. Newman gives his prognosis:
We bring back our "Old Memory Paradigm" analysis to predict the bottom of this DRAM cycle. Although we still believe that this DRAM cycle due to slowing shrink and a more consolidated market will be less severe than past cycles, we still see further downside. We predict the bottom based on cash/variable cost levels at the marginal cost supplier, which today is Micron/Nanya's 30nm, but since that is now a small (and rapidly shrinking) portion of overall PC DRAM supply our base case predicts the bottom at Micron's 25nm DDR3 cash cost (or DDR4 variable cost). At that point Micron will need to cut production. Beyond that (and as Micron is now ramping 20nm), the bear case predicts the bottom at Micron's 20nm DDR3 cash cost (which is also roughly equal to the Korean's 25nm DDR3 cash cost) where more significant cuts would be expected to bring the market back into balance.
So is Micron headed to $6.37 or $20.23? Newman presents two slides showing target share prices under various scenarios, and second his probability weighting of those scenarios.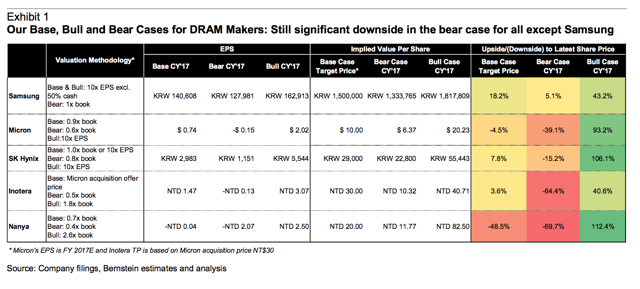 Click to enlarge

Click to enlargeI am personally somewhere between Newman's base and bear-case scenarios. I hold a tiny Micron stock position and am opportunistically playing stock price swings, earnings announcements, and (unsuccessfully) "remarkable" product announcements like that on April 12th. But I fear 2016 is a lost cause for any sustained upswing. For those interested in playing 3D XPoint and 3D NAND, I think the 2016 answer is to buy Intel (NASDAQ:INTC) 2018 LEAP options as I stated in my article, Micron to Talk About Non-Volatile Memory.
Is there any hope? I think Newman and the other analysts are missing a couple of big things that could re-energize Micron. First, Durcan repeated his assertion that over 50% of NAND bits would be of the 3D variety by the end of the year. Since we are at essentially zero 3D NAND bits today, that would be huge. Second, Durcan has stated that by 2018 3D XPoint could be half the size of today's DRAM business (presumably he means in bits, but who knows with Durcan-speak?). And finally, I think a trend towards memory-centric computing is upon us. I found this excellent video talking about some of this in one of the comment threads to another SA article. This is not just the Automata Processor, but is simple memory compute commands as Mutlu discusses in the video.
So yes, there is hope. But I don't think it's a 2016 event. I expect to significantly add to my position if we near Bernstein's bear case.
Disclosure: I am/we are long MU, INTC.
I wrote this article myself, and it expresses my own opinions. I am not receiving compensation for it (other than from Seeking Alpha). I have no business relationship with any company whose stock is mentioned in this article.