HCP Inc (NYSE:HCP) is a Real Estate Investment Trust that invests primarily in healthcare related real estate in the United States. HCP's assets are divided into 5 sectors: senior housing, post-acute/skilled nursing, life science, medical office and hospital.
Key company highlights include:
$1.9 billion of Portfolio Income
Over 1,200 properties
BBB+ investment grade credit rating
30 years of consecutive dividend increases
My analysis below indicates that the dividend payout ratio as a percent of FFO will peak at the mid-80% level (with a couple of increases along the way) and is therefore safe from a cut despite recent negative sentiment.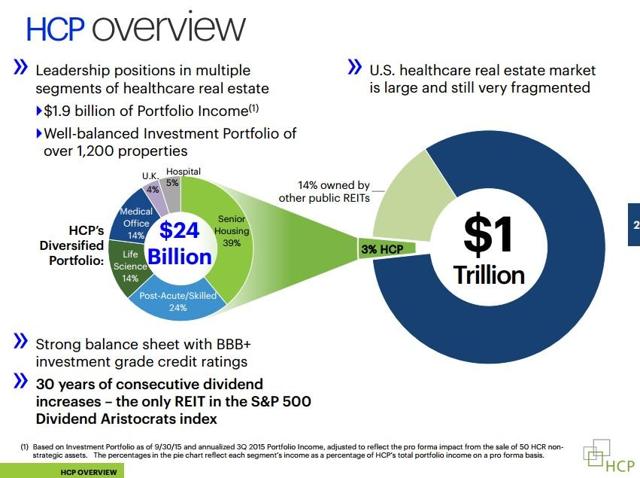 Click to enlarge
(Source: HCP IR deck)
HCP currently yields 6.5%, which I view as very attractive given the risk profile of the company and its projected cash flow.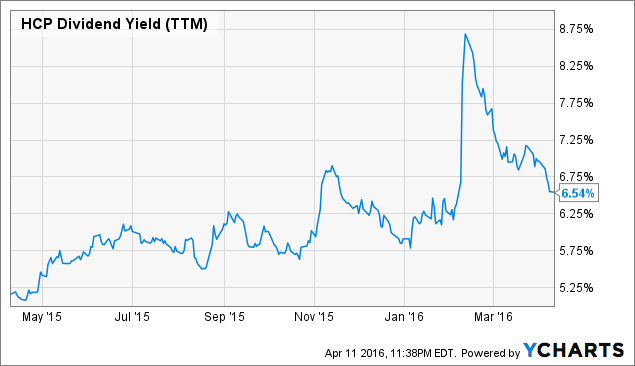 HCP Dividend Yield ((NYSE:TTM)) data by YCharts
History of dividend increases
Every year for the past 30 years HCP has increased its dividends per share. In recent history (past 10 years), it has gone from $1.70 to $2.26, which represents an increase of over 30%.
HCP was the first healthcare REIT on the S&P 500 index and the first REIT in the S&P 500 Dividend Aristocrats index. The Dividend Aristocrats are companies that have increased dividends every year for the last 25 consecutive years. There are only 50 companies on the list as of 2015.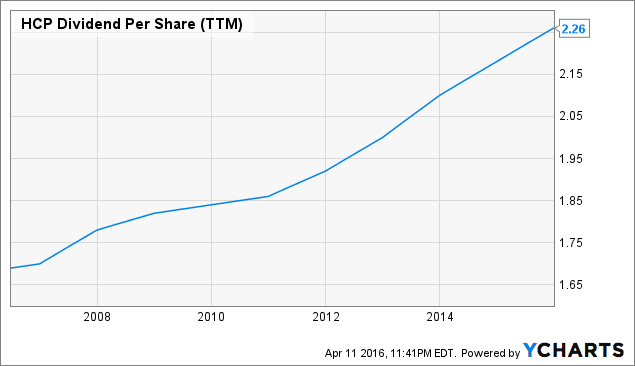 HCP Dividend Per Share ((TTM) data by YCharts
Valuation
HCP trades at about 12x analyst estimates for 2016 normalized FFO (Funds From Operations, or, Net Income + Amortization + Depreciation - Gain on Sale of Assets).
Below is a summary of historical and forecast FFO per share for HCP:
2014: $3.04
2015: $3.16
2016E: $2.75 (lower end of guidance)
2017E: $2.85
Here are the corresponding dividends per share (historical and my forecast):
2014: $2.18
2015: $2.26
2016E: $2.30
2017E: $2.35
The average ratio of dividends to FFO per share is 77%, and the high point is reached in 2016 at 84%.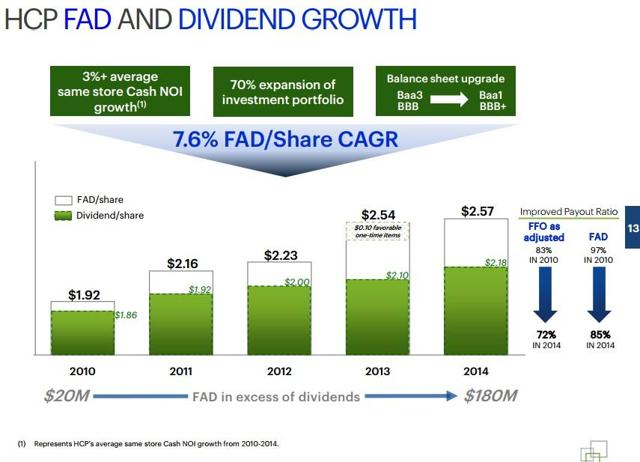 Click to enlarge
(Source: HCP IR deck)
Above we see the widening spread between Funds Available for Distribution (FAD) per share and dividends per share, which makes the current yield very attractive.
Financial Forecast
I have updated my forecast below based on the company's most recent results, guidance, sell side analyst estimates, any own analysis.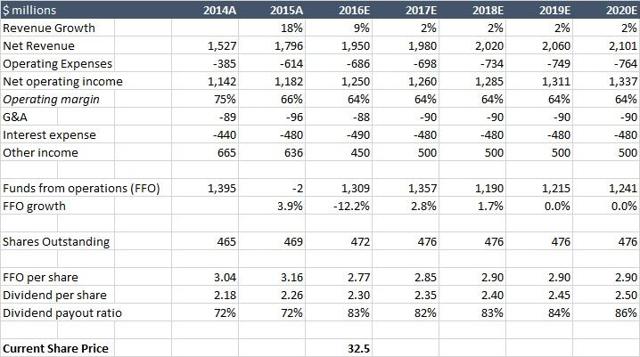 Click to enlarge
(Source: author's analysis)
Based on the above forecast, I see a dividend payout ratio of 86% as a peak in 2020, even with several dividend increases along the way (in line with their historical average growth rate).
Despite recent market jitters in early February about a possible dividend cut, I think the dividend will be maintained (note: the stock has recovered significantly since then).
Conclusion
I view the likelihood of a cut as low given the payout ratio of 82%-86% for dividends as a percent of FFO over the next several years.
The FAD in excess of dividends has increased from $20 million in 2010 to $180 million in 2014, which further supports this point.
Finally, a quick search of HCP's most recent IR deck indicates they referenced the fact that they are a member of the "Dividend Aristocrats" FOUR times in one presentation. If that's not a strong social/external commitment to not cut the dividend and blow 25 years of history, I don't know what is.
According to my analysis, the 30+ year dividend history will continue and the 6.5% yield is an attractive opportunity for income-oriented investors.
Disclosure: I/we have no positions in any stocks mentioned, and no plans to initiate any positions within the next 72 hours.
I wrote this article myself, and it expresses my own opinions. I am not receiving compensation for it (other than from Seeking Alpha). I have no business relationship with any company whose stock is mentioned in this article.