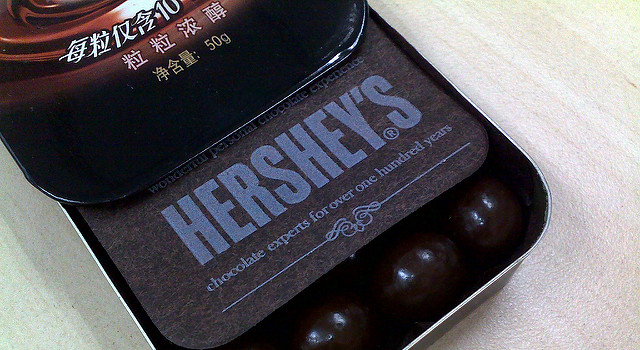 I've been looking forward to reviewing confectioner Hershey's (NYSE:HSY) for my "Food Fight" series for some time. Recently I have finally had the opportunity to act on that. As I was working on this, however, I had to step back from my usual comparisons with its peers to focus on one, idiosyncratic part of Hershey's business: its Chinese operations. In particular, its recent Shanghai Golden Monkey (hereafter, SGM) acquisition.
I must stress here that Hershey's remains a compelling business. Not only because of the reasons I explain as we go along here, but also because of cash flow. Hershey's generates cash flow by the bucket-load. Here we are dealing with a part of the income statement which - as a cash flow-focused investor - I usually shy away from. Yet in this case, it is of interest with regards the bigger questions it forces us to ask about Hershey's international moves. Later I will look into its cash flow (and general) performance in more detail.
The Acquisition
First, let's take a step back. The purchase was announced late in 2014. Hershey's picked up an 80% stake for $394 million with the intention of buying the remaining 20% after regulatory approval was secured. All told, it was set to be worth about $577 million including debt. In December 2015 they finally agreed to buy the remaining stake.
Progress started off well. SGM, Hershey's explained at the time, doubled their presence in China. FY 2014 results also started with a strong suggestion
Shanghai Golden Monkey was supposed to help expand Hershey's reach in China. As Hershey's CEO, John Bilbrey noted in August 2015:
We acquired the Golden Monkey business to broaden our footprint in China by leveraging both the sales force and the regional and local distributor network in order to diversify Hershey's Chocolate growth, which has historically been leveraged to Tier 1 hypermarkets.
In other words, prior to the acquisition sales were chiefly limited to sales in the super-sized supermarkets of the main cities of Beijing, Shanghai, Guangzhou and Shenzhen. Tier 2 cities were also pretty well represented (maps adjusted from Hershey's presentation):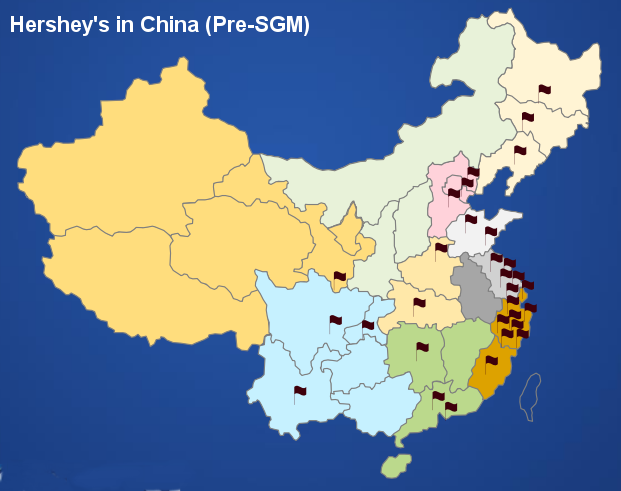 SGM certainly offered a lot, it seemed: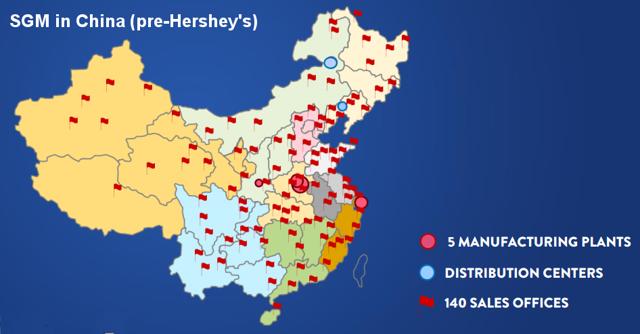 Click to enlarge
The SGM acquisition was thus set to provide the means by which to expand into tier 2 and tier 3 cities more comprehensively.
The Earnings Set Back
Hershey's 2015 reported results were, of course, fairly disappointing compared to their recent history. This was (as well will see in my later article) largely in line with its peers' experiences. Revenue took a little dent in 2015 on a reported basis: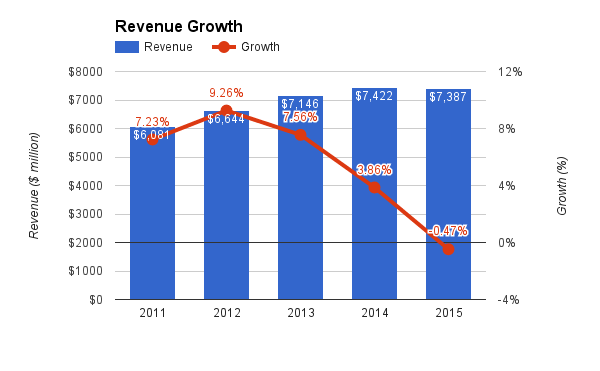 Yet on a constant currency basis they were still able to put together modest revenue growth: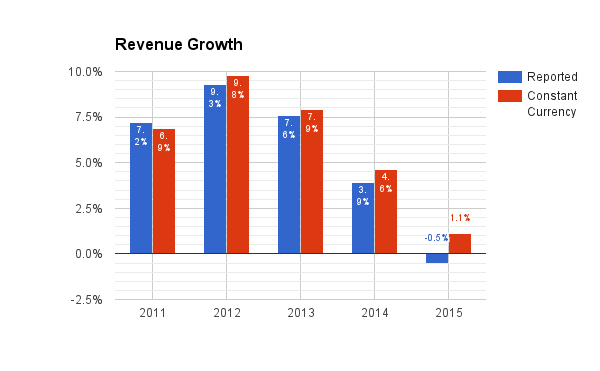 Operating income, however, did not paint quite such a robust picture: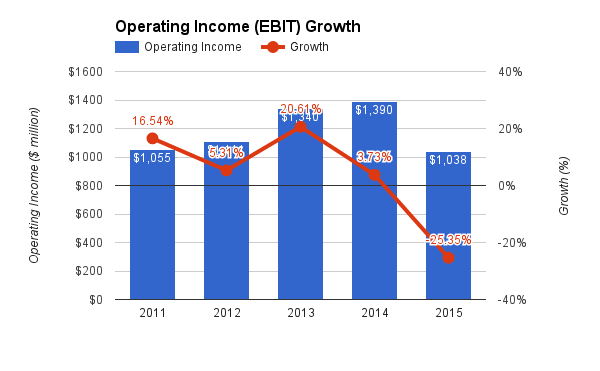 Clearly any drop in earnings by over a quarter is not to be welcomed. Yet, what drove it? Well, chiefly it was impairment costs. While most charges which chiseled down operating income in 2014 remained largely flat, impairments and business alignment saw hefty leaps: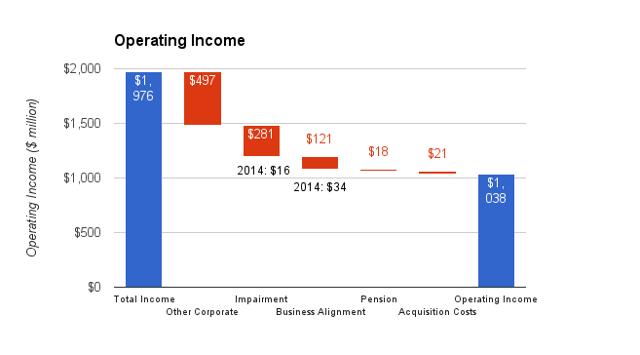 Click to enlarge
Impairments grew, in fact, from just $16 million in 2014 to $281 million in 2015. If we were to set aside impairments to 2014's levels you will note that operating income would have been $1.303 billion. That is about 6% down rather than 25% down on 2014. Sure, hardly great, but better nonetheless.
In fact, the picture was even grimmer for the international segment as the $1.976 billion total income figure also reflected the $98 million loss at the international segment after c.$40 million profits in previous years: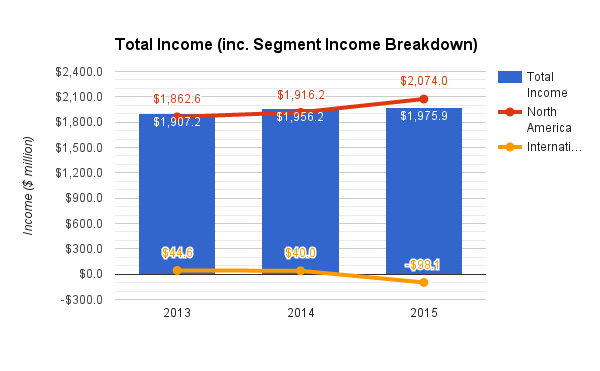 John Bilbrey noted that 80% of the negative effect which led to the $138 million change was caused by China alone.
Impaired Vision?
Where did these impairments emerge from? Well they were chiefly threefold:
Poor performance of the SGM business itself and its assets;
Less stable and broad distribution network than believed;
Distribution network weakness and its impact on proposed distribution synergies with existing Hershey business;
The company's annual report clarified that:
the SGM business performed below expectations throughout 2015, with net sales and earnings levels well below pre-acquisition levels. As of result of this declining performance, in the second quarter we recorded an estimated goodwill impairment charge of $249.8 million relating to the SGM reporting unit. During the third quarter, we updated our estimates of the acquisition-date fair values of the net assets acquired, which increased the value of acquired goodwill by $16.6 million. We also finalized the impairment test of the goodwill relating to the SGM reporting unit, which resulted in an additional $16.6 million write-off of this increase to goodwill. During the third quarter, we also wrote off $14.4 million of goodwill that resulted from the SGM acquisition and was assigned to our existing China chocolate business, as this reporting unit was expected to benefit from acquisition synergies relating to the sale of Golden Monkey-branded product through its Tier 1 and hypermarket distributor networks.
Yet, although over the short-term the hefty impairment on the SGM business (and its collateral effect on the existing Hershey business in China) was hardly welcomed. The need to write-down this acquisition so heftily does not look great. Yet Bilbrey noted that:
I think the strategy and intent we have with Golden Monkey [to utilize its distribution channels for expanding Hershey brands] is still intact. I think what we're really looking at is understanding the rightsizing and some of the business model practices that we have on a global basis and how do we integrate the broadest spectrum of distributors into that.… Do we still have value within some of those distributors? The fact of the matter is, yes, and the strategy is right. At the same time, as you can imagine, as you take a significant number of distributors and you try to align them into a new business model, there's things that you've got to make changes, and we're addressing that quite transparently upfront. We want to get moving ahead with building the business, so all the reasons that drew us to that business and being able to expand our footprint in China, still are there. We just have to get all the business practices aligned with what we believe is appropriate and what's required of us as a U.S. corporation.
The point here is that the impairment is not an impaired vision. Distribution opportunities continue to exist from the SGM purchase. Yet it is not just a matter of throwing in a few Hershey's brands alongside the SGM ones to distributors, the distribution networks need adjusting. Nonetheless, the networks remain and the opportunities for getting Hershey products into more regions, cities and consumers hands in China is there.
Some aspects of this do still worry me a little. "Do we," asks Bilbrey, "still have value within some of those distributors?" Yes may well be the answer. Yet how many are "some" and how would the adjusted geographical distribution map (such as that provided at the start of the article here) look like with those "some" distributors? What this suggests is that whereas amongst consumers in tier 1 cities some brand loyalty is developing, amongst SGM's distributors there is little to none. If Hershey's "assessment of the distributor network has made it clear that the network is not as stable as we believed, and therefore the related retail customer reach is not as broad as we believed it to be" how unstable is it?
Clearly Hershey's faces severe challenges in the Chinese market from their own unique position. Certainly the SGM acquisition appears value destructive at present. Yet it remains clear that SGM, although not as valuable perhaps as originally thought, is far from valueless.
Will they need to impair the SGM assets further in the future? Possibly. Yet I doubt that at present. As Bilbrey stated above, Hershey's were looking to address "transparently upfront" the challenges faced by the business in the short-term in integrating the SGM assets with Hershey's established presence. I think they have done that. Writing down the value of the SGM assets, they can now focus on building that value up once again.
Hopefully the SGM acquisition will smart with the management enough to ensure future acquisitions or moves in China are handled more effectively. As Morningstar analyst Erin Lash noted last year, "prudence and diligence was lacking with regard to the acquisition when it was signed." Management's reaction to this fact has been encouraging. Hopefully it is a case of once bitten, twice as shy.
China Remains Attractive
What is clear is that China remains a key growth driver for Hershey's. Yet they were also forced to highlight that macroeconomic headwinds in China also affected their Chinese businesses including SGM's performance. Yet, long term, the Chinese market remains compelling. Chinese consumers continue to eat far less chocolate per capita than almost any other country: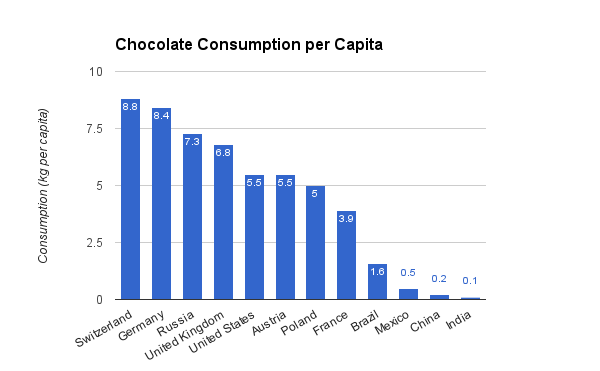 Unsurprisingly, chocolate sales are expected to grow at quite a pace in the country in the next few years and beyond: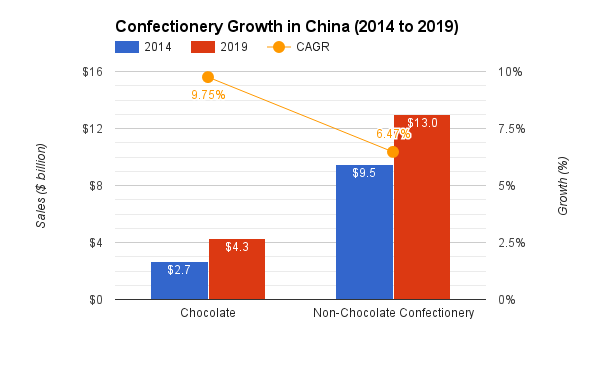 Importantly, Hershey's has already managed to put together an impressive market share in the country. As in the US, Mars is Hershey's biggest rival with a market share approaching nearly 40%: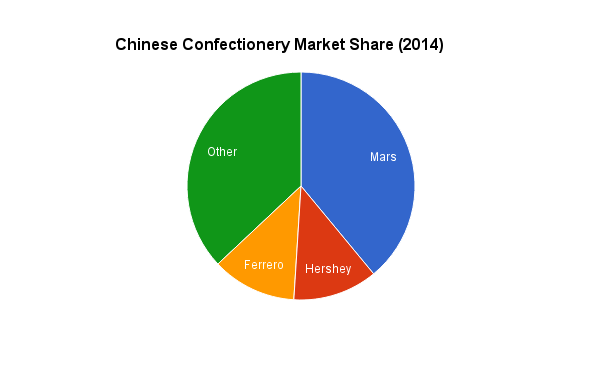 In 2014, Hershey's and Italian rival Ferrero held market shares around the 12% mark in the country. This is no small market share and a good basis on which to build.
My point here is that the value in Hershey's Chinese assets is not to be found in the short of medium term, but the long term. Already Hershey's have proven able to build up an impressive market share in the country. Even with the short-term issues, the SGM purchase will serve as a catalyst over the longer-term in expanding this share through geographical breadth.
What is clear is that the Chinese market offers compelling growth opportunities for Hershey's. Confectionery (and particularly chocolate) growth is set to be rapid from a low baseline. Hershey's also has a strong opportunity to capture more growth through market share gains. Could it overhaul the Mars lead as it did in the US market over the last few years? Quite possibly as they have already made in-roads here. Yet investors will, naturally, have to be patient.
Conclusion
The SGM acquisition has proven a more challenging acquisition than Hershey's management had anticipated. Falling SGM sales and weaker distribution channels than believed were certainly two body blows to their immediate Chinese growth targets. Yet trying to take a peek above the short-term difficulties to the long-term opportunities and its looks far more "as anticipated." Hershey's has built up a strong position in China where their brands clearly have already began to develop a robust brand power.
Sure China is still filled with consumers largely untapped by Hershey's and its peers. Yet it is not just a matter of fitting a tap, you need to invest in the larger plumbing network too. This I hope will become clear to management.
The reality is that Hershey's, for all its efficient and effective moves in the US market, is simply feeling its way in China and its international markets. You have to expect a bit of fumbling in the process. The Chinese consumer is creating demand for chocolate and confectionery, Hershey's just needs to ensure that their moves in the country create value rather than destroy it. It is a bitter sweet lesson today, but hopefully will guarantee a sweet future for Hershey's in China in the future.
Hershey's remains a highly cash-generative business whose stable, efficient core business in the US and strong stable of brands look well placed to take advantage of the secular growth worldwide of chocolate and broader confectionery. Experiences like SGM are avoidable but valuable lessons in ensuring that, long-term, Hershey's is able to take full advantage of this. Hopefully, however, upside from the SGM purchase is now more likely than further downside.
Notes
Unless otherwise stated, all graphs and tables and the calculations contained within them were created by the author. Creative Commons image reproduced from Flickr user bfishadow.
Disclosure: I/we have no positions in any stocks mentioned, and no plans to initiate any positions within the next 72 hours.
I wrote this article myself, and it expresses my own opinions. I am not receiving compensation for it (other than from Seeking Alpha). I have no business relationship with any company whose stock is mentioned in this article.