This is a break from my three-part series on the Hybrid Memory Cube (certainly feel free to check out parts one and two if you're curious). I did watch Micron's (NASDAQ:MU) webcast and feel the need to inject a short summary of my perspective.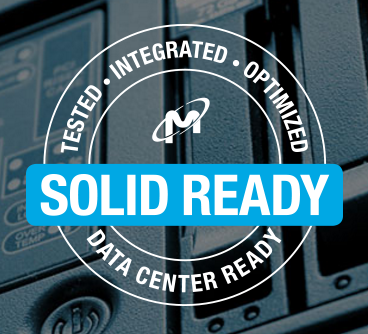 To the Point
In the commentary of many Micron articles here on Seeking Alpha, a theme has emerged:
Mark Durcan often communicates with a dollop of clumsy.
Micron is being run by the engineers and not by the canonical Alpha.
While I agree with both of these, I do see a lot of vision in Micron as of late. Let me be clear: it certainly appears Intel (NASDAQ:INTC) took their ball and left Micron, who are now being forced to pick up the pieces and go home. Albeit a bit awkward, Tuesday's "Enterprising the Data Center" event was the first step in that process.
When Micron initially signed Dell's Darren Thomas in 2014, my gut reaction was that "they're going to sell turnkey products to the end users." This seemed like a clever idea to me because I am an end user of these "enterprise" products and have saved my employer lots of money by cobbling systems with open technologies. There are dozens of network storage startups out there all doing the same thing at substantial markup:
Buy a stack of Intel-based Super Micro hardware.
Finish the system with DRAM, SSDs and controllers of choice.
Install Linux (or other free Unix variant) to facilitate the storage software.
Polish the product with a nice custom interface and VMware integration.
A few will go beyond this cookie-cutting with actual innovation, but it is well-known that innovation in storage will attract lawsuits from NetApp (NASDAQ:NTAP) and Oracle (NASDAQ:ORCL), among others. If the hardware breaks, the startups need only contact Super Micro (NASDAQ:SMCI) to fix the hardware in the field. This is the network storage startup equivalent of being "fabless."
Character Building
Recently, I assembled some servers in the form of Intel-based Super Micro chassis and motherboards with Samsung (OTC:SSNLF) DRAM and SSDs (all solid state with no spinning disk). I leveraged these to sit under VMware (NYSE:VMW) vSphere to meet the demands of my employer's virtual server infrastructure.
During a recent upgrade of our financial system software, the vendor (a multi-billion dollar company with many thousands of installations) wanted to benchmark our server infrastructure to ensure there weren't any performance issues. When they did, they were astounded - they hadn't ever seen anything so fast. When they inquired about the underlying technology, they didn't seem satisfied that "we built it ourselves."
While I can build very competitive storage at a fifth of the cost of a commercial solution, I'd rather not spend the time if I can pay a little bit more for a turnkey system. I really thought the startup mania in the storage industry would produce this system but it has not - storage is growing way too fast for the margins to come down. This presents some opportunity for Micron.
Enabling
The Register did a wonderful article on Super Micro's ability to enable startups - something I described above. And, with most of their success hinging on the frugal nature of their customers, they do it with remarkable efficiency and democracy. For $2,400, I can get a 72-bay Supermicro chassis. For less than $50,000, I can outfit that chassis in order to put 72 terabytes of Intel-backed, all-flash network storage online.
By partnering with Super Micro, Micron is going to ride on the coattails of Super Micro's enabling effect. This will be very good for both of them.
The Mention of Software
There was also a hint toward developing software during the "Enterprising" event. This represents the largest near-term opportunity for Micron. With the aforementioned trend in network storage startups, Micron possesses a unique opportunity to simply bypass the middlemen and go directly to the customer with their own products.
Micron has a lot of very smart people that might not always come across as charismatic. This is something called "The Knack" and is something that I struggle with myself. Rest assured that creating good software to sit on top of their hardware will not be difficult for Micron. If they made it a priority, they could probably be to market by the end of summer if they started just today - competing with the likes of EMC (EMC), NetApp, IBM (NYSE:IBM), Dell and the others. And 3D XPoint would integrate nicely once they figure that out.
Conclusion
Although I'm not the one asking, Micron could suppress some of the "clumsy" complaints by replacing Mark Adams, who left the company in February. But I think that they'll do just fine even if they don't. I'm not certain Micron is going to go directly for the end users, but it is clever of them that they would target Super Micro's customer-base as this creates that wonderful thing that is only described by a vilified word:
Synergy
Disclosure: I am/we are long MU, INTC.
I wrote this article myself, and it expresses my own opinions. I am not receiving compensation for it (other than from Seeking Alpha). I have no business relationship with any company whose stock is mentioned in this article.
Editor's Note: This article discusses one or more securities that do not trade on a major U.S. exchange. Please be aware of the risks associated with these stocks.