Introduction
In February there was a Seeking Alpha article by Virginia Investor about Flowers Foods' (NYSE:FLO) earnings miss. It featured quick overview about future growth and valuation. Following this article, there was another about $120M share buyback and competitor analysis. Since these articles are up to date and demonstrate Flowers Foods current financial situation, I'll take look at the stock price in the short term.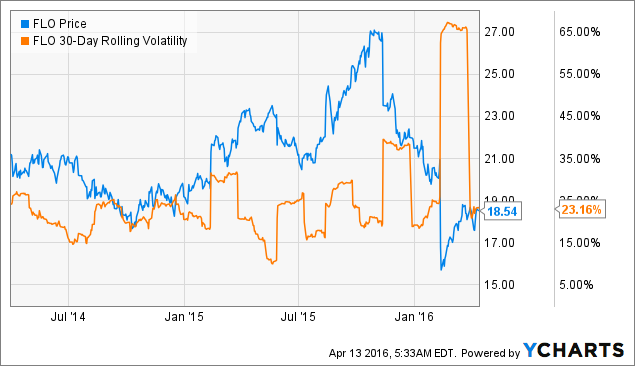 FLO data by YCharts
I have followed Flowers Foods on the sidelines quite a while now and I'm seriously considering buying it. Flowers Foods currently trades at attractive valuation with above average yield. But I'm concerned about the new trend of increased volatility surrounding earnings reports. And since most investors don't intend to sell and buy every 3 months it represents a problem. So I decided to look at FY2015 earnings announcements in detail to see if these wild stock declines were justified.
Flowers Foods key financials compared to analyst estimates
| | | | | |
| --- | --- | --- | --- | --- |
| Date | Revenue | EPS $ | Price range | High to low % |
| Q4/2015 | 858 | 0.15 | 21.24 - 15.64 | 35.8% |
| | 908 | 0.21 | | |
| Q3/2015 | 885 | 0.21 | 27.26 - 22.96 | 18.7% |
| | 873 | 0.23 | | |
| Q2/2015 | 889 | 0.24 | 24.44 - 21.48 | 13.7% |
| | 888 | 0.22 | | |
| Q1/2015 | 1146 | 0.29 | 23.17 - 21.40 | 8.3% |
| | 1160 | 0.3 | | |
Source: Thomson Reuters. Reported non-adjusted numbers in bold, consensus estimates below.
There has clearly been increased volatility and wider trading range during recent reporting periods. I used three days before and after earnings report for the stock prices. Let's take a look at the last two results and markets' reaction.
Q3/2015 Report
Revenue beat estimates by 12M, but non-adjusted EPS missed by 0.02$. Flowers Foods updated their revenue outlook slightly higher but at the same time lowered EPS. Seems like a mixed bag. They were willing to compromise bottom line for sales growth. The market tanked the stock from 26.64 to 23.52 erasing more than 650 million from Flowers Foods market cap. No major threats were reported that could affect financial performance.
Q4/2015 Report
Revenue and EPS missed estimates by 50M and 0.06$. They couldn't deliver the lower end of the guidance, which they had just provided a couple of months before. Management acknowledged the situation and promised better results going forward to 2016. They gave a guidance with sales growth from 5.5% to 8% and EPS growth of 6.5% to 13% in 2016. Seems like a decent guidance, however the stock plummeted 20% and closed to a multi-year low. Flowers Foods' market cap shrunk more than a billion dollars. One thing to keep in mind is that the market sentiment back in February was bearish, meaning every bad report was worse.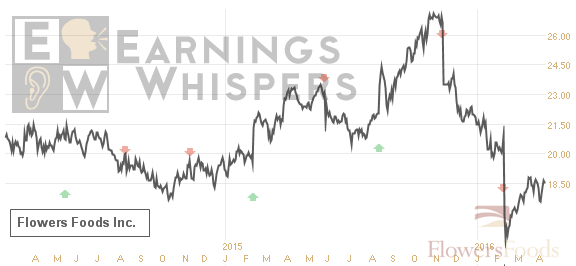 Source: Earnings Whisperer
Conclusions
The stock has covered nicely after the Q4 report and will probably keep doing so in the future. That being said, if there were any operational inefficiencies or lack of demand during this quarter that turned into slower sales or profitability it will get ugly and fast. For the last two earnings reports Flowers Foods has had it tough and there can't be any softness in the numbers.
Investors should be careful until the next earnings announcement. I like the products and the management, but I'm more comfortable owning Flowers Foods after the Q1 report even if the price is higher.
Disclosure: I/we have no positions in any stocks mentioned, and no plans to initiate any positions within the next 72 hours.
I wrote this article myself, and it expresses my own opinions. I am not receiving compensation for it (other than from Seeking Alpha). I have no business relationship with any company whose stock is mentioned in this article.