Facebook's (NASDAQ:FB) F8 conference has been dominating headlines, from Zuckerberg's apparent shot at Donald Trump's wall to the free Samsung (OTC:SSNLF) VR headsets attendees received on day one. On Seeking Alpha, article after article cites Messenger Chatbots, for example, as a game-changer for the company. For investors curious about Facebook's future, a different catalyst has gone relatively unnoticed in the investment community. One we believe will drive engagement, average revenue per user (ARPU) and time spent on Facebook's platform: the rollout of Facebook's Instant Articles to all publishers.
A problem Facebook has tried to ameliorate for users is the fact that third-party links offsite have slowed down the user experience. Sharing links to articles specifically is something Facebook has tried to address with Instant Articles, and its features are sure to grow the publisher base on Facebook and increase important metrics for the company. An Instant Article is "an HTML5 document optimized for fast mobile performance, rich storytelling capabilities, branded design and customized visual display."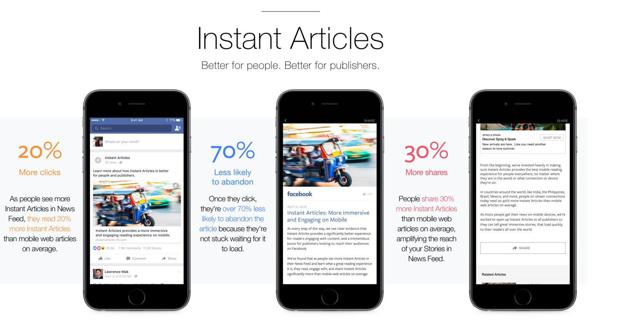 Click to enlarge
On Facebook's most recent earnings conference call, Sheryl Sandberg commented that "it was the slowest upload experience you could have in newsfeed to link off to an outside article … so we worked with publishers to upload more news articles natively to Facebook and we're seeing great engagement from that." Well it would be great if the next earnings report adds some color to the "great engagement" comment, especially in light of Instant Articles now being available for all publishers (previously it was only a select few). We expect several positives flowing from the widespread use of Instant Articles.
First, time spent on Facebook should increase. If indeed it is the case that the slowest upload experience on Facebook is linking to outside articles, the widespread adoption of Instant Articles, where publishers can upload natively to Facebook, should keep users on Facebook. There would be no need for users to wait for a third-party publisher site to upload since the content will be native on Facebook. Areas with low connectivity should benefit because faster upload times will keep frustrated users on the platform longer.
Naturally, publishers might be worried about diminishing site visits and advertising dollars of their own. Facebook cleverly addresses these concerns by its advertising revenue model on Instant Articles. In short, publishers can bring their own direct-sold ads and keep 100% of the revenue (while being able to track data through their existing ad measurement systems). Also, in the alternative, they can use Facebook's Audience Network to reap revenue from ads Facebook places through the AN in each Instant Article. This allows publishers to maintain (perhaps increase?) their advertising revenues and is a step in the right direction to attract publishers to the Instant Articles platform.
Secondly, we would like to see how engagement metrics are improved by the rollout of Instant Articles. We are already of the mind that Facebook's emphasis on video, live video and "premium content" has helped the company keep its users engaged. We have seen the rollout of 60-second videos on Instagram as another step in Facebook's video strategy as well. Now, with Instant Articles, if Facebook is to be believed, users are 70% less likely to abandon the article. In fact, engagement stands to go higher with the adoption of Instant Articles because the "fast, immersive reading experience inspires people to share Instant Articles 30% more often than mobile web articles on average[.]"
Third, we believe ARPU should continue its growth because of Instant Articles. We believe a multitude of publishers will elect to participate in Facebook's revenue sharing through ad placement in the Audience Network. This should help advertising revenue for Facebook in a non-trivial way, but alas only time will tell. Taking a look at the most recent look at ARPU from Facebook: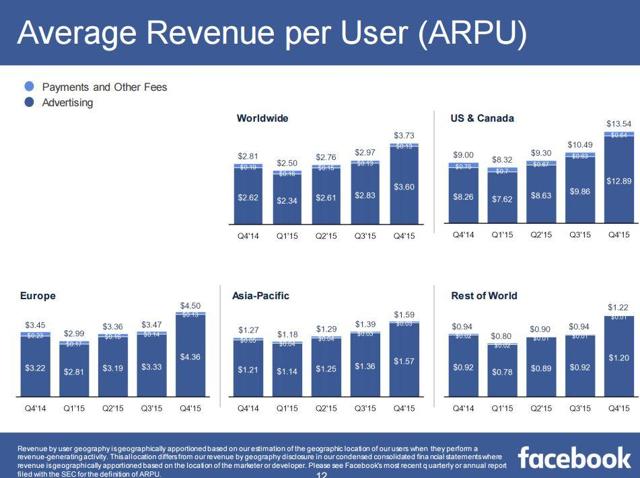 Click to enlarge
We see an acceleration in the most recent quarter and sincerely believe that tools like Live Video, Instant Articles and yes, even ChatBots, will spur ARPU growth in the future. We look forward to the next earnings report on how ARPU is trending, especially in light of Instant Articles.
Conclusion
Driving engagement higher, keeping users on Facebook longer and deriving more ad dollars are all likely outcomes if Facebook's Instant Articles is adopted widely by publishers. We urge investors to focus on its rollout and how it will affect important metrics for Facebook, and we expect more attention to be paid to this excellent feature going forward.
Disclosure: I/we have no positions in any stocks mentioned, and no plans to initiate any positions within the next 72 hours.
I wrote this article myself, and it expresses my own opinions. I am not receiving compensation for it (other than from Seeking Alpha). I have no business relationship with any company whose stock is mentioned in this article.