Elevator Pitch
The oil price had a significant rebound from $30/barrel to $40/barrel in the recent month. This gives more opportunity for energy companies to increase oil production. As oil production and railcar loadings are very correlated to each other, we expect a rebound in the volume of railcar loadings and the accompanied revenue. This will lead to a highly profitable outlook for Greenbrier Companies (NYSE:GBX).
Company Description
The company builds new railroad freight cars in four manufacturing facilities in the U.S. and Mexico and marine barges at their U.S. manufacturing facility. Greenbrier has thousands of railcars in its lease fleet and performs management services for hundreds of thousands of railcars owned by third parties. Greenbrier also sells reconditioned wheelsets and provides wheel services throughout the U.S. They also have exposure to Europe, Brazil, and the Middle East.
Thesis and Catalyst For The Greenbrier Companies, Inc.
I believe Greenbrier Companies has come under severe pressure due to the drop in oil price in 2015. This initiated panic in the energy sector, especially in the shale gas industry. Investors are correct to assume that a drop in oil price will result in a loss in oil production due to the price of oil going below cost of production. This loss in production will lead to a loss in railcar loadings. See figure below from Yardeni.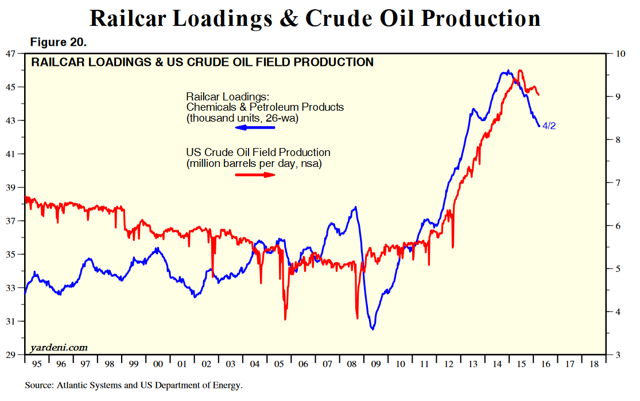 Click to enlarge
But when we look at the actual railcar loading numbers, the situation isn't that bad.
As of February 2016, total railcar loadings are still above 500 thousand units. See figure below from Yardeni.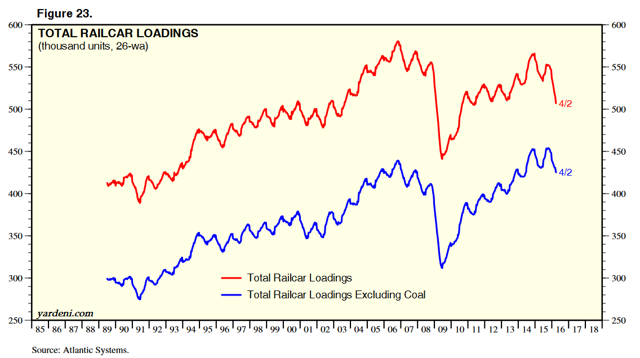 Click to enlarge
I believe we have seen the bottom in this trend. This assumption is strengthened by the surprising February 2016 number in truck tonnage. See figure below from Yardeni presenting the truck tonnage index.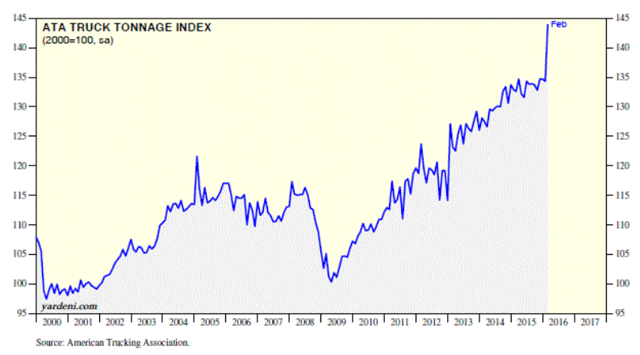 Click to enlarge
Another observation I want to make is that the U.S. dollar is starting to roll over. See figure below of the trade weighted U.S. dollar.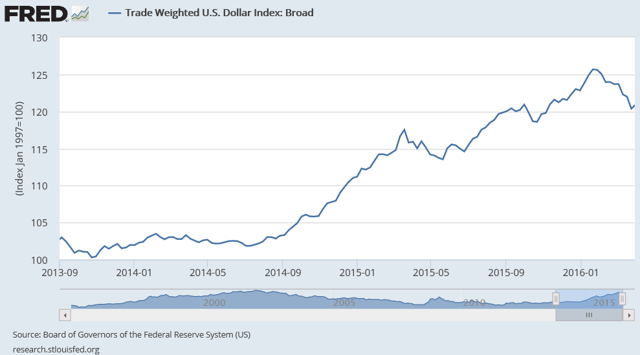 Click to enlarge
The adjustments to the Federal Reserve's dot plot on interest rates in the previous months could have weakened the U.S. dollar. As the U.S. dollar keeps weakening, the oil price will keep rising and this should change the perception of investors on this company. Also, bear in mind that at February 29, 2016, net assets of foreign subsidiaries aggregated $52.9 million. So, a 10% drop in the U.S. dollar will result in a 0.7% increase in the equity of the company.
Valuation
When we look at the latest earnings from 29th February, 2016, we can see that this company is trading slightly above book value which tells me you are getting value buying into this company. In the latest quarter, we saw excellent earnings of $45 million. A simple extrapolation will get us to a P/E of 5, which is a pretty good number. Earnings per share are projected to be in the range of $5.7-$6.1 and we see a rising trend in earnings. See figure below of adjusted earnings per share of the company.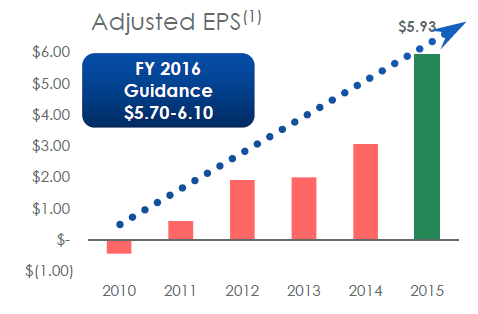 You will also get a nice dividend of 2.5% which is payable each quarter. The company has a strong balance sheet as it reduced net funded debt (funded debt less cash) from $386 million to $114 million in the last year which brings the net funded debt to EBITDA ratio to 0.2. These are extraordinary numbers.
What's also interesting to note is that the company still has $88 million pending in share buybacks (which is a whopping 10% of market capitalization), which should support the earnings going forward.
I believe this company is one of the best value plays out there at this moment and investors should be participating in this growth story.
Variant View
There are market risks involved when buying shares of this company. A strengthening U.S. dollar could have negative consequences on foreign exchange rates and it will also lead in a drop in oil price (and railcar loadings).
Furthermore, when the U.S. enters a recession (which is very likely when we look at the latest GDP numbers), this could have a negative impact on the transportation industry.
Disclosure: I/we have no positions in any stocks mentioned, and no plans to initiate any positions within the next 72 hours.
I wrote this article myself, and it expresses my own opinions. I am not receiving compensation for it (other than from Seeking Alpha). I have no business relationship with any company whose stock is mentioned in this article.