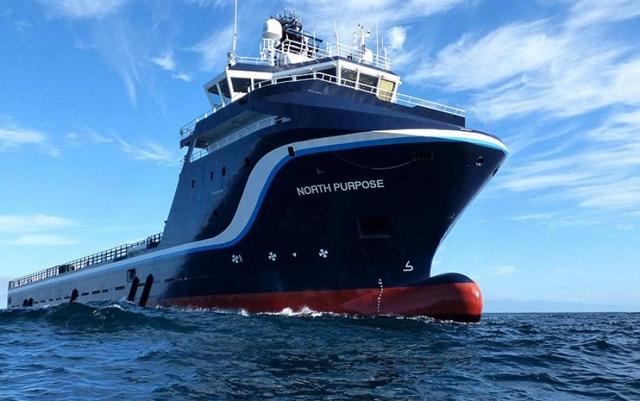 Click to enlarge
With oil prices showing signs of bottoming after the slide begun in August 2014, the offshore support industry offers an interesting strategic play on riding the upturn. The industry services all offshore exploration and production companies and thereby provides defensive flexibility against future underperformance by any one producer, diversifying risk and lending breadth to an investment portfolio.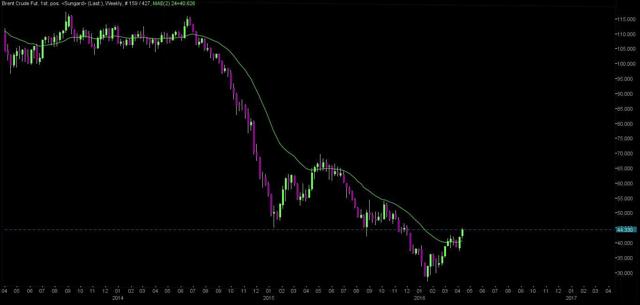 Click to enlarge
GulfMark Offshore, Inc. (NYSE: GLF) offers marine transportation services to the energy industry through a fleet of offshore support vessels serving all the major offshore energy markets of the world. The company operates in the North Sea, southeast Asia, and the Americas, and can deploy vessels in other markets as required, even those with the harshest of environments. Its services include platform supply, anchor handling, towing, marine construction support, and crew boats. The company was founded in July 1958, and is headquartered in Houston, Texas.
GulfMark is a micro cap stock, with a capitalization of $124.92 million. Buying shares in micro cap companies may be more profitable over time than investing in larger cap stocks when appropriate due diligence is undertaken. Because they lack the visibility of large cap companies the fundamentals of micro caps will not generally be as accurately reflected in their stock price, hence the opportunity.
Share price declined from a high of $53.89 in October 2013 in a downtrend that paralleled that of oil prices. The stock reached a low of $2.50 in January 2016 and now appears to have breached the downtrend to commence a long term upward cycle, presenting investors with an attractive entry point.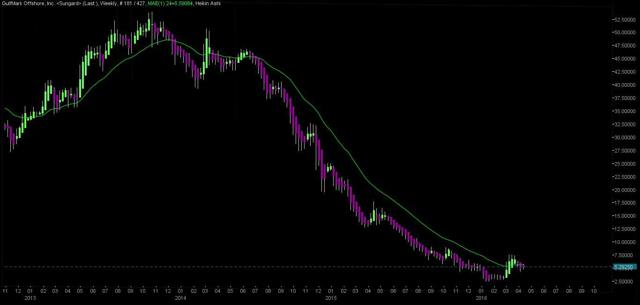 Click to enlarge
In common with many other companies in the oil industry, GulfMark's earnings have suffered during a sharp decline in oil prices. Consequently penetrating questions need to be asked. Is their balance sheet fundamentally sound? Are their services of superior quality? Have they used a period of market recession to emerge well positioned to secure greater market share?
What is the condition of GulfMark's balance sheet? While net income has deteriorated as offshore oil production and exploration have been curtailed, GulfMark's total asset base has not been disproportionately impacted when the scale of the decline of the oil market is considered. The company reduced operating expenses in the last quarter of 2015 by 28%, with a projected further decrease of 20% in the first quarter of 2016, and has reduced debt service costs by fully paying off revolving credit facilities. Its fleet has been upgraded, and proceeds from the sale of older vessels have been used to repurchase company bonds at a substantial discount, further reducing debt. Strong liquidity is projected for the foreseeable future.
For the fourth quarter ended Dec. 31, 2015, revenue was $50.6 million, and net loss was $16.6 million, or $0.67 per diluted share, included in the results were special items totaling $7.1 million, or $0.29 per diluted share after tax. Quarterly loss before those special items was $9.5 million, or $0.38 per diluted share. For a company that has weathered a dramatic industry recession, GulfMark's balance sheet presents as sound and should improve considerably as the correlation between the company's revenues, share price and the increasing price of oil continues.
Offshore supply vessels are the crux of all offshore operations. Demand fluctuates with the performance of the offshore sector as a whole, and with the global economy. With the introduction of new technologies and regulations, the market is expected to achieve significant growth in the coming decade. As oil and gas exploration moves toward deeper waters, multifunctional offshore support vessels are called upon more frequently to perform a wider range of tasks, and have created specific niches within the market. State of the art offshore support vessels require increased cargo capacity, panoramic navigation bridge visibility, large accommodation spaces, enhanced crew amenities and cutting edge automation systems.
Anchor handling towing vessels form the majority of the market with 56% market share. This segment is followed by platform support vessels. Vessels designed for inspection, maintenance and repair are generally equipped with large accommodation spaces, heavy lift cranes, helidecks and streamlined bow forms for operation in harsh environments. Vessels have to be capable of multitasking to carry out maintenance and repair operations on platform facilities and subsea pipelines.
How do GulfMark's vessels and service capabilities stack up? The company has a modern, diverse and technologically advanced fleet. It's 300 Class Jones Act qualified platform supply vessels are of superior quality and are designed to work in any market under any conditions. They meet the higher cargo carrying capacities, fuel efficiency, increased berthing, safety, firefighting and environmental classifications required in global markets. Their new vessels will be the only U.S. flagged platform supply vessels that have fire fighting vessel class 2 (FFV2) classifications, with three water monitors and mobile foam generators; safety standby service GRB-(300) with two fast rescue craft, facilities and equipment to treat 300 survivors; oil recovery capability class 2; HAB(NASDAQ:WB) for vibration, noise, climate control and lighting; green passport (GP); and environmental notation (ENVIRO) for MARPOL (the International Convention for the Prevention of Pollution from Ships).
Will GulfMark be positioned to increase market share upon recovery of the oil market? Most promising regions for the offshore service vessels market are the Gulf of Mexico, Brazil, west Africa, the North Sea, south east Asia, the Middle East and Asia. The major part of future demand is expected to be for anchor handling, platform support, and seismic research vessels. Gulfmark's vessels have the logistical ability to supply and adapt to these needs in these regions. The Asia Pacific region is one of the fastest growing markets, estimated to be worth $9.7 billion by 2020, and GulfMark has a significant presence there.
The company's franchise position in the North Sea has outperformed. In the last quarter marketed utilization improved to 97% from 94% in the previous quarter, and the day rate increased as a result of tightening in the spot market caused by fewer overall active vessels. The company reactivated two stacked vessels early in 2016, a sign that their market is finding a bottom. These indications support the view that GulfMark will increase its market share going forward.
Conclusion and Projected Valuation
This stock offers a clear opportunity of reduced risk when near its cycle low, while its long term price target of $50.00 provides an excellent projected asymmetric return in a multiyear play. The drivers of increased share price will be improved earnings as a result of an upturn in the oil market, an increase in market share, reduced debt and lower operating costs.
Disclosure: I/we have no positions in any stocks mentioned, but may initiate a long position in GLF over the next 72 hours.
I wrote this article myself, and it expresses my own opinions. I am not receiving compensation for it (other than from Seeking Alpha). I have no business relationship with any company whose stock is mentioned in this article.