Introduction
A company doesn't have to be huge or well-known to impress me, and in fact, I have always liked 'the little ones' as quite a few of them do fly under the radar of the larger investors. As there usually also is a lack of research coverage for these names, some gems remain uncovered. That's why I wanted to have a look at Chicago Rivet & Machine (NYSEMKT:CVR), one of the players in the 'fastener industry' which is just a fancy name for a company that's producing and selling rivets and screw-related items.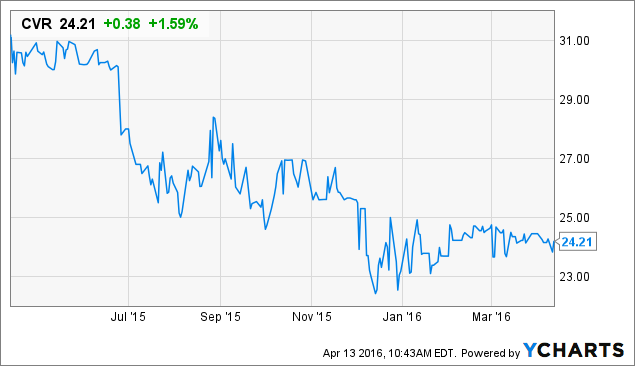 2015 wasn't 'great', but Chicago River limited the damage
Chicago Rivet had a 'mixed' year in 2015, as even though its assembly equipment division saw its revenue increase by almost 20%, the larger fastener division saw its revenue decrease by almost 5%, and as the revenue reduction of the fastener segment had a higher impact than the increase of the equipment segment, the company's consolidated revenue decreased by approximately 2.6% to $36.2M.

Click to enlarge
Source: SEC filings
The COGS were also reduced by approximately the same percentage, but the gross profit fell from $8.3M to $7.9M whilst the operating profit also decreased from almost $2.9M to $2.5M. That still isn't disastrous, as Chicago Rivet's operating margin was still almost 7% which isn't that bad for a rivet producer. But of course, a small company is always impacted by a reduced top line result, as it doesn't have as many possibilities as other, larger producers, to offset the impact. So 2015 essentially was a year of damage control by making sure the lower revenue wouldn't push Chicago's bottom line into the red territory.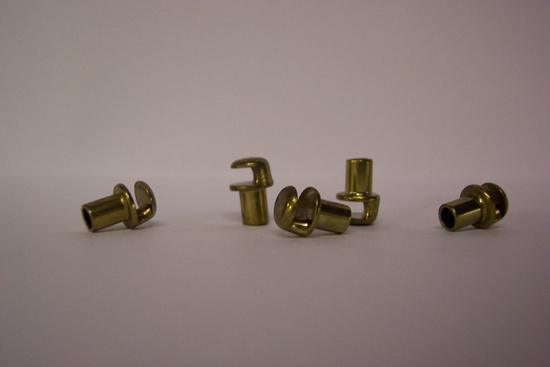 Source: company website
And I think the company did a pretty good job. Of course, a lower net income could not be avoided, and the EPS fell from $2.02 to $1.75, but when expressed in dollar terms, the net income was just $264,000 lower even though the net profit margin fell to less than 5%.
But instead of focusing too much on Chicago's bottom line, I prefer to drag the cash flow statements into my decision-making process as well, as pure cash ((flow)) is ultimately what makes the world go around. At first sight, I was not overly impressed by the cash flow statements, as the $4.1M operating cash flow fell to $3.25M after adjusting the result for changes in the company's working capital position (which caused an additional cash inflow due to a higher amount of customer deposits and selling some of its inventory).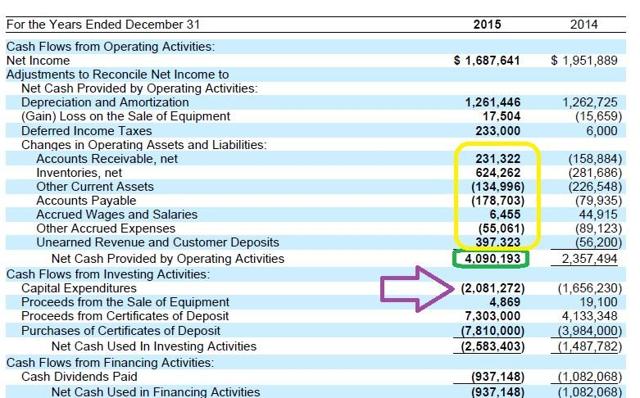 Click to enlarge
Source: SEC filings
As the total capex was $2.1M, the adjusted free cash flow was just $1.1M. Or at least, that's what you'd think. As the total capex was almost 30% higher compared to the previous financial year, I really wanted to know what caused this, and I was really pleased to see Chicago has spent quite a substantial amount of the $2.1M on investing in its expansion and growth. This means I will need to book additional adjustments in my free cash flow calculations, as I want to know what Chicago River's sustaining free cash flow is (because once the expansion capex will start to dwindle down, the impact on the adjusted free cash flow will be enormous).
Apparently $1.1M was spent on growth ($700,000 on the H&L Tool manufacturing plant expansion as well as almost half a million on the installation of a new horizontal machining center). This means that if you'd try to calculate the sustaining free cash flow, Chicago's net result doubles, to $2.2M. And this, dear readers, is why you should always look and read past the headlines, and try to understand what these numbers effectively mean.
A clean balance sheet allows a high dividend payout ratio
So, I have now established Chicago Rivet is still profitable and free cash flow positive, but the next question obviously is how the company is spending the cash it earns. Fortunately for its shareholders, the company's balance sheet is really clean, as there's no debt at all. The total liabilities of $3.6M predominantly consist of deferred tax liabilities, customer deposits and accounts payable.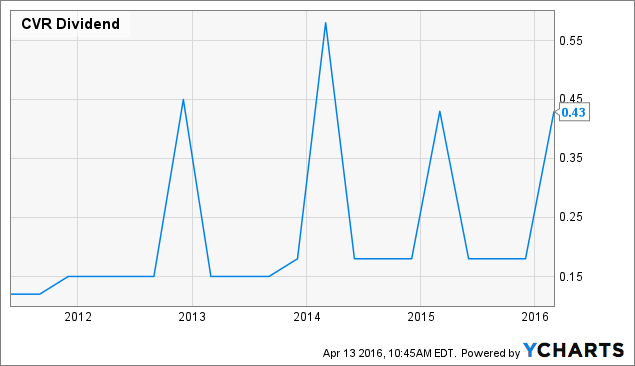 CVR Dividend data by YCharts
On top of that, the total amount of cash and cash-equivalents (I would assume the 'certificates of deposit' can easily be converted into cash), is $7.4M, reducing the enterprise value of Chicago Rivet to $16.5M.
As there's no debt to pay off, there's nothing stopping Chicago from using the majority of its free cash flow to pay a dividend, and in 2015, Chicago spent $940,000 on a total dividend of 97 cents per share, keeping the dividend in line with the free cash flow after taking the growth capex into consideration as well.
Investment thesis
2016 might be another year with reduced visibility as the weaker performance of its foreign markets might offset the expected growth of the fastener segment (due to the higher demand from the automotive industry), but I would hope Chicago Rivet will be able to indeed increase the efficiency of its existing operations, to ensure it will remain free cash flow positive. Of course, it's a small company, and should you decide to invest in Chicago Rivet, I'd strongly recommend to read all quarterly reports as a situation can change quite rapidly.
A debt-free company with a relatively decent amount of free cash flow, that's definitely something that could be appealing to me and based on the currently known details and data, Chicago Rivet's adjusted sustaining free cash flow is approximately $2.2M for a free cash flow yield of 9%, but if you'd calculate the FCF yield based on the company's enterprise value (which takes the net cash position into consideration), the FCF yield increases to 13%.
Disclosure: I/we have no positions in any stocks mentioned, and no plans to initiate any positions within the next 72 hours.
I wrote this article myself, and it expresses my own opinions. I am not receiving compensation for it (other than from Seeking Alpha). I have no business relationship with any company whose stock is mentioned in this article.
Additional disclosure: I currently have no position in Chicago Rivet, but might be interested in buying some during share price weaknesses.
Editor's Note: This article covers one or more stocks trading at less than $1 per share and/or with less than a $100 million market cap. Please be aware of the risks associated with these stocks.