Just over a month ago, I had advised investors about why they should not be giving up on Chesapeake Energy (NYSE:CHK) as the company's robust hedge position and potential for natural gas demand in the long run will act as tailwinds for the company. Since my article on March 10, Chesapeake's shares have shot up almost 35%, with the majority of the gains coming this week after the company won an amendment with its lenders for a revolving credit facility worth $4 billion.
This development will boost Chesapeake's liquidity profile and help the company buy time to execute a comeback on the back of an improvement in oil and gas prices. As such, we will take a closer look at what this deal means for Chesapeake and why investors should continue holding the stock despite the recent rally.
Chesapeake now has more time to improve the balance sheet
It is well-known that Chesapeake Energy has a huge debt burden of almost $11 billion that puts its debt-equity ratio at almost 4.5. However, the good thing is that the company has been taking aggressive steps to reduce its debt burden. In fact, as shown in the chart given below, Chesapeake managed to reduce a lot of debt in 2015 on the back of its liability management actions and maturities: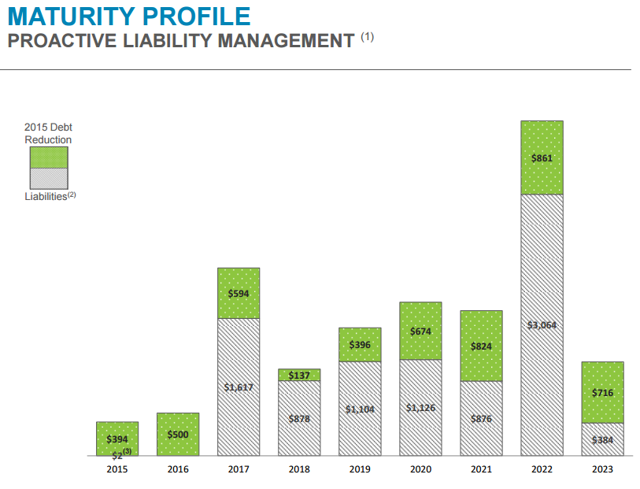 Click to enlarge
Source: Chesapeake Energy
In fact, as a result of its proactive liability management moves, Chesapeake has managed to increase its liquidity by $485 million in the past two quarters. Additionally, the recent reaffirmation of the company's $4 billion borrowing base with favorable amendments will act as a buffer and help it improve the state of its balance sheet further.
This is because Chesapeake's re-amended covenants require a reduced interest coverage ratio of 0.65x until 2017 as compared to the prior ratio of 1.1x, apart from having a liquidity of $500 million. What's more, the revolving facility will now be re-determined two years later, which is another reason to be positive as it gives Chesapeake the flexibility to repay more debt and increase liquidity. In fact, as a result of this re-amended credit facility, Chesapeake has managed to effectively avoid bankruptcy, which is why its shares are already up almost 67% this week.
More importantly, Chesapeake has already been taking bold steps to improve its cash position and reduce the debt. For instance, the company has already exceeded its planned asset divestiture of $200 million to $300 million for the first quarter of 2016 by signing agreements worth $700 million. In fact, for the entire year, Chesapeake is targeting additional asset sales worth $500 million to $1 billion.
Additionally, the company has also reduced its planned capital expenditure by 57% this year to a range of $1.3 billion-$1.8 billion, which will further improve liquidity. All in all, Chesapeake's current liquidity stands at $4.3 billion including its cash and undrawn revolving facility, and this should continue to improve given the company's liability management actions and the recent renegotiation of the credit facility.
Chesapeake's improving asset profile will be a tailwind
A key reason why Chesapeake has been able to reduce the debt and improve liquidity is because of its improving capital efficiency. In fact, Chesapeake has managed to reduce its costs by noticeable margins, while keeping production at consistent levels. This is shown in the chart given below: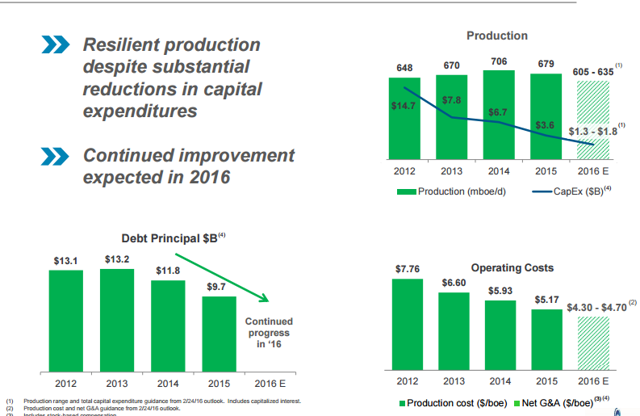 Click to enlarge
Source: Chesapeake Energy
The relatively low level of decline in Chesapeake's production despite massive cuts in the capital expenditure is a result of its focus on areas with better production profiles. For instance, in the Eagle Ford, Chesapeake has focused on high-grading its assets so that it can reduce drilling times and average well costs while drilling at deeper depths, thereby extracting more oil. As a result of this strategy, the company believes that it can achieve a reduction of 23% in well costs in the Eagle Ford this year, as shown below: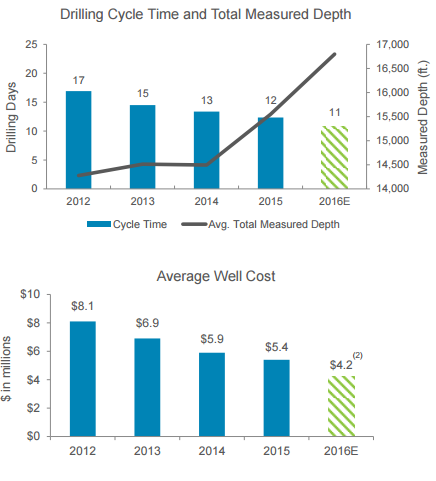 Source: Chesapeake Energy
Similarly, by optimizing its completions process in the Haynesville shale and enhancing lateral lengths, Chesapeake has been able to enhance its productivity substantially. More specifically, Chesapeake has been focusing on tightening its cluster spacings and using higher proppant volumes. The following chart shows the impact of optimized field completions by Chesapeake along with the improvements delivered by extended laterals: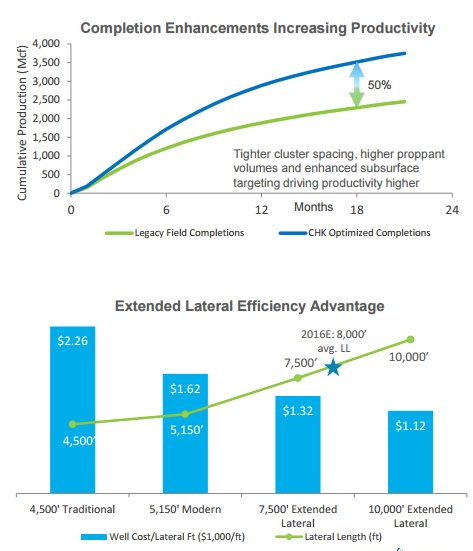 Source: Chesapeake Energy
As a result of such efficiency gains, Chesapeake will be able to improve its cash flow profile in the long run and take advantage of the recent improvement in oil prices, which will help the company reduce its debt.
Conclusion
The latest development for Chesapeake Energy is a big positive as it has reaffirmed the company's liquidity position, thereby giving it enough time to reduce more debt and benefit from a gradual increase in oil prices. As such, investors should continue to stay long in Chesapeake Energy since the company is pulling the right strings to get better in the long run.
Disclosure: I/we have no positions in any stocks mentioned, and no plans to initiate any positions within the next 72 hours.
I wrote this article myself, and it expresses my own opinions. I am not receiving compensation for it (other than from Seeking Alpha). I have no business relationship with any company whose stock is mentioned in this article.