The price of natural gas picked up slightly in the past few days, although it's still very low at $2. Moreover, shares of United States Natural Gas (NYSEARCA:UNG) are also cheap at less than $7. Considering that the contango in the futures markets hasn't gone away, this could continue hindering UNG. But as production growth slows down and consumption rises, inventories are expected to narrow the gap with the five-year average storage levels. This could start bringing natural gas prices back up, even though prices are still likely to remain very low.
Inventory Projections
Based on the monthly EIA report for April, the Agency expects production to rise in 2016 - albeit at a slower pace. The latest weekly report showed a modest drop in gross production. If production starts to come down - even at a slow pace - this could curb the downward pressure on natural gas prices. For now, the EIA expects storage will reach around 4,100 Bcf by the end of the injection season, which basically assumes an increase in storage of 20% less than the five-year average over the next several months, from April to October. The chart below shows the expected outlook of the underground storage based on the above assumptions.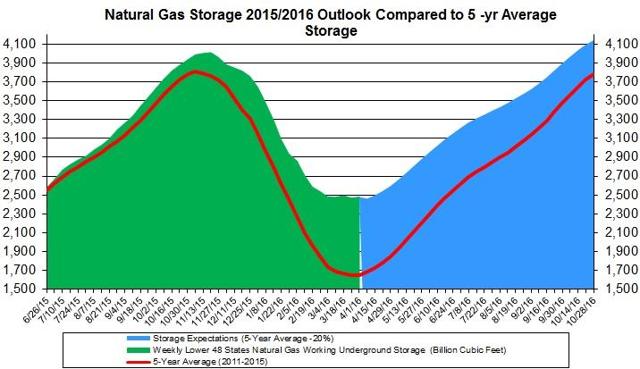 Click to enlarge
Source: EIA
As you can see, because we assume a 20% lower injection rate than normal, the gap between the five-year average storage and current projected inventories level will narrow by the end of October. But it's still expected to be around 10%. In comparison, current storage is hovering above 50% vs. the five-year average. The EIA has stated that it estimates storage will be at the highest level on record for the start of the extraction season. The lower injection rate is mostly attributed to slower growth in production and higher demand - mainly in the power sector.
Keep in mind that in 2015, the power sector accounts for nearly 45% of total demand for natural gas between April and October. This year, the ratio could rise further given the weak demand for natural gas during the winter for residential/commercial, and the record low prices that could drive up demand for this commodity in the electric sector. So electricity will account for a big portion of natural gas consumption this year. As the U.S. power sector continues to shift away from coal and into natural gas, this trend could help boost the price of natural gas.
Besides higher natural gas consumption in the power sector, the U.S. is expected to export around 0.5 Bcf per day of LNG this year and another 1.3 Bcf/day next year. Alas, this is still a very small portion of the U.S. natural gas market; the current pace of LNG exports accounts for less than 1% of total consumption. So it could be a while before LNG exports make a dent in the natural gas market.
Final Point
It's hard to see natural gas recovering anytime soon - or recovering to normal levels. But as production slows down and demand picks up - mostly in the power sector - an upward pressure on natural gas prices could commence, albeit at a slow pace. (For more, please see "Natural Gas Is Still Floating… Barely.")
Disclosure: I/we have no positions in any stocks mentioned, and no plans to initiate any positions within the next 72 hours.
I wrote this article myself, and it expresses my own opinions. I am not receiving compensation for it (other than from Seeking Alpha). I have no business relationship with any company whose stock is mentioned in this article.