In the past couple of months, Cheniere Energy (NYSEMKT:LNG) has gained impressive strength on the stock market, gaining more than 43%. The recent rally in Cheniere's shares is a result of the start-up of exports of liquefied natural gas from the U.S. In fact, Cheniere exported its first cargo of LNG from the Sabine Pass liquefaction terminal at the end of February.
What's more, investment bank JPMorgan has initiated its coverage on Cheniere with an overweight rating and a price target of $54. JPMorgan is of the opinion that Cheniere is two years ahead of any rival in the U.S. as far as LNG exports are concerned.
Moreover, according to the firm, Cheniere's "value-driven contracts, which remain favorable as there are no opportunities to change the fixed fees or re-sell contracts for customers, allowing the company to remain a market leader and drive value for shareholders in 2016."
Thus, driven by recent developments, it is not surprising to see why Cheniere Energy's shares have appreciated impressively in the past couple of months. Looking ahead, I believe that Cheniere's performance will continue to improve as the opportunity in the end market is robust. Let's take a look at Cheniere's prospects and see why it can sustain its recently-found momentum in the long run.
Low LNG costs will allow Cheniere to increase global market share
Cheniere Energy carries an advantage in terms of costs as compared to rivals. The company's cost advantage stems not only from the low cost of natural gas in the U.S., but also from low liquefaction project expenses in the U.S. In fact, Cheniere's export terminals carry among the lowest break-even costs of LNG across the globe. This is shown in the chart given below: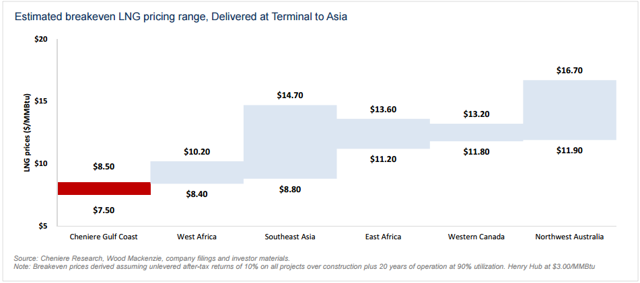 Click to enlarge
Source: Cheniere Energy
As shown above, Cheniere's estimated break-even LNG pricing range from the Gulf Coast is the lowest in the industry, ranging between $7.50 and $8.50 MMBtu. In comparison, the cost of LNG in other areas such as West Africa and Southeast Asia are higher. Additionally, if we compare to Australia, which is aggressively ramping up its LNG infrastructure, Cheniere Energy carries a huge cost advantage.
As a result, Cheniere is in an advantageous position to make the most of an improvement in LNG demand in the long run.
Strong End-Market Prospects
International LNG demand is projected to grow at a CAGR of 6%, or an average of 23 mtpa of fresh liquefaction capacity required every year. In all, LNG demand is expected to grow nearly 193 mtpa to about 436 mtpa by fiscal-year 2025. This is shown in the chart below: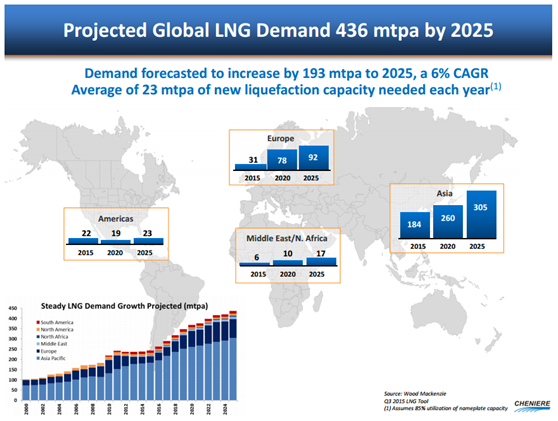 Source: Cheniere Energy
As a result of this expected growth in LNG demand, Cheniere is focused on strategically leveraging its core competencies in order to improve its infrastructure and tap the end-market opportunity. In fact, the company has approximately $6 billion of near-term expansion projects lined up to improve its liquefaction capacity.
For instance, Cheniere is assessing project expansion opportunities at Corpus Christi, where it has begun the process initiation for Trains 4 and 5. Additionally, the company is exploring domestic gas pipeline infrastructure development opportunities so that it can increase its capacity.
Moving ahead, Cheniere is primarily focused on the fast completion of the development of seven core LNG trains within its allocated budget and the stipulated time. The company also has two extra trains that are completed and are ready for commercialization, and this will allow it to expand its base as a strategic low-cost supplier of LNG.
Additionally, Cheniere Energy is in a strong financial position with no debt maturities before 2020, which means that it can continue to invest in the business to attack the end-market opportunity. Moreover, to bolster its liquidity position, Cheniere recently closed a $2.8 billion senior secured credit facility that will be used to repay near-term obligations and help it keep the liquidity in good shape.
Conclusion
A combination of low costs and a potent opportunity in the end-market makes Cheniere Energy a good bet for the long run. The company has gained impressive momentum in the past two months on the back of certain positive developments, and it is likely that the trend will continue in the future as demand for LNG grows across the globe.
Disclosure: I/we have no positions in any stocks mentioned, and no plans to initiate any positions within the next 72 hours.
I wrote this article myself, and it expresses my own opinions. I am not receiving compensation for it (other than from Seeking Alpha). I have no business relationship with any company whose stock is mentioned in this article.