Until its long awaited redemption today, Spirit Airlines (NASDAQ:SAVE) has had a tough month. The stock was down 5.9% in the last month, underperforming the Dow Jones U.S. Airlines Index by 3% and the S&P 500 by nearly 8%. The airline has two weeks until its next earnings and you have two weeks to get in before the jump. It is my belief that the company will beat earnings and therefore see a nice jump in its stock price.
To start, let's look at its past releases. It has beaten out its EPS predictions by an average of 4.83% over its past three releases. The analysts have constantly underestimated Spirit Airlines' ability to generate earnings, and I believe they have done so again. The current estimate for Q1 2016 is an EPS of $.89 vs. $.96 the same quarter last year. I believe that this predicted decrease is unwarranted.
As the price of gas was at its lowest during this quarter, the cost of revenue is set to decrease dramatically. The beauty of the low-budget airline industry is the simplicity of its cost structure. The airline spends less money on amenities such as food and the likes and more on getting passengers from point A to point B. Spirit Airlines in Q3 of 2015 had fuel make up approximately 28% of its expenses. When compared to the 20% of expenses for Delta (NYSE:DAL) and 19% for Alaska Airlines (NYSE:ALK), their increased link to gas prices is clear. This implies that low gas prices will lower their expenses more than many of their competitors. This decrease in expenditure will allow for possible investment opportunities to boost revenue.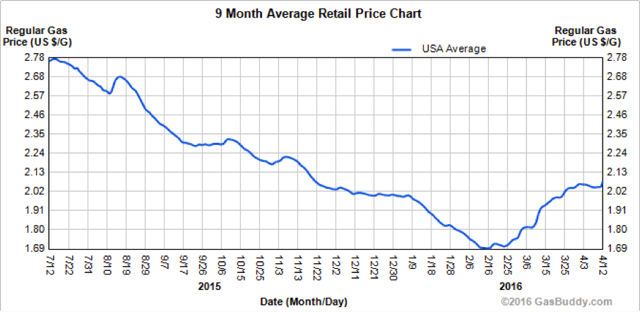 Click to enlarge
These investment opportunities include the newly opened routes from Seattle Tacoma airport. This route is the first new airline to open in the airport in the last 8 years. One might think that no company has added flights to this airport due to the fear of failure, but that seems unlikely with Spirit Airlines. Why? The cost. According to a report by Connie Thompson of Komono News, a standard ticket to Los Angeles on the second cheapest airline from Tacoma: $336. Spirit: a mere $176. While most people don't like the low-service airline concept, very few people could argue with the cost. When the cost is this low, either other airlines will have to step up their games (which they are not positioned to do) or Spirit will take some significant market share.
In addition to lower gas prices, we are seeing a significant increase in the disposable income of the average American. The more money people have, the more they can travel. An increase in disposable income has always been a key economic driver for air travel and it is no different now. Best of all, this consistent increase is projected to continue, according to the Bureau of Labor Statistics.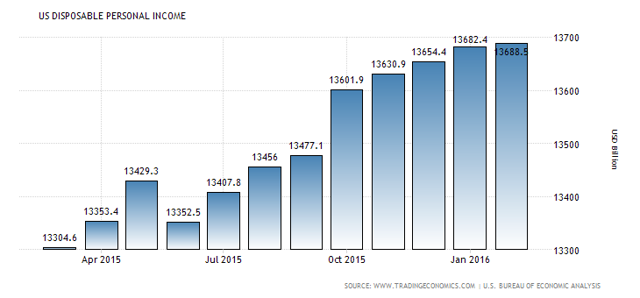 Click to enlarge
In addition to a decrease in gas prices, we have seen a consistent increase in domestic air travel. According to the Bureau of Transportation Statistics, the number of domestic passenger enplanements increased 4% from December 2014 to December 2015 and 6.5% from December 2013. While these numbers are great, they don't even come close to the growth Spirit Airlines has seen. Spirit Airlines has seen an increase in passengers of 27.25%, an increase in departures of 26.67%, and increase in revenue passenger miles of 28.43% in that same span. It is clear that Spirit is clearly outgrowing the industry. When compared to its competing low-budget airline Frontier, whose passengers only increased 9.44% and departures increased 8.3%, Spirit is taking the low-budget market for itself. It is growing faster than the full-service market as well. In this same period, Delta has also only grown 8.18% in passengers and 9.85% in departures.
The greatest number, however, is in Spirit's financials. The YoY increase in net income of 40%. Despite these numbers, however, Spirit's stock price is down 37% over the past year.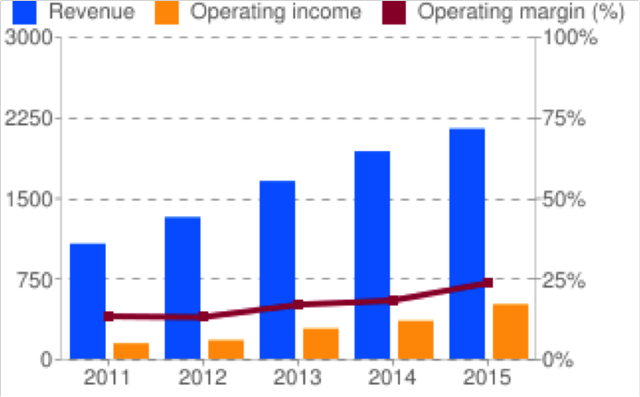 Adding to just the way the company is performing, a good look at the option chain can help see where the market has the stock moving. At its price of $45.82, the Delta of the stock price hitting the strike price of a $42.50 put option for May 20 is .29 or 29%. Yet, an increase in stock price to hit the strike price of a $50 call option also on May 20 is .27 or 27%. This implies that the market believes there is significant more upside potential for the stock than downside potential.
Conclusion:
Spirit is in position to outperform this upcoming earnings release and see its stock price soar.
Gas is cheap and Spirit runs more on gas than many of its competitors (cheap gas = lower fuel expenses = higher operating income).
It has done a great job gaining market share and growing rapidly, its current situation puts it in position to continue this or even ramp it up.
Our disposable income per capita as a country is rising, meaning more travel and more revenue for the airline industry.
Disclosure: I/we have no positions in any stocks mentioned, and no plans to initiate any positions within the next 72 hours.
I wrote this article myself, and it expresses my own opinions. I am not receiving compensation for it (other than from Seeking Alpha). I have no business relationship with any company whose stock is mentioned in this article.