Well, there goes one of the largest coal producers in the world. Peabody Energy (BTU) filed for bankruptcy this morning. The stock is currently halted from trading.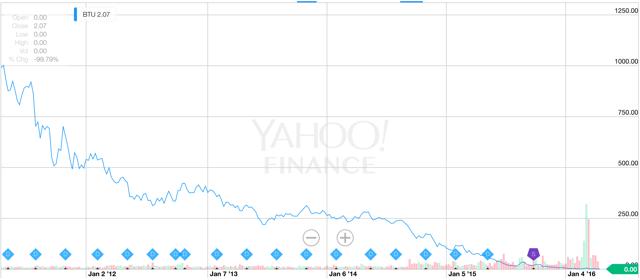 Click to enlarge
Like many of its peers, Peabody suffered from continuously falling coal prices worldwide. As one of the last standing pure coal producers, the company could not afford to keep paying interest, as its liquidity was drying up. Peabody was producing coal at a negative gross margin, and it was only a matter of time before it filed for bankruptcy protection.
The company's CEO, Glenn Kellow, continued his cheery remarks, saying that this "process enables us to strengthen liquidity and reduce debt, build upon the significant operational achievements we've made in recent years and lay the foundation for long-term stability and success in the future."
Coal consumption has been in structural decline since the shale gas boom that took hold of the U.S. starting in 2006. U.S. natural gas prices remains low at $2/mcf, and for coal to be competitive, natural gas prices would need to rise above $3.5/mcf. In that scenario, there would be far more winners to pick and choose from in the natural gas space than buying BTU.
The likelihood of equity investors receiving anything through the bankruptcy proceedings is 0%.
Baupost Sells 2/3rd of Bellatrix Exploration Position on Lower Gas Price Forecast
Baupost recently sold ~16 million shares of Bellatrix Exploration (NYSE:BXE), or 2/3rd of their position, on much more pessimistic natural gas price forecasts.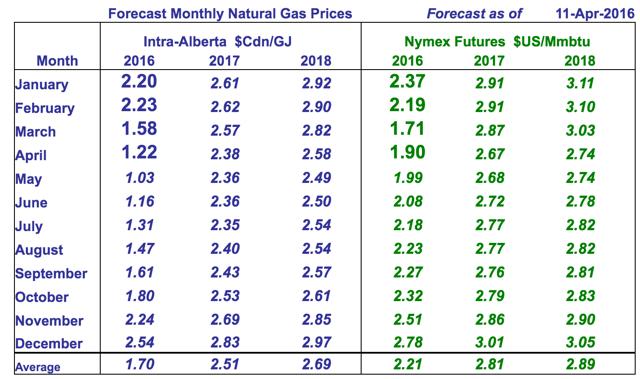 Click to enlarge
BXE receives AECO gas pricing versus Nymex, so the left side of the table is more important to pay attention to. As a reminder, the company receives a 15% premium on /GJ due to higher heating content. If the average spits out a price of C$1.70/GJ, BXE really gets C$1.955/mcf.
As you can see, basis differential has widened tremendously, and near term AECO gas prices remain around C$1/GJ.
We don't blame Baupost for forecasting lower natural gas prices. The fundamentals are a bit bleak at the moment, with natural gas inventory sitting at an all-time high in Canada due to record warm winter caused by El Nino.
But one key fundamental aspect of the natural gas market is weather. We share a very different view than Baupost with regard to natural gas prices, and we continue to monitor weather patterns and forecasts to ensure that our conviction remains intact.
Government forecasters in Japan and Australia this week strengthened their assessment that a La Nina weather pattern will hit the northern hemisphere this summer. They believe the likelihood is now 50%.
The last time we saw an El Nino the size of 2015's was in 1997-1998. And it was followed by 3 years of La Nina.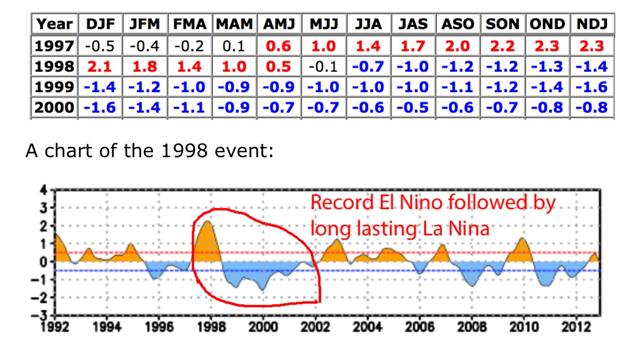 Click to enlarge
And for those asking what La Nina does to Canada during the winter, look no further: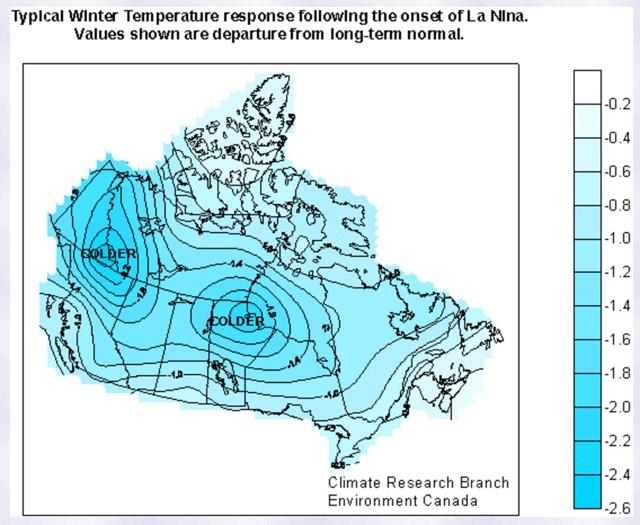 Click to enlarge
On average, La Nina creates a colder-than-normal winter and in effect increases natural gas demand.
We believe natural gas prices will recover to over C$3/GJ by the winter of 2016. As U.S. natural gas production continues to fall, the excess in inventory could be quickly depleted, leading to higher prices. With a bit of help from Mother Nature, a warmer-than-expected summer and a colder-than-expected winter will be the perfect recipe for natural gas (NYSEARCA:UNG).
Wrapping It Up
Peabody Energy finally threw in the white towel and filed for bankruptcy protection. Shareholders will likely be wiped out.
Baupost sold two-thirds of its position in BXE due to pessimistic natural gas price forecasts. We maintain our current conviction that BXE is substantially undervalued and will rise as natural gas and oil prices continue to improve from the bottom.
For investors who want deeper insights into our research, please consider subscribing to HFI's premium service. We look forward to you joining a group of like-minded investors.
Disclosure: I am/we are long BXE, GENGF.
I wrote this article myself, and it expresses my own opinions. I am not receiving compensation for it (other than from Seeking Alpha). I have no business relationship with any company whose stock is mentioned in this article.
Editor's Note: This article covers one or more stocks trading at less than $1 per share and/or with less than a $100 million market cap. Please be aware of the risks associated with these stocks.