AMD (NYSE:AMD) took the lead in 2015 in supporting virtual reality (VR) technology through its LiquidVR software development kit (SDK). Although this is highlighted as a competitive strength, it will not spare AMD from further market share erosion and revenue declines. The market for VR simply isn't that large, and AMD's leadership will likely disappear once Nvidia's (NASDAQ:NVDA) next-generation graphics cards reach consumers, no more than a few months from now.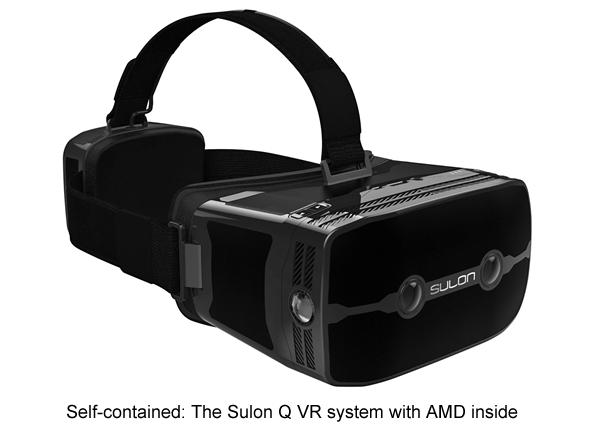 Source: Engadget
The Price of Leadership
AMD introduced LiquidVR (LVR) a year ago, and at the time, it did represent a leadership position in the field of VR. LVR offered a number of features to developers, including the ability to take advantage of multiple graphics cards, image latency reduction techniques, and rendering images directly to a VR headset, bypassing the Windows desktop.
Image latency is a key concern in VR since too much of it can destroy the sense of immersion for the VR user. Lack of correlation between head movement and image movement can even lead to nausea as well.
Key to reducing latency and maintaining the high (~90 frames/sec) frame rate that VR systems require was AMD's asynchronous shading, which has received so much attention lately with the Ashes of the Singularity (AotS) benchmark, and other benchmarks that use DirectX 12.
A recent March 4 AMD blog post once again highlights the AotS results and claims that "exclusive support for asynchronous compute." As I pointed out in my last article on AMD, Nvidia's latest Maxwell 2 GPUs have hardware support for asynchronous computing. However, at least as of AnandTech's February 24 AotS benchmark article, Nvidia didn't have that support built into its GPU drivers. For that reason, using DirectX 12 offered no benefit (or even a slight performance penalty) for Nvidia graphics cards. At least until Nvidia enables asynchronous computing in its drivers, AMD's claim will continue to be valid.
At Nvidia's GPU Technology Conference (GTC), NVDA rolled out its own version of a VR SDK called VRWorks. It offered its own set of features, with some overlap with LiquidVR, but still no support for asynchronous computing. PC Gamer has a good side-by-side comparison of the features, as well as some discussion of developer support for the respective SDKs.
Although AMD maintains some technical advantages for its VR SDK, that advantage is unlikely to last much longer. Eventually, Nvidia will get around to supporting asynchronous computing in its drivers for DirectX 12 and for VR. In addition, the expected release of Pascal architecture consumer graphics cards will probably offer further improvements in asynchronous computing as well. These improvements will probably be folded into updates to VRWorks.
Competitive Advantage
While Nvidia's SDK arguably still lags AMD's at the moment, the question I'm trying to address is whether AMD's technical leadership has translated into a significant market benefit.
From the standpoint of hardware support, the impact of the SDKs appears to be a wash. Both of the main PC tethered VR systems on the market, Facebook's (NASDAQ:FB) Oculus Rift and HTC's Vive support both Nvidia and AMD graphics cards, and specify minimum system configurations using either brand. Rift and Vive had to support both brands of graphics cards simply because of the prevalence of Nvidia cards in high-end gaming systems that would likely serve as early adopter platforms for VR.
The Sulon Q is a self-contained combination VR, augmented reality (AR) system that features an AMD processor. The Sulon has some interesting capabilities, but it remains to be seen whether it will achieve market success.
Sony's (NYSE:SNE) VR system for the PlayStation 4 may serve to stimulate sales of AMD's custom accelerated processing units (APUS), especially if rumors of a PS4 upgrade with 4K video and enhanced VR capability prove to be true. This may serve to boost AMD's revenue somewhat since the new APU will probably have a higher margin. AMD's semi-custom APUs for PS4 and Microsoft's (NASDAQ:MSFT) Xbox One have not been a high-margin business for AMD and have not been able to offset declines in PC processor or GPU market share.
According to a Strategy Analytics report, the revenue generated by the Oculus, HTC, and Sony VR systems is expected to be about $690 million in 2016. Although not insignificant, the figure is minuscule compared to the overall PC market.
How the VR market will be split between the competing systems remains to be seen. Although AMD could benefit from a successful Sony VR launch, I expect that most PC VR systems will run Nvidia cards, just because they are the most common. On this basis, I consider neither graphics platform to have an advantage in hardware support, although it's still very early.
As far as software support, the PC gamer article points out that the major game developers appear to be supporting both platforms, but information is incomplete. Epic Games' Unreal Engine supports VRWorks, as does Unity Technologies' Unity engine. Crytek appears not to support VRWorks for CryENGINE, yet. The article didn't have specific information on support for LiquidVR, but significant support is assumed due to the open source nature of the SDK.
Based on the admittedly incomplete information, it doesn't appear that either platform has a significant advantage in software support.
Investor Takeaway
As we head into earnings season, the reported declines in PC sales are weighing heavily on processor companies such as Intel (NASDAQ:INTC) and AMD. As of its 2015 Q4 earnings, AMD had guided to a 14% sequential revenue decline, which translates into an 18% y/y decline. AMD's guidance now appears to have been optimistic.
AMD's investment in VR illustrates a classic problem for all technology companies. Investments in technology don't necessarily translate into market advantage or business gain. This problem becomes even more acute for cash-strapped companies forced to prioritize diminishing financial resources.
It could be argued that AMD had to invest in VR or face becoming irrelevant in graphics processing. I believe the money could have been better spent in accelerating the arrival of Polaris, AMD's next-generation GPU. As it stands right now, Polaris and Nvidia's Pascal will probably reach consumers at about the same time.
As I pointed out in my AMD Q4 earnings article, the company faces a continuing implosion in its Computing and Graphics segment revenue. VR is unlikely to change AMD's fortunes in the near term or the long term. I continue to rate AMD a sell and Nvidia a buy.
Disclosure: I am/we are long NVDA.
I wrote this article myself, and it expresses my own opinions. I am not receiving compensation for it (other than from Seeking Alpha). I have no business relationship with any company whose stock is mentioned in this article.