Healthcare real estate investment trust HCP, Inc. (NYSE:HCP) has pulled off a strong rebound after the company disappointed investors with dismal earnings and a poor revenue growth outlook earlier this year. Healthcare REITs profit from one of the greatest megatrends of our time: Growing demand for senior healthcare, skilled nursing and assisted living facilities due to a steady increase in life expectancy. HCP is one such healthcare REIT, but has fallen out of favor in February after the company shocked investors with a poor guidance for its post-acute/skilled nursing business.
In February, when HCP released fourth quarter earnings, HCP reported significant impairments on its investment in HCR MANORCARE, and said that the fundamentals in the post-acute/skilled nursing business were deteriorating. Combine this with a ~$600 million Q4-15 loss and lower revenue growth expectations due to a change in reimbursement models, and it is easy to see why investors sold the healthcare REIT in a hurry.
That being said, though, the sell-off was not entirely a frightening event. In fact, the meltdown revealed a compelling buying opportunity, which I discussed in this article right here "HCP, Inc. - 3 Reasons To Buy The Meltdown". I wasn't alone in my assessment that Mr. Market took HCP's Q4-15 results and guidance too seriously; Lauralee Martin, HCP's President and Chief Executive Officer doubled down on the stock when it was in the bargain bin, and it was a smart decision indeed.
Impressive Recovery
Buying HCP in light of the depressing earnings release was a wise investment decision. HCP's shares were changing hands for ~$26 at the time the article was published. Now, HCP has recovered all of the losses it sustained during the February sell-off, and sells for ~$35 again.
This is how a fast and impressive recovery looks like.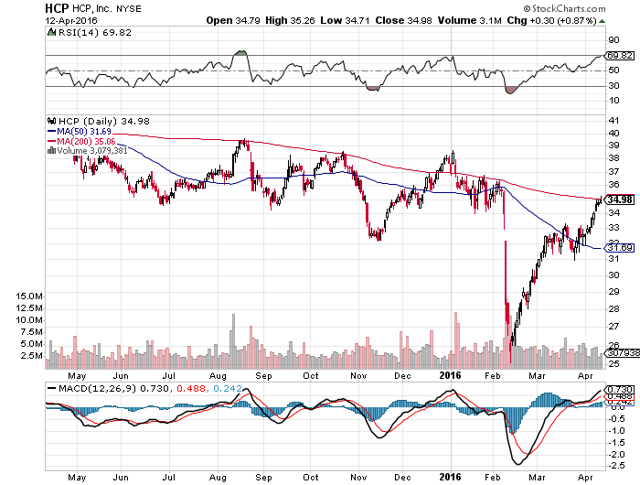 Click to enlarge
I Don't Expect A Dividend Cut, Dividend Growth Story Is Intact
HCP was heavily oversold in February when shares fell off a cliff. One reason why HCP has recovered the way it did relates to investors becoming more realistic about the REIT's future dividend payout. The meltdown two months ago was at least partly fueled by investors' expectations that the healthcare REIT would have to slash its dividend payout, which made HCP significantly less attractive as an income vehicle.
But HCP has not cut its dividend payout, and I think it is very unlikely that it will. HCP is a so-called Dividend Aristocrat, a company that has raised its dividend for 25 consecutive years. HCP, in fact, has grown its dividend payout for more than 25 years:: 31 years to be precise, and the REIT must surely be prepared to do whatever it takes to defend this label.
HCP has an untarnished dividend record, and, in fact, increased its quarterly dividend payout in January from $0.565/share to $0.575/share. Unless HCP actually cuts its dividend (improbable IMO), the healthcare REIT continues to deserve the benefit of the doubt.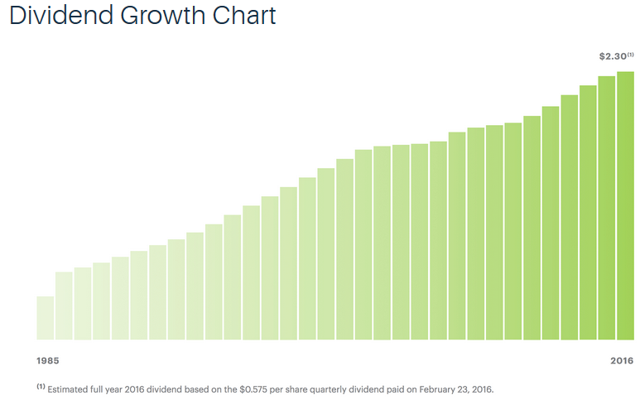 Click to enlarge
Your Takeaway
HCP has now recovered all losses sustained in the February meltdown, which is good news for shareholders that took a risk and picked up shares in the mid-$20s. Importantly, investors that bought in February have locked in a nice dividend yield of 8-9 percent, depending on the actual transaction price, making an investment in HCP quite lucrative from a total return perspective. That being said, I think HCP's dividend is safe moving forward, and the company continues to be a promising income play in the high-yield healthcare REIT market, even though the yield is lower than two months ago. An investment in HCP yields 6.58 percent. Buy for income.
Disclosure: I/we have no positions in any stocks mentioned, and no plans to initiate any positions within the next 72 hours.
I wrote this article myself, and it expresses my own opinions. I am not receiving compensation for it (other than from Seeking Alpha). I have no business relationship with any company whose stock is mentioned in this article.