Kinder Morgan (NYSE:KMI) has had a lot of trouble over the past few months getting approval for its projects. While this process has never been easy, it has gotten much worse. Politics are now much more of a factor for regulators, especially after TransCanada's (NYSE:TRP) Keystone XL pipeline was more or less scuttled by administrative inaction last year. For a pipeline company planning to invest large amounts of capital over the next 5 years, this is not a good trend.

Click to enlarge
Trans Mountain pipeline woes
Kinder Morgan's struggle to secure approval for its Trans Mountain pipeline expansion plan are well known. Canadians have mixed feelings on the topic, with the most vocal opposition coming from British Columbia, which so happens to be where the pipeline is located. Though, there are also sectors of support, mostly in the oil producing province of Alberta.
Due to the Canadian federal elections in 2015, the approval process for the expansion of the pipeline was more or less stopped as the National Energy Board, the agency whose decision is pending, did not want to be seen as meddling in politics.
Luckily for Kinder Morgan, Liberal pipeline supporter Justin Trudeau was the eventual winner of the election and became prime minister. He has made the Trans Mountain expansion a top government priority.
Though, his support also came with several concessions to the environmental wing of his party. Notably, these include new pipeline regulations such as a climate change test and greater consideration of indigenous rights. These concessions by Mr. Trudeau are mostly aimed at gaining the support of Christy Clark, Liberal premier of British Columbia and a vocal pipeline opponent.
Nevertheless, it appears Mr. Trudeau is gaining ground. According to reports, he has issued instructions that the pipeline strategy has to be top priority, with a ruling expected by Christmas.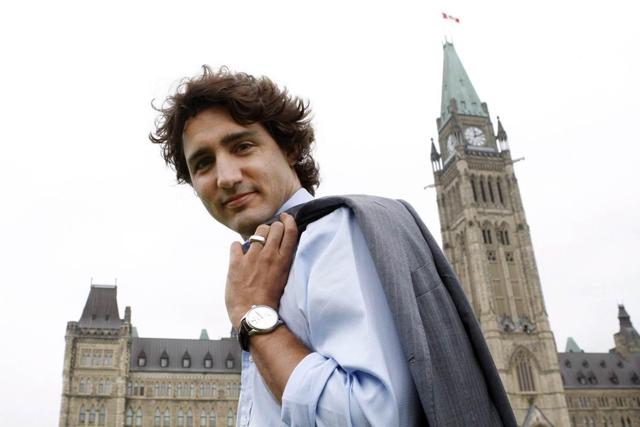 Click to enlarge
Trans Mountain pipeline makes a ton of sense
Kinder Morgan and its Trans Mountain pipeline expansion plans are also being helped by the low price of oil and its impact on the Canadian economy. Mr. Trudeau's economic growth targets rely the pipeline being built. While the pipeline would not directly increase the price of oil, it would remove significant transportation costs for Canadian producers.
In addition, besides lowering costs, pipelines are much safer options for carrying crude. Canadians have also expressed in polls that they would much prefer a pipeline over other transportation options for crude oil such as railroads.
Frankly, Canada would be foolish to deny the pipeline's expansion. Canadian crude already sells at a massive discount compared to US supplies as much of it is the lower priced heavy oil and due to transportation costs. This is costing Canada billions every year in lost tax revenues and is greatly harming the broader Canadian economy.
Expanding the Trans Mountain pipeline would also give Canadian crude access to a market other than the US. Currently there is no where else the crude can go, so it ends up flooding the US markets, worsening the already greatly unbalanced supply situation.
The only winners of the cheap Canadian oil are the refiners in the US. The lack of adequate outbound pipeline capacity for Canadian crude acts as a massive subsidy from one country to the other. The Trans Mountain expansion would help put an end to that.
Conclusion
Expanding the Trans Mountain is a major part of the puzzle for Kinder Morgan's ambitious growth plans. And with the strong support of the Canadian prime minister Justin Trudeau, it now seems more likely that not that it will eventually get done. At $5.4 billion, it represents ~30% of the $18.2 billion 5-year backlog. Given the focus on capex over dividends, Kinder Morgan very much needs this project to get completed.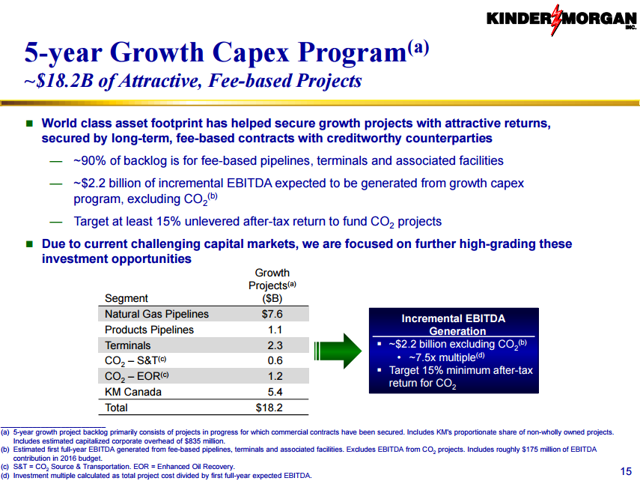 Click to enlarge
Disclaimer: The opinions in this article are for informational purposes only and should not be construed as a recommendation to buy or sell the stocks mentioned. Please do your own due diligence before making any investment decision.
Disclosure: I am/we are long KMI.
I wrote this article myself, and it expresses my own opinions. I am not receiving compensation for it (other than from Seeking Alpha). I have no business relationship with any company whose stock is mentioned in this article.