It has been a few months since I last discussed crude oil (NYSEARCA:USO) (NYSEARCA:OIL). There has been much price volatility, but fundamental factors have improved. The commodity has rallied over the past few days, though was down slightly on Wednesday after the EIA Petroleum Inventory showed that crude oil inventories posted a 6.6 million barrel gain, versus estimates of a 1.0 million barrel gain This news also confirmed the earlier API report showing a 6.2 million barrel gain.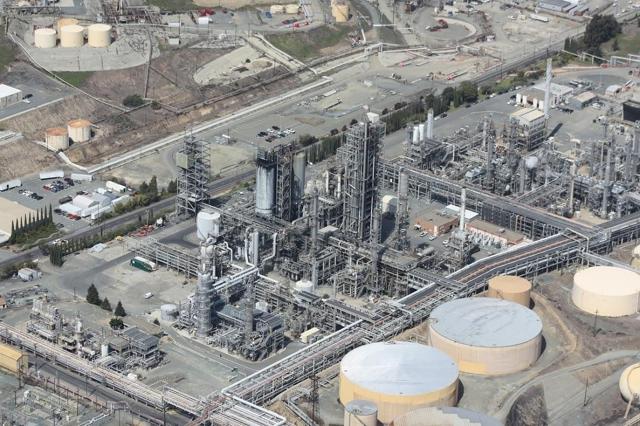 Click to enlarge
A look inside the numbers
Yes, the headline number of a crude oil buildup is bearish. Though, when we dig deeper, there are signs of strength for the commodity. As has been the case for most of 2016, crude inventories gains and declines are largely being driven by imports.
Crude oil imports rose to 7.9 million bpd for the week, up 0.7 million bpd from 7.3 million bpd last week. If imports had stayed flat week over week, the crude oil inventories would have risen by 1.7 million barrels rather than increasing by 6.6 million barrels.
Keep in mind that imports of oil are very volatile. The trend in 2015 was for falling imports. But, this has reversed slightly. Imports are rising this year versus last year, up ~4% to 7.8 million bpd. As for where this oil is coming from, Saudi Arabia and Iraq are showing the biggest percentage gains for imports, which is not surprising given their efforts to flood the market. While Canadian imports fell slightly, largely due to pipeline issues.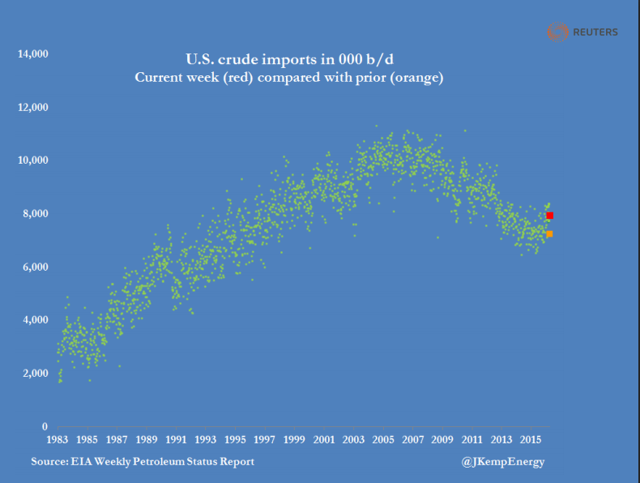 Click to enlarge
Source: Reuters
As for bright spots, there were two big ones. US oil production, the number I watch the most closely, fell by 31,000 bpd to 8.98 million bpd. We're finally below 9.0 million bpd. Over the past 4 weeks, production has averaged 9.01 million bpd, down 4.1% from the 2015 daily average of 9.39 million bpd and down 5% from the 2015 weekly production high of over 9.5 million bpd set in April.
In other words, oil production has fallen at least 500,000 bpd from the highs in the US. The low price of oil is starting to greatly impact producers. This is a major positive as it means the market is finally rebalancing This is also a reason why imports are rising.
The other major bright spot is refiner demand for oil, which is being driven by massive gasoline consumption growth. Refiners are processing 15.9 million bpd, down 3% from last week's 16.4 million bpd. Though, this is largely due to unplanned outages in the midwest. The average is more important, up 3% from last year.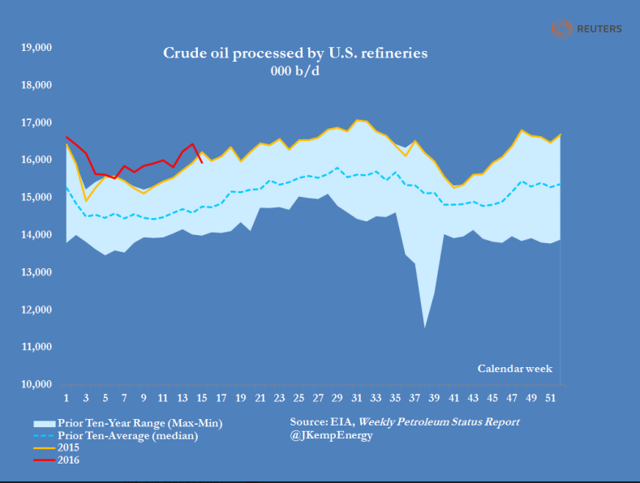 Click to enlarge
Source: Reuters
As for gasoline, demand is surging, despite refiners increasing supplies to 10-year highs. While stockpiles of gasoline are elevated at 240 million barrels, when adjusted for increase consumption, the trend is clearly lower.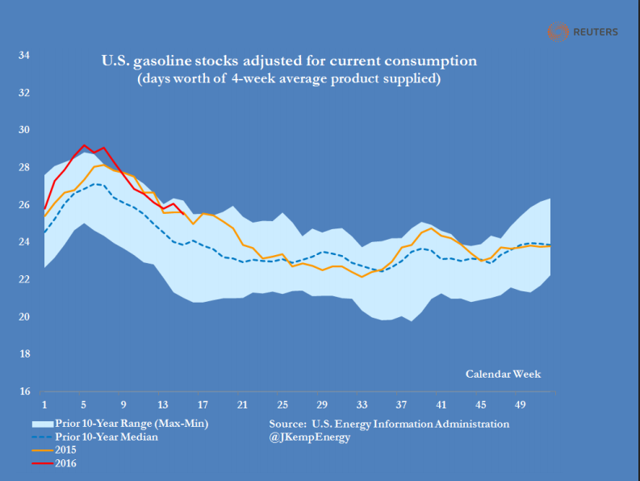 Click to enlarge
Source: Reuters
As for a negative, distillates are still piling up. Refiners have greatly pared back on their production, but demand remains soft. Stockpiles are running well above the high end of the 10-year range, 27% above last year's level to 163 million barrels. Adjusted for days of consumption, current supplies are around 50% higher than last year at 45 days.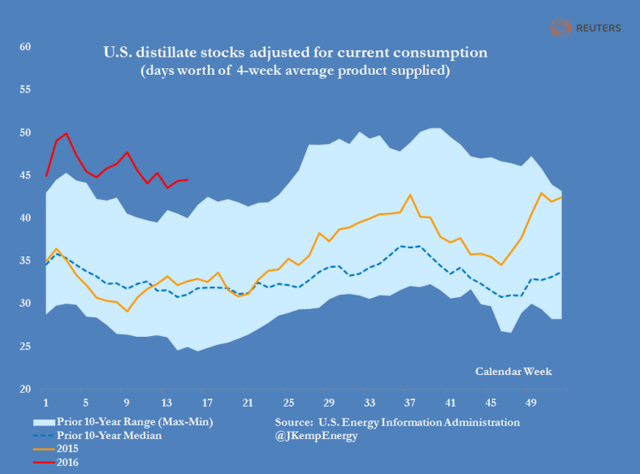 Click to enlarge
Source: Reuters
Conclusion
To summarize, this report was a good one for crude oil fundamentals. The US is clearly seeing lower and lower oil production. This is great news for producers. While prices will likely remain volatile, eventually the lost production will need to be replaced.
The media will likely focus on the headline large crude oil inventory build, so sentiment will sour a bit. Though, it appears that the worst of the bear market is over. Rebalancing has started and will be hard to stop. As shown, most of the oil majors (Exxon Mobil (NYSE:XOM) Chevron (NYSE:CVX) BP (NYSE:BP) Royal Dutch Shell (NYSE:RDS.A) (NYSE:RDS.B) ConocoPhillips (NYSE:COP)) have bounced off their YTD lows quite nicely.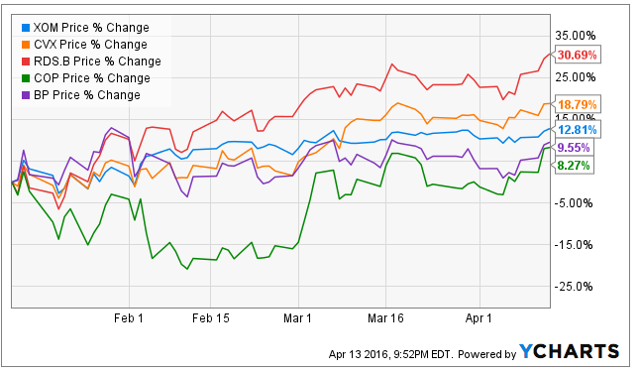 Click to enlarge
Disclaimer: The opinions in this article are for informational purposes only and should not be construed as a recommendation to buy or sell the stocks mentioned. Please do your own due diligence before making any investment decision.
Disclosure: I am/we are long COP.
I wrote this article myself, and it expresses my own opinions. I am not receiving compensation for it (other than from Seeking Alpha). I have no business relationship with any company whose stock is mentioned in this article.