In 2002, Brazil's economy faced huge stress. With a 35% depreciated currency as well as a public debt that accounted for almost 65% of GDP, many investors feared that Latin America would fall into a crisis. With the aided help of a large loan by the IMF and perfect timing of a Chinese-driven commodity demand, Brazil was able to pay off its debt providing an astounding return for emerging market investors. Now in 2016, the country is plagued with many of the same problems and is looking to impeach the political party leaders who had guided them through the last disaster (Lula). Attracted by large interest rates, risk tolerant investors have once again turned their eyes to Brazil for bargains, hoping to earn returns similar to 2002. The question is, is this risk-on sentiment warranted? With recent political shifts, namely President Dilma Rousseff's potential impeachment, Brazil may be heading where investors want it to.
With the BOVESPA heading into the end of 2015 plummeting 4% towards the lows of 2008 and 2009, Brazil's future as world power among EMs wasn't looking good. Now with the Brazilian market rising over 36% in 2016 alone, especially among the midst of the country working to resolve their government's corruption charges, people are wondering what's going on behind the scenes.

Over the past five years, Brazil's GDP has grown at an average of 2.2% per year. While growth may seem to be encouraging, Brazil was growing at a much slower pace than other emerging economies like China and India. In 2015, GDP fell 3.8%. This could be attributed to the combination of slow wage growth, high inflation and decreased global commodity demand. While unemployment remained around 5% in 2015, it has since increased to over 8% and economists expect it to grow above 10% this year. Along with this, wage growth has been falling since March 2015. The combination of rising unemployment and declining wage growth has caused consumers to save rather than spend. For a country where consumption accounts for 82% of GDP, this is highly problematic.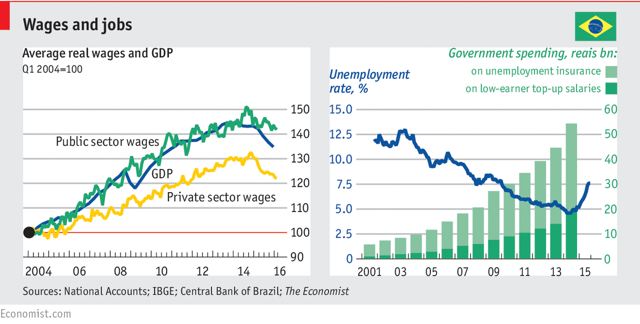 Click to enlarge
Another indicator, high inflation, has been a concerning factor for foreign investors. Brazil's inflation rate has reached 10.7% in January, but has declined to 9.39% in March, one of the few encouraging signs for the economy.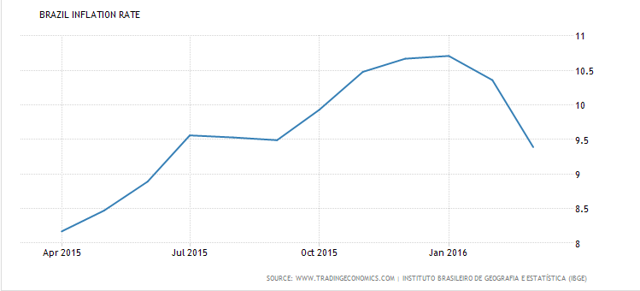 Click to enlarge
Lastly, we have seen a global decrease in demand for commodities like oil and iron ore, two of Brazil's largest exports. According to the International Energy Agency, global demand decreased to 1.2 million barrels per day in Q4 of 2015, compared with a five-year high of 2.3 million barrels per day in Q3 of 2015, a dramatic difference of 1.1 million barrels per day in just one quarter. The IEA expects an increase of 1.2 million barrels per day in 2016, another encouraging indicator for Brazil.
China, a main consumer of iron ore, has had a major slowdown in its economy in 2015, causing global demand for iron ore to decrease. In September 2015, Brazilian iron ore exports to China decreased 9%. Revenues fell 58.2% due to low iron ore prices as a result of increased supply. Since the December low of $40, the price has increased to $55, while the Chinese economy seems to have landed softer than expected. This is yet another encouraging sign for the Brazilian economy.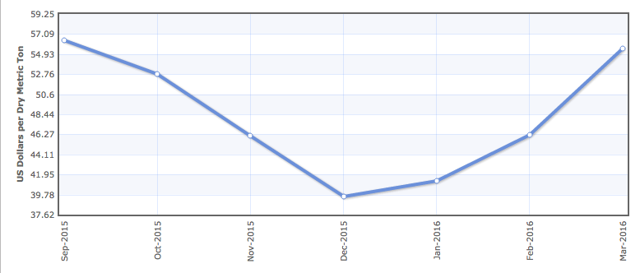 Click to enlarge
On the political side, in light of recent events, it is looking more probable that leftist president Dilma Rousseff will be impeached. Rousseff is currently facing allegations that she used accounting tricks to cover up a growing budget deficit. On April 11th a congressional committee voted 38-27 recommending that Ms. Rousseff be put on trial in the Senate. Moving forward, a vote will be taken in the lower house, and if two-thirds of the 513 deputies vote in favor of impeachment then the case will be sent to the senate. Once the case is moved to the senate, if a majority of the 81 senators support impeachment then Rousseff will have to step down and allow the current Vice President, Michel Temer, to take her place as president.
Michel Temer is embracing the possibility of assuming the role of president, which was most evident when his party, the centrist Brazilian Democratic Movement Party, split from Ms. Rousseff's coalition government in March. Temer is gaining support in Brazil, but he also faces a rough road ahead. If it is proven that Rousseff used funds from the Petrobras (NYSE:PBR) graft ring to fund her 2014 presidential campaign then Temer would also be forced to step down. Moreover, leaders in Rousseff's Workers' Party claim that there will be fierce opposition to Temer since he plans on implementing spending limits and debt reduction. What this means is that the government's focus on the poor would shift towards improving the economy.
Given Temer's PMDB is the most influential party in Congress, Temer would be able to easily operate through Congress and create some deep austerity measures. For one, we will see a growth in privatization. After gaining office, Temer will have a sizable arsenal of state-owned enterprises that can be sold to mitigate the country's financial pressures. Immediate revenue can be generated from the sale of profitable businesses, or long-term revenue benefits can be gained from the sale of enterprises with historically low or negative returns. The first problem that must be addressed will be the economy. PMDB is already working on policies including sweeping welfare cuts if Rousseff should be impeached. In particular, the PMDB is looking at changes to a large federally subsidized housing program as well as cuts to a program that finances college tuitions and the removal of tax exemptions in some industrial sectors. The Brazil ETF (NYSEARCA:EWZ) has rallied strongly in the past month. While we don't recommend for investors to put money in at the top of this rally - we do believe the ETF and the Bovespa Index will sell off as investors take profit. We think that this is the time to set a long-term position in Brazil.
Given Temer's conservative tendencies, we believe that the next few years will be good for, or at least better for, the Brazilian economy. Along with Temer's policies, however, will come a reversion to a lower quality of life for the lower class, as it was in the early 90s before Presidents such as Fernando Cardoso, Silva, and Rousseff took office. As evident from the election of Rousseff, the lower class is a powerful voice in Brazil's political arena. This could cause serious social unrest during Temer's presidency all the way to the 2018 elections. For us, there are two possible outcomes of the 2018 election. First, if Temer succeeds in lifting the economy during his Presidency, we see high potential for a conservative President to be elected. One possibility is Aécio Neves, who lost to Rousseff in the 2014 election. In 2014, Neves ran on the platform to lower corporate taxes, cut government spending, and open up private investment, both domestic and foreign. The second possible outcome happens if Temer's conservative policies fail to boost the Brazilian economy. If this happens, the lower class will most likely vote in a liberal President, similar to Rousseff. In this case, the Brazilian economy is unlikely to recover any time soon. With all of these uncertainties, there is one thing we know for sure - anything can happen.
Disclosure: I/we have no positions in any stocks mentioned, and no plans to initiate any positions within the next 72 hours.
I wrote this article myself, and it expresses my own opinions. I am not receiving compensation for it (other than from Seeking Alpha). I have no business relationship with any company whose stock is mentioned in this article.