Investor sentiment towards the restaurants industry has improved from late 2015 and early 2016 levels. Investors are now more willing to add exposure in this space. This, combined with more of a risk-on sentiment in the market, also explains underperformance of more defensive names such as Starbucks (NASDAQ:SBUX). In the past 3 months, SBUX is up only 0.07% while Bloomin' Brands (NASDAQ:BLMN) is up 11% during the same period.

Click to enlarge
Source: Google Finance
Despite its recent outperformance, BLMN is cheap. It is trading at 11.5x its 2017 earnings estimates of $1.58. In comparison, SBUX has a forward P/E of 27.2x and McDonald's (NYSE:MCD) has a forward P/E of 21x. Bloomin' Brands has faced a range of issues lately. These include unfavorable international market exposure, declining market share, weakening SSS, and rising beef costs. However, I believe these headwinds are already priced in the stock and there is little downside risk but significant upside potential from current levels.
Strategic Opportunities
As market sentiment in this space improves, investors are looking for increased discounting in light of low food inflation. I believe BLMN's current valuation underappreciates its potential. According to a recent Credit Suisse report (published April 11, 2016), should the company pursue strategic efforts such as brand monetization and/or refranchising, there is a potential for ~$0.20 of EPS accretion. While it is difficult to predict the timing of these actions, with continuation of current sales and valuation trends more aggressive measures are likely.
Bloomin' Brands is unlike many other restaurant chains. The company has taken a more portfolio approach to business. It currently operates 4 brands: Outback Steakhouse, Carrabba's, Bonefish Grill and Fleming's. The sale of one or more of the non-Outback brands and/or refranchising of some of the company's Outback restaurants can be materially accretive at the current valuation. Portfolio reduction can also allow the management to focus its efforts on improving the core Outback brand, which has transitioned from a share gainer to a share donor in the last couple quarters.
BLMN has also made public its intentions to pursue a sale-leaseback of 258 restaurant properties owned by the company. This sale, which is expected to be completed in coming quarters, is projected to generate about $500 million in proceeds. If these proceeds are used for debt reduction (55%) and share buyback (45%), there is a potential for $0.20 of EPS accretion by 2017 (Source: CS).
The Brazilian Factor
In recent years, Brazilian real has been among the most volatile currencies in emerging markets. However, the real was the world's best performing currency in the first quarter. YTD the currency is up 3.7% against USD. Bloomin' Brands generates about 7% of its revenue and about 9% of its profits from Brazil. While the company's shrinking SSS gap to casual dining peers has been the primary driver of share price underperformance, the dramatic weakening of real against USD, as Brazil lost its coveted investment grade status last year, also played a role.
A number of corruption scandals have hit businesses and government badly in Brazil. However, any general improvement in investor sentiment towards the country could disproportionately favor BLMN. There is an upside to earnings should the real continue to stabilize against USD. According to Arnaud Masset, an analyst at Swissquote Bank SA, "Markets are closely monitoring the impeachment story as this week could be a turning point in redefining Brazil's political landscape." The upcoming summer Olympics in Brazil can also help boost earnings.
Productivity Savings
While the market still seems to be skeptical about the SSS outlook and the ultimate flow-through of the company's cost savings targets to the bottom line, it is worth mentioning here that BLMN is targeting another $50 million in cost savings in 2016. This represents about 110 bps of margin leverage. Since 2008, the company has collectively achieved $465 million in cost savings. These savings over the year have helped BLMN offset food inflation headwinds, fund innovation and increase margins. These further productivity savings should help BLMN close its long-standing EBIT margin gap to peers.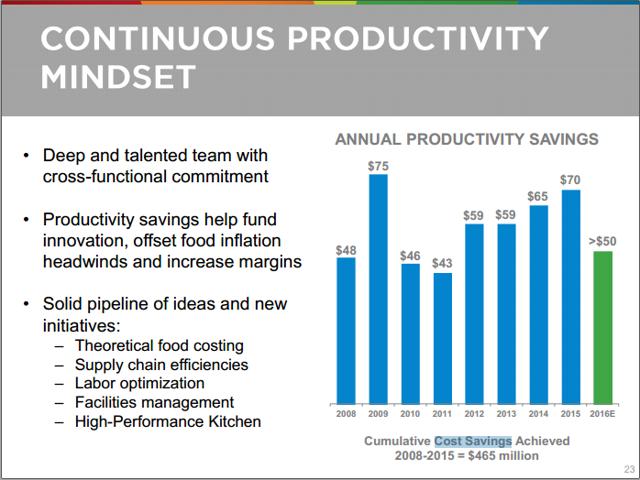 Click to enlarge
Source: Company Documents
Conclusion
Despite its recent outperformance, I believe BLMN is cheap and offers an attractive entry point for long-term investors. The company is trading at a forward P/E of 11.5. As I said earlier, the company has faced a number of challenges in recent quarters. But these headwinds are already priced in the stock. There is potential for meaningful upside if the company aggressively pursues strategic efforts, such as brand monetization and/or refranchising. On the other hand, if fundamentals improve, the company has significant upside on multiple expansion and rising investor confidence. Finally, falling beef prices and a strengthening Brazilian real may also help support EPS, even against a continued sluggish sales backdrop.
Disclosure: I/we have no positions in any stocks mentioned, and no plans to initiate any positions within the next 72 hours.
I wrote this article myself, and it expresses my own opinions. I am not receiving compensation for it (other than from Seeking Alpha). I have no business relationship with any company whose stock is mentioned in this article.