There were countless articles throughout the first quarter of 2016 as to how low energy prices would be such a problem for the big U.S. banks, and the slowdown in China also dominated headlines. When energy prices started to rise, the next concern was low net interest margins. In very few of these articles was valuation mentioned, or the fact that the U.S. banks have picked up market share through consolidation and from beating their European competition in many key areas. Investing is about analyzing fundamentals and buying businesses at a discount to intrinsic value, where based upon the fundamental analysis, one has the expectation of an attractive return. For investors who don't obsess over short-term news headlines, but instead, are looking to maximize long-term returns with the lowest level of risk, the big banks offer a compelling opportunity unparalleled in today's markets. JPMorgan (NYSE:JPM) represents a best-in-class banking franchise at a very reasonable price, in what overall is an expensive market. Eventually, the hurricane-like headwinds facing the financial industry will dissipate, and when that does occur, the returns can be quite considerable for those who had the stomach to deal with today's anti-bank political environment.
While there are almost always going to be issues that worry market participants, it is important to understand the dramatic transformation that has occurred for the big banks. They have roughly double the capital and double the liquidity that they had prior to the Financial Crisis. The businesses have been simplified dramatically, as areas such as proprietary trading, which presented uncertainty in difficult times, have been reduced despite not really being a major issue during the Financial Crisis. Most importantly, the U.S. consumer and most U.S. corporate clients are in a very strong position. This means customers are paying their credit cards, mortgages, auto loans etc. Sure, higher interest rates would really help financial companies, but this environment is not new for them, as rates have been historically low for quite some time. Deposit growth has allowed many of the big banks to increase net interest income despite flat-to-declining net interest margins. This gets very little attention, as does really any news that is positive relating to these hated franchises.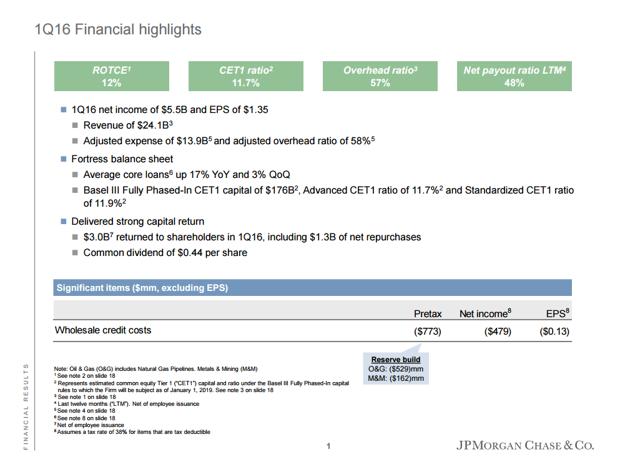 Click to enlarge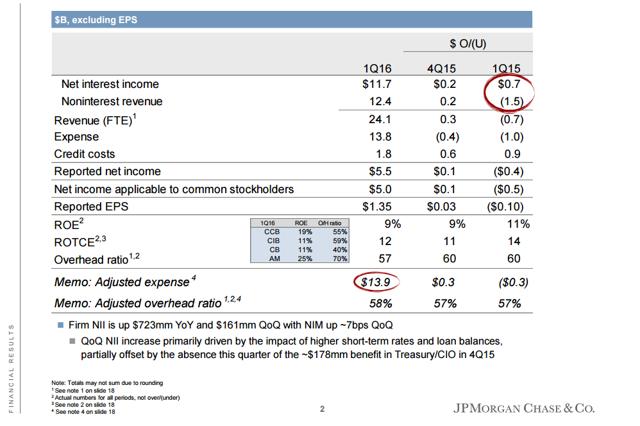 Click to enlarge
Source: JPM Q1 Financial Supplement
On April 13th, JPM reported very strong first-quarter net income of $5.5 billion, or $1.35 per share, on revenue of $24.1 billion. This was done in an environment that was the toughest for investment banking since 2008-2009, and in spite of increased provisioning for energy and mining credits. In fact, first-quarter results included $479MM in after-tax impact from wholesale credit costs ($0.13 decrease in earnings per share). I always appreciate that analysts obsess over provisioning, but when it turns out the banks were overly-conservative and end up releasing reserves, those earnings are considered "artificial." If energy prices turn higher - which is a big "if" - it is quite possible that this could be the case, but of course, very few seem to consider such a possibility. The reality is that energy is not going to kill or materially injure any of the big banks. JPM achieved a 12% return on tangible common equity. Average core loans were up 17% YoY and 3% QoQ. JPM's loan-to-deposits ratio stood at 64% at the end of the quarter.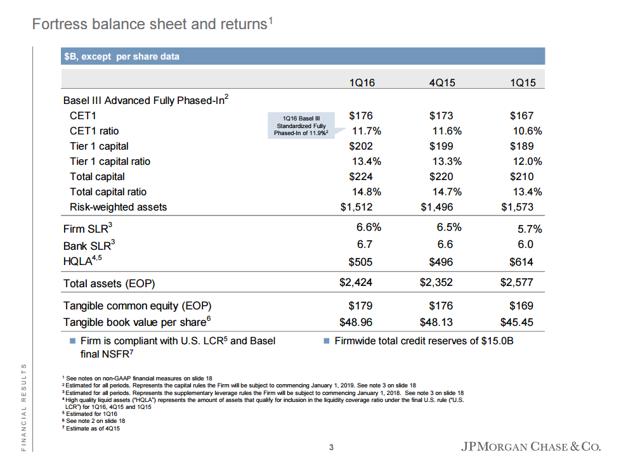 Click to enlarge
The bank has one of the great balance sheets in the industry, with a CET 1 ratio of 11.7% and a Tier 1 capital ratio of 13.4%. These numbers are up from 10.6% and 12%, respectively, from the same time last year. The firm's SLR ratio was 6.6%, up from 5.7% YoY. JPM's high-quality liquid assets were a whopping $505 billion on total end-of-period assets. Tangible book value per share increased to $48.96 from $45.45 at the same time last year. Book value per share stood at $61.28 at the end of the first quarter, up from $57.77 after the first quarter of 2015. These improvements were made despite paying out $1.76 per share in dividends over the last year and buying back 86.5MM shares over the last 12 months.
While revenue was down roughly 3% YoY, JPM has done a great job in reducing its noninterest expense, which was down 7% YoY. A big component of this is that the enormous legal charges resulting from the Financial Crisis are mostly behind the bank. In addition, problematic consumer loans are way down, which reduces servicing costs. JPM has actually been increasing spending in technology, while reducing its spending in areas such as occupancy expense and compensation. Pre-provision profit for the bank in the first quarter was a very healthy $10.246 billion. This was nearly $1 billion higher YoY, but the provision for credit losses nearly doubled to $1.824 billion in the quarter. Much of this was due to energy, mining, and reserves for strong loan growth. Net interest income was $11.380 billion, up 7% from $10.677 billion at the same time last year, while also being up 1% sequentially. JPM has benefited from the increase in the Federal Funds rate, which is exemplified by the interest rate spread's ascension to 2.17%, up from 1.97% at the same time last year. It is also up from 2.12% at the end of the 4th quarter of 2015.
Based on 3.6699 shares outstanding and a recent price of roughly $61 per share, JPM has a market capitalization of roughly 224 billion. This means the stock is trading at just under 10 times earnings, adjusted for this horrible interest rate environment. There really is only upside potential in my estimation. Of course, there will be cycles where credit quality declines, but JPM is built to be profitable even during a recession, as it showed during the Financial Crisis, which was the ultimate stress test. In addition, the company is compliant with all applicable capital ratios, so we should see continued increases in capital returns. The news that the Fed is not happy with JPM and several other banks' living wills exemplifies just how bureaucratic and confusing today's regulatory environment is. I'm honestly surprised any of them were approved. I don't expect this to be a big deal, as JPM will make the adjustments that are necessary. I believe, adjusted for dividends, JPM can grow book value per share by 10-12% per annum. At some point, the stock deserves to trade at a slight premium to book value due to the quality of its earnings. Even if that revaluation doesn't occur, a 10% annualized return over the next 3-5 years is far better than what I expect from the overall markets, making JPM a very reasonable purchase at current prices.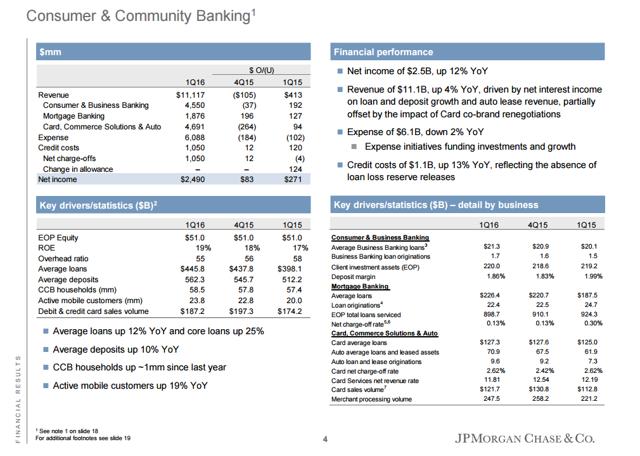 Click to enlarge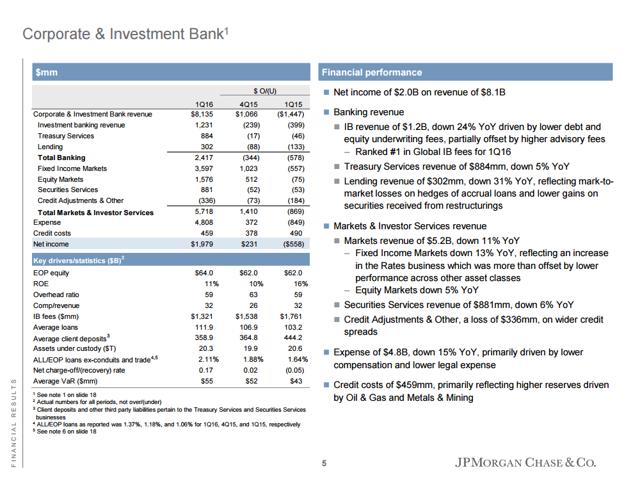 Click to enlarge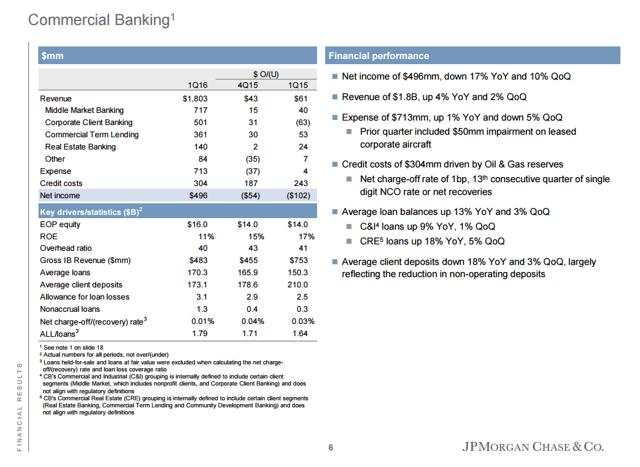 Click to enlarge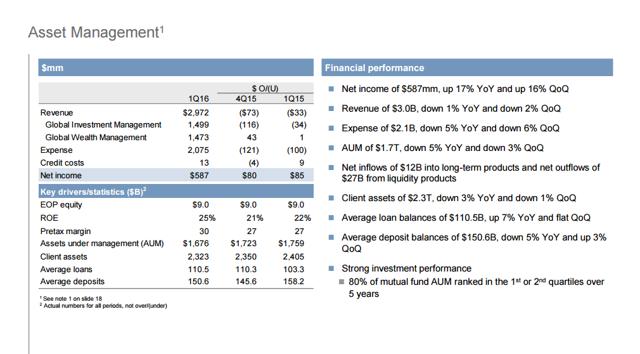 Click to enlarge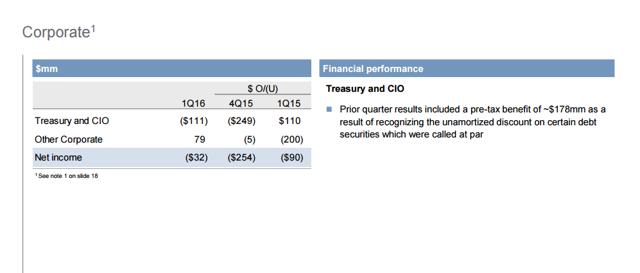 Click to enlarge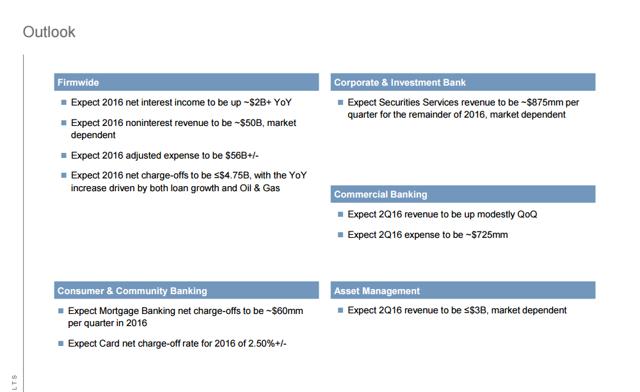 Click to enlarge
Disclosure: I am/we are long JPM.
I wrote this article myself, and it expresses my own opinions. I am not receiving compensation for it (other than from Seeking Alpha). I have no business relationship with any company whose stock is mentioned in this article.