Novo Nordisk (NYSE:NVO) investors do not tend to think much about the anti-obesity space, but likely Novo's Saxenda is the most successful entrant in the branded weight-loss space yet. Script sales are well off of the 15,000 that Orexigen's (NASDAQ:OREX) Contrave is seeing on a weekly basis, but the revenue being generated by Saxenda is now rivaling that of any of its branded anti-obesity peers.
This past week saw the delivery of the final numbers for Q1 2016. Overall sales of Saxenda totaled around 36,000 scripts in the quarter, which kept a positive growth trajectory intact. Script sales in the final week of Q1 were just under 3,100.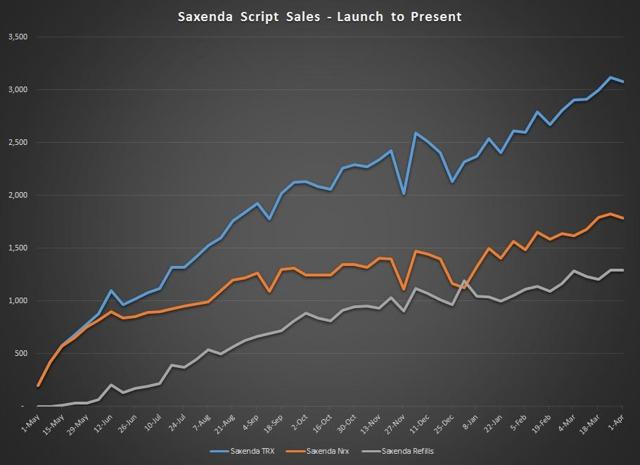 Chart Source - Spencer Osborne
On a quarter-over-quarter basis, Saxenda has kept the numbers positive. In Q4 2015, its sales came in at roughly 30,000 scripts. The 36,000 scripts in Q1 2016 bested the previous quarter's count by 20.53%. The growth is likely not as robust as Novo Nordisk and investors had hoped for, but unlike its peers, Novo Nordisk is not reliant on demonstrating massive growth to keep the overall bottom line intact. As long as Saxenda can prove its worth by delivering positive sales, the value added will allow smart and cost-effective growth to continue. Year-over-year comparisons are not yet appropriate, but in looking at the chart below, investors can see that there will be several quarters where positive year-over-year numbers are possible.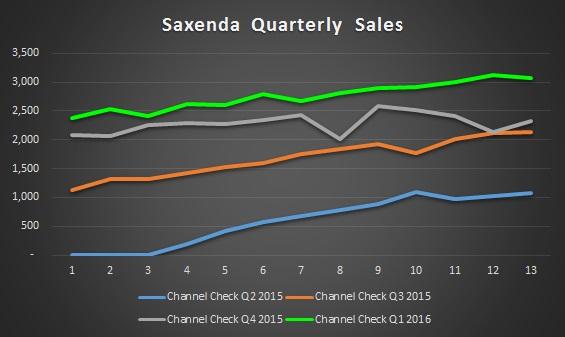 Chart Source - Spencer Osborne
From a market share perspective, we can see that Saxenda is indeed chipping away at its peers. It started off Q1 2016 with a market share of 6.44%. By the end of Q1, the drug's market share had grown to 8.49%. Simply stated, Saxenda has gained over 2 points in the market. In fact, the market share gains by Saxenda are the strongest in the space. Contrave from Orexigen has gained 1.32 points, while Qsymia from Vivus (NASDAQ:VVUS) has lost 1.89 points and Belviq from Arena (NASDAQ:ARNA) has lost 1.48 points. The market share trend lines are positive for only Saxenda and Contrave.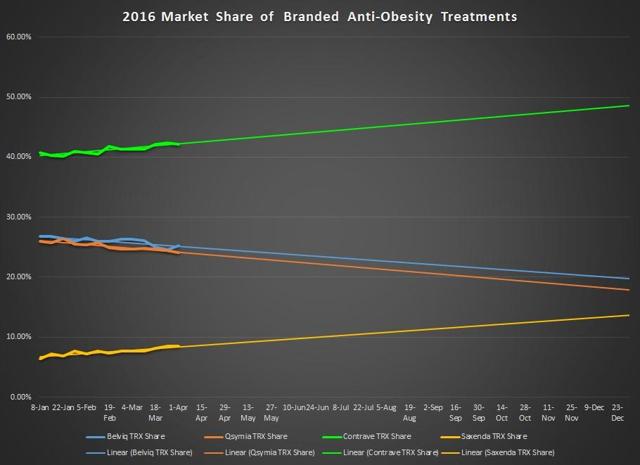 Chart Source - Spencer Osborne
Overall, the anti-obesity sector is seeing a flatness in 2016 that does not bode well for the space in general. Even with the entrance of Saxenda, the space is not demonstrating growth and has recently seen year-over-year comparisons dip into negative territory. This means more players are splitting up an anti-obesity sector pie that, in all likelihood, is the same size or smaller than the anti-obesity pie of a year ago. Arena's Belviq is showing the most frustration, while Saxenda and Contrave seem to be the only players capable of growth. Contrave recently lost its marketing partner, meaning that a trimmed-down sales force will now begin to impact that drug. This actually leaves Saxenda in what may be the best position.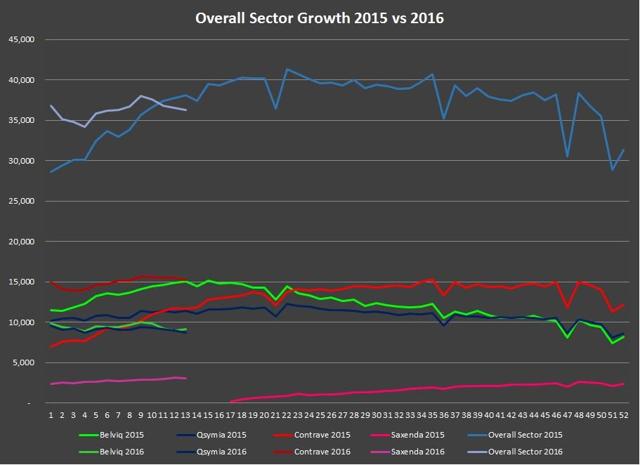 Chart Source - Spencer Osborne
The bottom line on Saxenda is that Novo Nordisk has substantial size advantages over its competitors in the space that allow for measured and smart growth. Saxenda is able to garner a price tag of over $1,000 per script versus about $200 each for Qsymia, Belviq, and Contrave. At 5 times the price, selling 3-5 times less scripts is not as bad as it may seem. In addition, the company can simply add Saxenda to the sales bags of existing reps visiting doctors.
I am not very excited about the anti-obesity space in general, but Novo Nordisk seems to have the game figured out better than anyone else, and Saxenda may just add a few bucks to the bottom line that will help the company's overall numbers. Saxenda alone is not a reason to invest into Novo Nordisk, but it may be a surprise that the drug does not seem to be a drain on the company either. Stay tuned!
Disclosure: I am/we are long NVO, ARNA, OREX.
I wrote this article myself, and it expresses my own opinions. I am not receiving compensation for it (other than from Seeking Alpha). I have no business relationship with any company whose stock is mentioned in this article.
Additional disclosure: I have no position in Vivus