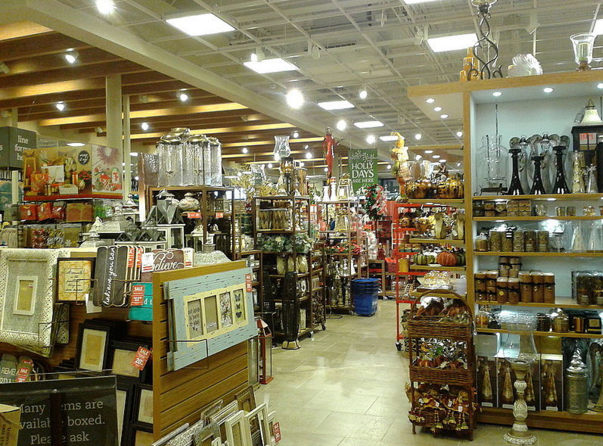 To say that Pier 1 (NYSE:PIR) has had a rough couple of years is an understatement. After an epic turnaround during the financial crisis, it was trading for pennies to where it eventually hit $23 before plummeting back in recent times to $4 after yet another fall from grace. PIR's stock has certainly not been for the weak and of late, it has had a lot of operational issues. I lamented back in December that the company's fortunes were certainly not turning around and that at $5, I didn't see any value in the stock. But after the Q4 report, shares have shot higher and are now in excess of $7. So is this the rebound longs have been waiting for or are shares head faking us once more in the midst of a larger downtrend?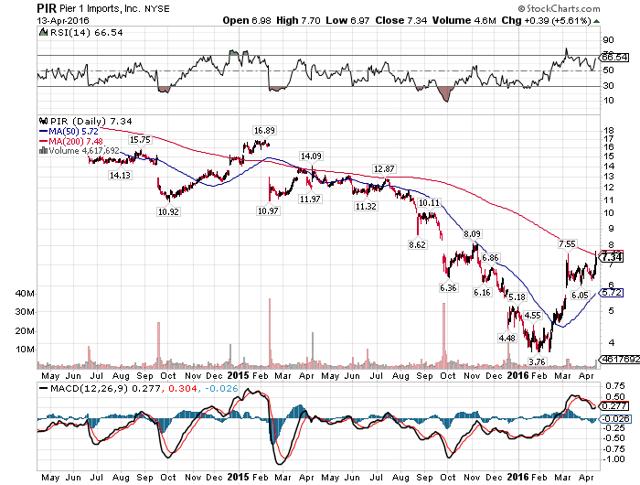 Click to enlarge
What's perplexing about the rally from $4 to $7 is that it has come on no news; indeed, Q4's results were hardly enough to get excited about either. Total revenue fell slightly as PIR continues to grapple with negative comp sales, this time hitting -60bps, or -30bps in constant currency. With PIR trying to optimize its store base and get back to flat comp sales, the revenue picture has been rough for a while but to its credit, the declines are manageable. Still, it is worth noting this company's sales base is still shrinking when considering the rally that has taken place.
In addition to that - and perhaps even more importantly - PIR's margin profile has continued to deteriorate over recent quarters as the company's weak sales have led to discounting and inefficient inventory levels. This was a big reason why I was so bearish in December and to be honest, Q4's results didn't help. Gross margins fell a whopping 390bps during Q4 to just 36.3% of sales. The drop was due to promotional activities and the fact that the company's supply chain still contains inefficiencies. These problems have existed for some time and nothing in Q4 made me think these problems are going away anytime soon. The drop in gross margins removed almost $24 million in gross margin dollars during the quarter, money PIR could certainly use right now. The good news is that with last year being so very weak on the margin front, comparables this year should be easier. But that doesn't mean PIR is out of the woods yet; it just means things may be "less bad" this year.
On the bright side, PIR's reduced compensation expense allowed it to see SG&A costs shrink as a percentage of revenue, adding about 60bps into operating income during the quarter. At a time when sales and margins are weak it is certainly welcome to pick up some operating profits from lower expenses and PIR has done a nice job of right sizing its expense b ase for the environment it finds itself in. That discipline will serve it well when/if things pick up on the revenue side.
Importantly, PIR's balance sheet remains very strong for a company that is struggling to produce profits the way it once did. At the end of February it had $115 million in cash, $197 million outstanding on its secured term loan and no borrowings under its $350 million revolving credit facility. In other words, liquidity will likely never be an issue for PIR even if weakness in sales accelerates. PIR's balance sheet is very strong and that gives longs a lot of time for the turnaround story to work out.
That strength has also allowed PIR to buy back a lot of stock, repurchasing over 8% of the float during last fiscal year. The company's buyback still has another $47 million on it, good for another ~7.5% of the current float. That's a powerful tailwind for EPS at a time when the business is producing negative profit growth so it shouldn't be ignored. PIR's track record of late with its buyback isn't particularly good - having retired lots of stock at much higher prices - but if the turnaround succeeds, this will have proven a tremendous source of value over the long term. This, for me, is the single biggest positive for PIR right now.
PIR's guidance for this year was light in relation to consensus, although consensus is contained within the very high end of the EPS range provided. The usual suspects are to blame; flat to slightly lower sales and weak margins continue to be the story with PIR. But what's new about the guidance is that SG&A is expected to deleverage 50bps this year, something I didn't see coming. SG&A leverage has been a source of strength of late so the fact that it is now going to become a headwind is important and a sizable negative.
Estimates, therefore, for this year and next year need to come down. Analysts are already too high for this year and considering the weak guidance provided by management, next year's estimates are too high as well. The weak sales and margin story is known but adding in deleveraging of SG&A is a tough thing to overcome. PIR will continue to remain profitable and will likely use up its entire buyback authorization this year but the business is still weak. PIR worked through a lot of dead inventory in Q4 so that's great but it has a lot of other problems right now. The stock is now trading for about 16 times this year's earnings and given the still-deteriorating state of its fundamentals, I think that is a ludicrous price to pay. PIR's shares are being valued as though the turnaround is already in place when that is far from the truth. With the stock butting up against a steeply declining 200DMA, I think PIR is going lower from here. There simply isn't enough evidence that the turnaround is progressing to pay 16 times earnings.
Disclosure: I/we have no positions in any stocks mentioned, but may initiate a short position in PIR over the next 72 hours.
I wrote this article myself, and it expresses my own opinions. I am not receiving compensation for it (other than from Seeking Alpha). I have no business relationship with any company whose stock is mentioned in this article.