Even those who are not avid investors have seen the developments in Valeant Pharmaceuticals International Inc. (NYSE:VRX), as it has been plastered across every newspaper for months now. Valeant is an interesting story. For people unfamiliar with the company's revenue model, it basically grows by acquiring other companies, or the rights to drugs it believes will be successful.
A year after the market crash in 2008, it began a meteoric rise, gaining over 1K% into 2015. But then something astonishing happened. The sketchy and unethical secret life of CEO Michael Pearson started to unravel and become public. The business model also started to show its weaknesses as many drugs failed expectations, or were purchased at close to its peak market cycle.
Valeant's market cap has fallen 87% from last summer and has lost $80 Billion in market cap. Trading at around $260 a share not even a year ago, the stock now trades at $33 a share. The selling pressure is relentless and the stock plummeted over 50% in one day on March 15. The fall was due to Valeant announcing that it reduced earnings and revenue projections, and said that its continuing inability to file its annual financial report could lead to default on $30 billion of debt because of covenants it has with lenders. To make matters worse, many big bondholders are calling for default, the balance sheet is a mess, and the company has come under attack from Andrew Left of Citron Research who is a famed short seller.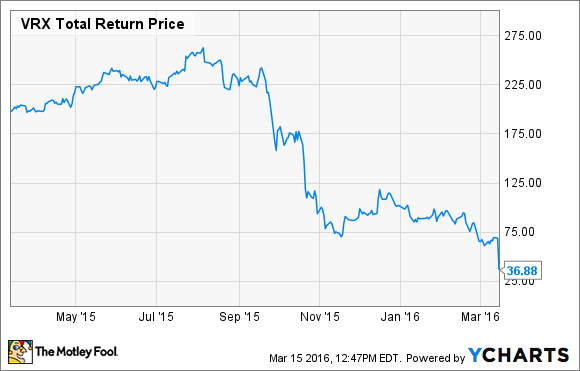 Forbes playfully described Valeant's financial statement as "financial-statement gymnastics" and that the "tone at the top of the organization bears too much resemblance to those of Enron, Tyco and WorldCom for comfort."
The situation gets more interesting as famed Hedge Fund Manager Bill Ackman of Pershing Square Capital Management (who owns the largest position in Valeant shares) has muscled his way onto the board, and kicked out the CEO, looking for a suitable replacement. However, it doesn't stop there. Jeffrey Ubben, CEO of the Hedge Fund ValueAct, has disagreed with Ackman over the direction of the company and it now looks as though things might get messy between the two.
But I have an idea for Bill and Jeff: force a potential merger with, or sale to Mallinckrodt PLC (NYSE:MNK).
Mallinckrodt is engaged in the specialty pharmaceuticals business, just like Valeant. It develops, manufactures, markets and distributes specialty pharmaceutical products and medical imaging agents. The company's Specialty Pharmaceuticals sector includes branded and generic drugs, and the Medical Imaging segment includes contrast media and nuclear imaging agents. Mallinckrodt Plc. is based in Dublin, Ireland. I think you know where I am going with this now.
The U.S. Corporate Tax Rate is 35%, one of the highest in the world. This is why many companies have opted for tax inversions to help relocate their headquarters abroad, adopting the [low] tax policies of their new host countries. One of the hottest areas to relocate has been Ireland, which has an extremely low 12.5% rate, making it very business friendly.
There have been many high profile tax inversions and attempts in the last few years. Medtronic (NYSE:MDT) bought Covidien and relocated to Dublin. Walgreens (now Walgreens Boots Alliance WBA) was thinking of moving its headquarters to extremely tax friendly Switzerland, which has a corporate tax rate of 8.5%, but ultimately decided against it, purportedly because it would have cost taxpayers billions of dollars.
The most recent and high profile attempted tax inversion was the mega-merger between Pfizer (NYSE:PFE) and Allergan (NYSE:AGN) which looked ready to go even with public outcry until the US Treasury Department created new rules which would make it harder to invert, leading the deal to be canceled. Although not an inversion, in a similar vein, Apple (NASDAQ:AAPL) holds around 200B in cash owned by Apple's subsidiaries in Knocknaheeny, a rundown northern suburb of Cork, Ireland, and has no plans of repatriating that money because of the huge taxes they would have to pay. That is a shame to me, especially as a shareholder.
Simple fix: lower the tax rate.
If we lowered the US tax rate to somewhere in the range of 20-25%, fewer companies would attempt to invert, more companies would be willing and happy to keep their headquarters in the US, and may even bring cash back to the US.
Pfizer tried to move its headquarters to London in 2014 with its attempted takeover of AstraZeneca plc (NYSE:AZN). Obviously, that didn't pan out for Pfizer. It seems Pfizer has had bad luck lately.
If certain candidates (wink, wink) named Hillary or Bernie are elected, they may raise the corporate tax rate because they think corporations are "too greedy," as Bernie Sanders just did today in reference to the Verizon (NYSE:VZ) strike. This may cause a race to the exits with companies doing whatever they can to relocate abroad. I'm totally opposed to this approach and believe that Trickle Down Economics is the best way to stimulate an economy. But I won't get into the politics of it here.
Mallinckrodt has taken a beating as well because of its similarity with Valeant. Mark Trudeau, the CEO of Mallinckrodt, has stated that Mallinckrodt is not Valeant. He claims they are a strong company, and has pointed to many key factors to explain why he believes his company is positioned for strong growth:
Net Sales up 20%
EPS up 17%
Solid balance sheet and strong FCF
Raised EPS guidance for the year
He frantically called into CNBC to defend the company after an interview between Melissa Lee and Andrew Left (the same short seller who put out a research note bashing Valeant) created some serious headlines (Left said that "Valeant Looks Like a Choirboy Next to Mallinckrodt"). This was the same kind of language that drove Valeant's shares to fall off a cliff. Some may find his remarks purely malicious; but many of his calls [e.g. Mobileye (NYSE:MBLY), Valeant, and Mallinckrodt), have been right.
You can watch the interview, or should I say sparring match, here.
I believe the merger of Mallinckrodt acquiring Valeant as it continues to become cheaper is a win-win-win-win. It's a win for the major hedge funds, a win for both companies merging, and a win for the shareholders. By merging, there will be cost synergies, they will expand their drug portfolio, will pay less in taxes by relocating its tax headquarters to Ireland, and increase revenue.
Mallinckrodt has boosted their share buyback to $350M, and their main drug Acthar has continued to grow in sales with potential uses for a wide variety of illnesses. The government has made it harder to invert, but it is still possible. In this situation, it might be worth both companies trying to test the new regulations.
Together I believe the new "Valeantckrodt" could become a formidable player in the specialty pharmaceutical arena as it combines similar business models, and Valeant gets the new CEO Ackman is looking for in the form of a new more stable company run by Mark Trudeau.
Disclosure: I am/we are long AAPL.
I wrote this article myself, and it expresses my own opinions. I am not receiving compensation for it. I have no business relationship with any company whose stock is mentioned in this article.
Additional disclosure: This is not a buy or sell recommendation for any of the stocks mentioned in the article.