This will probably be the most positive article we write on behalf of Sears Holdings (NYSE: SHLD). Unfortunately, it comes at the expense of the pensioners of Sears. The Pension Benefit Guaranty Corporation ("PBGC") entered into a five-year pension plan protection agreement with Sears. The idea was to create a security interest in the REMIC issued securities and the associated properties in the event that Sears went bankruptcy. The REMIC properties along with the interest in the KCD notes could be used to satisfy the pension liabilities of Sears' pension fund. On March 24, 2016, Sears filed the agreement with the PBGC which can be found here.
Exhibit 10.1 provides the details of the agreement between Sears and the PBGC. On page 26, the properties involved with the REMIC notes are listed within Exhibit 7. We are providing a copy of the properties below.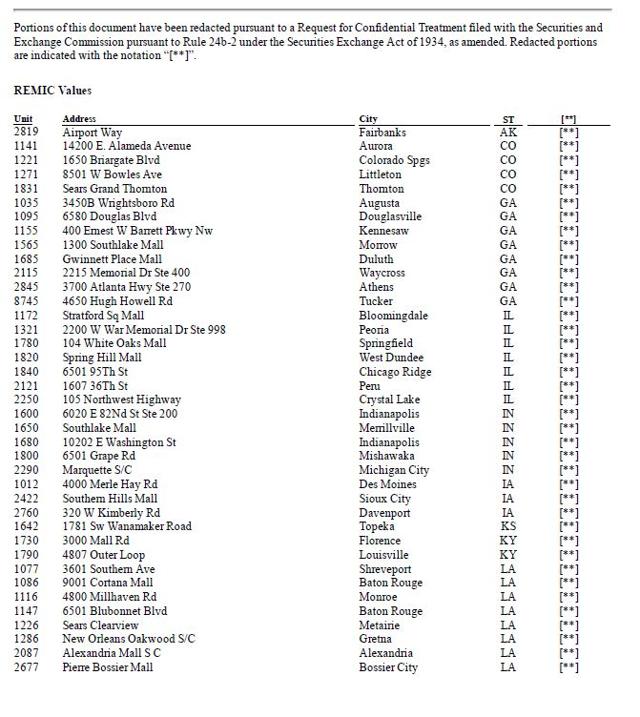 Click to enlarge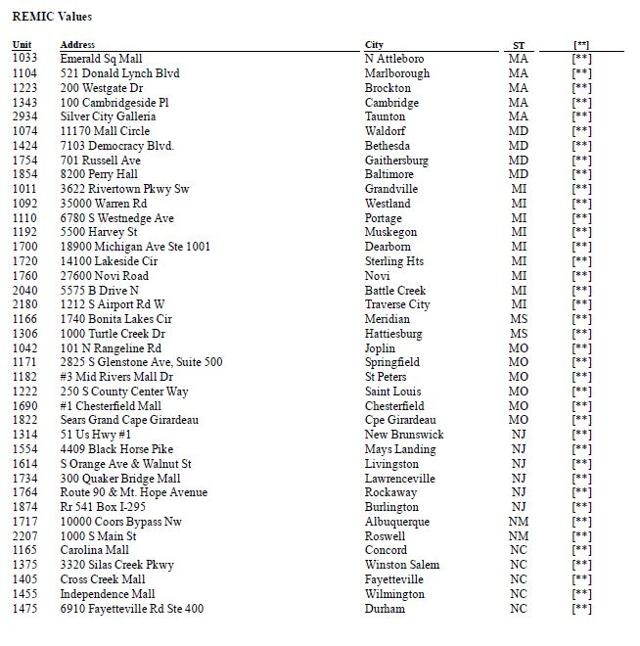 Click to enlarge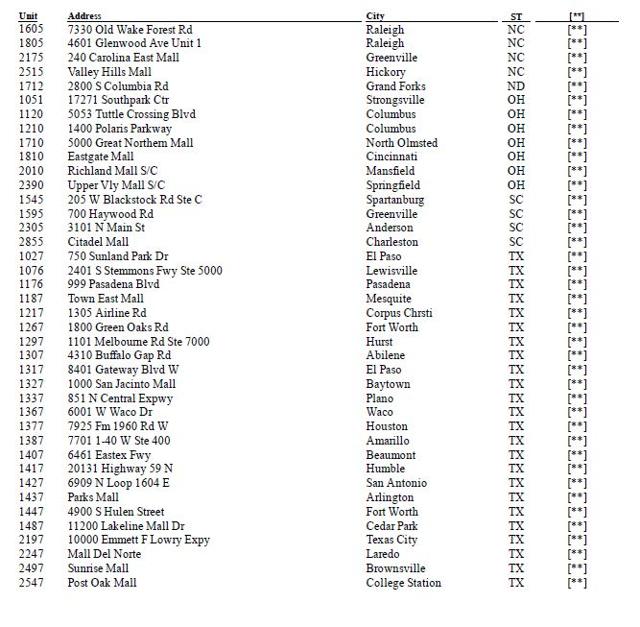 Click to enlarge

Click to enlargeAfter going through the list we were surprised at the lack of quality of properties connected to the REMIC notes. We also know that in 2003, Sears issued $1.3 billion of REMIC securities. Also, as of January 30, 2016, the net book value of the securitized real estate assets was approximately $600 million. The list contains 127 properties, none of which are located in California. Note that in the far right column Sears provides the value of each property, but the value is redacted.
Now we will walk you through some of the more interesting properties on the list.
Store #2115, Waycross, Georgia:
The location of the Sears store is provided in the chart above and reads 2215 Memorial Drive Suite 400. When you go to the Sears store locator website, you will not be able to find this location as this store appears to be a closed. In fact, the announcement of this store closing took place back in 2010. See this article. The building still appears to be available for rent. We have been unsuccessfully in finding any indication that anyone has moved into the location since Sears left. We don't know how much value Sears has placed on this location as it relates to the REMIC securities, but would you want to own an abandoned building that has sat empty for almost 6 years? It doesn't seem like it would be too valuable.
Store #8745, Tucker, Georgia:
The location of the Sears store is provided in the chart above and reads 4650 Hugh Howell Road. This appears to be another closed Sears location, as it doesn't show up on the Sears store locator. What is interesting about this location is that it doesn't even appear to be a Sears store. In fact, it is a Sears distribution center. When you search Google for 4650 Hugh Howell Road Tucker Georgia, you will see several advertisements from property firms offering to sell or lease this location. And you will see the following picture.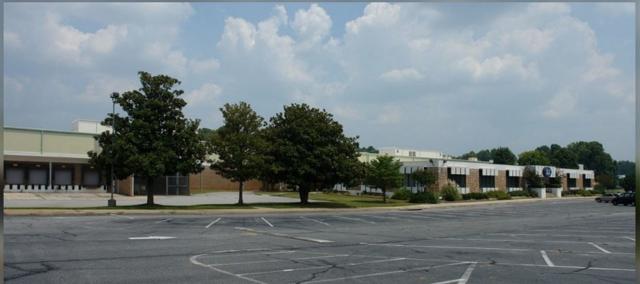 Click to enlarge
Per this Loopnet report Sears was asking $7.5 million for this location in 2011. But it hasn't sold. So again we ask how valuable is this location to the pensioners of Sears? Also of interest is the fact that Sears is attempting to sell or lease an additional location (or the actually store location) right next door to this location. That address is 4750 Hugh Howell Road. See this report. That location looks like following.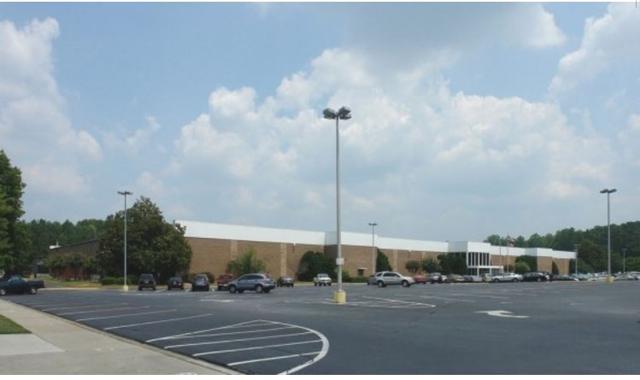 Click to enlarge
So, the pensioners have an industrial location competing for buyers and lessors right next door to an empty Sears location looking for buyers or lessors.
Store #1680, Indianapolis, Indiana:
The location of the Sears store is provided in the chart above and reads 10202 E. Washington Street. This appears to be yet another closed Sears location as it doesn't appear in the Store Locator. In appears, this location was closed in December 2014. Source. This location is located at the Washington Square Mall. According to this article this mall was owned by Simon Property Group until they turned it over to lenders who were owed $27 million. Simon's willingness to abandoned the property has to raise some concerns as to the value of this location.
Store # 2290, Michigan City, Indiana:
The location of the Sears store is not provided in the chart above, but we believe that the address is 3901 S. Franklin Street. This location is not a closed Sears store. This Sears is located at Marquette Mall whose owners appear to have been attempting to sell the mall for over a year for$11.5 million dollars. The article referenced above notes that JC Penny shuttered it store at the mall in July of 2015.
Store #1874, Burlington, New Jersey:
The address of the Sears location provided in the chart appears to be wrong and sends you to the Sears Auto Center. Sears' website shows the address as 2501 Mt. Holly Road.

This is the only address that points to a Sears Auto Center directly. It could be the correct address for the store location as well, but we aren't certain. Anyways, this isn't the reason we decided to include it in this article. But rather a look at Moonbeam Capital's website who is the owner of the Burlington Mall where this Sears is located shows a very vacant mall. Moonbeam is trying to revitalize the location, so that can be a good thing, but as this flyer shows, the majority of the mall is already empty. Thus, there is major competition for re-leasing any Sears space, should Sears decide to close this location.
Store #2197 Texas City, Texas:
The address for this Sears location is 10000 Emmett F. Lowry Expy. This location is attached the Mall of The Mainland. This location is interesting for several reasons. The mall was shut in 2014, leaving only the major tenants operating. In 2012, a bank attempted to sell the site and surrounding parcels of land for $15.4 million. See Wikipedia. Or see this Loopnet Advertisement. It should be noted that a local real estate developer is attempting to turn around the mall with new developments. So maybe this location is more of a work in progress.
Store #1337 Plano, Texas:
The address for this Sears location is 851 N. Central Expressway. This location is attached to the Collin Creek Mall. What is interesting is that Rouse Properties gave up ownership of the mall in 2015 in satisfaction of debt outstanding. The appraised value of the mall at the time was only $57.6 million. Source.
CBL Properties:
CBL & Associates Properties (NYSE: CBL) is a publicly traded REIT. After briefly reviewing each property we were able to determine that Sears locations at CBL owned malls represented the largest group of properties. CBL offers a unique way for us to look at the Sears properties because CBL provides a lot of information regarding the malls. CBL organizes the malls by tiers: Tier 1 are those malls whose sales per square feet are greater than or equal to $375, Tier 2 are those malls whose sales per square feet are between $300 and $375, Tier 3 are those malls whose sales per square feet are less than $300. From this we can organize the CBL properties into the following chart. We can see that the Sears locations are located primarily at malls that are categorized as Tier 2.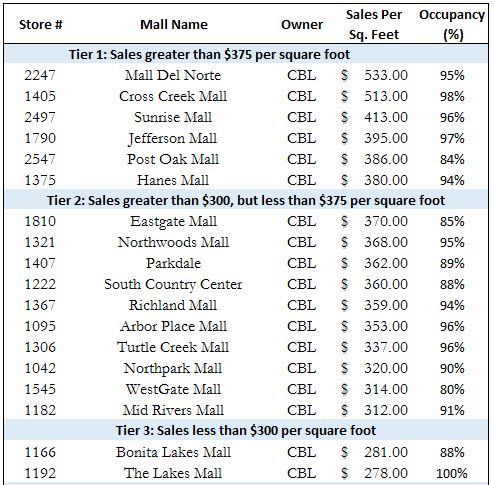 Next, CBL has one final category of malls which are called "Non-core/Lender Malls." On page 25 of the CBL's most recent 10-K we can see the definition of Non-core/Lender Malls which reads as follows,
Non-core Malls - Malls where we have determined that the current format of the Property no longer represents the best use of the Property and we are in the process of evaluating alternative strategies for the Property, which may include major redevelopment or an alternative retail or non-retail format, or after evaluating alternative strategies for the Property, we have determined that the Property no longer meets our criteria for long-term investment.
There are two Sears locations located at these Non-Core/Lender Malls.

It would seem that these locations would have limited value to the Sears pensioners as it appears these malls are in such bad shape that CBL isn't relying on them for future performance.
Finally, there are two mall locations that were apart of malls once owned by CBL. Store #1221 Chapel Hills Mall, and Store #2855 Citadel Mall. On page 65 of CBL's 10-K we can see that these malls were turned over to the lenders for debts outstanding. Again these locations appear to be in bad financial shape as to warrant an examination into the valuation assigned to them by Sears.
General Thoughts:
After reviewing the properties, it appears to us that majority of these properties are located at B and C malls. For example, Store #2760 is attached to the NorthPark Mall. The NorthPark Mall is owned by Macerich (NYSE: MAC) . The sales per sq. feet ($307.00) at this mall is the 3rd lowest sales per square feet in the entire Macerich portfolio.
Because the values of the properties are redacted we do not know how Sears is valuing these particular locations. We also do not know how much value in total is being assigned to the properties. Our goal was to highlight some of the stores with glaring issues about their potential valuations. It is hard to imagine that many of the stores listed above have any real significant value (not including some of the higher end CBL properties). We also believe that the PBGC has an obligation to the Sears pensioners to take a deeper look at the assigned values of these properties, along with the other properties securing the notes to ensure that they are sufficient to satisfy the claims of the pension fund should it become necessary to do so.
Disclosure: I/we have no positions in any stocks mentioned, and no plans to initiate any positions within the next 72 hours.
I wrote this article myself, and it expresses my own opinions. I am not receiving compensation for it (other than from Seeking Alpha). I have no business relationship with any company whose stock is mentioned in this article.