Granted, practically all of the gains came in Wednesday's rally, but with a gain of 1.1%, April is shaping up to be a pretty good month for equities. The first chart below shows the performance of all ten sectors so far this month. The majority of sectors are all up month to date now, with Energy (3.7%), Healthcare (3.2%), and Materials (2.4%) leading the way higher. Even Financials, which no one seemed to like heading into earnings season, are now outperforming the S&P 500. On the downside, what really stands out is the performance of the defensive sectors. As shown, Telecom Services (-3.4%), Utilities (-1.9%), and Consumer Staples (-0.1%) are all in the red for the month.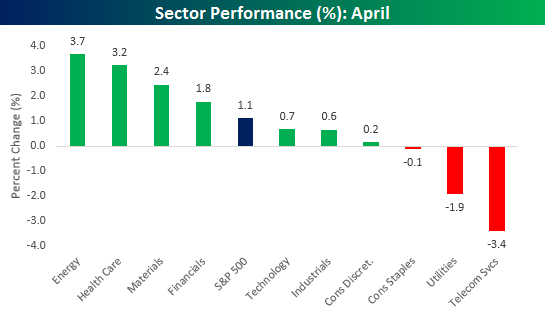 While defensives may be lagging this month, they are still outperforming the S&P 500 by a wide margin year to date. Below, we show sector performance so far in 2016. While Telecom Services and Utilities are the two worst performing sectors this month, with gains of 12.3% and 11.2%, respectively, they are still the top two performing sectors year to date!
Behind these two sectors, the next three best-performing sectors are Energy, Materials, and Industrials. Last December, you would have had a hard time finding anyone who would have expected these three sectors to outperform along with Utilities and Telecom Services. On the other end of the spectrum, the two worst performing sectors this year are Financials (-3.9%) and Healthcare (-2.9%) - two sectors that are actually outperforming on the month. So far in April, what was bad is good and what was good is bad.