By Parke Shall
This morning, J.P. Morgan came out and upgraded Chipotle (NYSE:CMG), stating that the company would be returning to normal growth in the year 2018. The report also stated that they expect same store sales to return to positive comps this quarter. We think this expectation is likely a result of the company handing out an enormous amount of free food in order to get people back into stores.
From Seeking Alpha:
JPMorgan upgrades Chipotle to an Overweight rating in what some are finding as a surprising move.

The investment firm sees Chipotle's Q1 performance as a bottom off of which sequential improvement will begin.

A return to "normalized" earnings growth by FY18 is anticipated.

JP raises its price target to $510 from $465, not a Street high but one of the few recent PT hikes.
The name of the game for CMG has been to get customers back into the store by any means possible. We have highlighted in past articles that the company is spending millions of dollars sending out free food coupons in order to try and entice people back in.
But the reality, we think, is that the fallout from the company's E. coli scandal continues. The company is still the butt of many jokes on late-night television and it certainly hasn't done enough to prove to potential investors that it deserves its current valuation.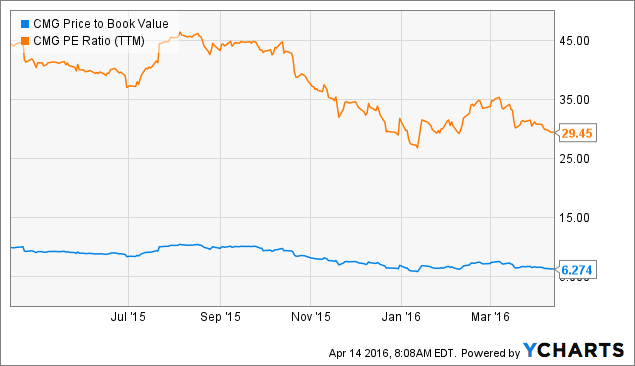 CMG Price to Book Value data by YCharts
Many investors, like ourselves, are waiting for traction in the financials and in the quarterly store metrics to improve before changing our skeptical stance on the company.
Most recently, CMG announced that it was going to be moving into hamburgers as well. We found the timing of this move to be suspect and we think that we now have a case of a company that may be spreading itself too thin because the CMG model may even be showing underlying signs of weakness; even without the effects of the E. coli scandal.
We wanted to come out today and make our case that we don't think investors should be buying on this morning's upgrade. There have been two recent events over the last couple of days that both refute the notion that CMG is BUY material here.
First, there is this FourSquare survey reported on by Bidness Etc.,
Social check-in site, Foursquare expects Chipotle Mexican Grill, Inc. to announce an abysmal 30% decline in same-store sales (SSS) year-over-year (YoY) for the first quarter of 2016. The results are scheduled to be announced on April 24.

The decline is the result of its recent food safety crisis, which has taken a toll on the company's sales. The negative response from customers in relation to the E. coli and norovirus outbreaks will be reflected in earnings, according to Foursquare CEO Jeff Glueck. The outbreaks started in the second half of 2015.

Based on the analysis of the foot traffic trend at 1900 of Chipotle's outlets in the US over the past 10 months, Foursquare expects for the decline to come in at "only" 23%. The difference between foot traffic and sales is likely to come from the free burritos coupons redeemed by customers. There was a surge in foot traffic, but sales, not so much.

In the report, Mr. Glueck wrote: "We believe the 23% decline in same store foot traffic is the more meaningful number that shareholders should focus on, rather than the 30% decline in sales. It shows that Chipotle is building trust back with customers, which is more important to its success long-term."
Second, there was a recent downgrade by Goldman Sachs at the beginning of the month.
The results of the survey tells us that it is not time to be confident heading into the company's latest earnings report. If the company is able to come out and surprise in their next earnings report, then that would be real finite data that we are interested in. But for now, this is a case of he said/she said when it comes to how the stores are returning to growth and in that case, we are more prone to simply just remain skeptical until we get some numbers we can sink our teeth into.
CMG's valuation puts it at a distinct disadvantage.
The fact that the company is still trading at 30x ttm earnings means that not only do we need to see a recovery from the company, which they have been incapable of showing us far, but we also need to assume that the market is going to hold up for the beta trade. The market is now once again reaching tops that it had hit in 2015, but underlying global economic data doesn't seem to be supportive of this move. We believe that, at best, the market will stay in a trading range for the rest of the year, but we also believe there is a chance that the market begins to correct once again. If you are buying CMG here, you are hoping that the company can grow and return to normalcy so much that it may be able to outperform a market that may be going sideways for the rest of the year.
Yesterday, it was also announced that activist investors want to get more involved in CMG. Reuters reported,
Chipotle Mexican Grill Inc shareholder CtW Investment Group on Wednesday urged investors not to re-elect two long-time board members, saying the chain's recent food safety crisis shows the company needs a board that is more independent and also more diverse in race and gender.

The move comes as the formerly fast-growing burrito chain works to win back consumers and mollify shareholders after a string of food-borne illness outbreaks last year hammered sales and erased roughly $6 billion in market value. The problem surfaced in late October.
It's interesting to try and find this as a positive, as most activist investors work to unlock value that is underused or hidden. We don't believe that CMG has any underlying value that hasn't been recognized by the market yet, and so we don't think this activist involvement is timed well, nor do we believed that it will be instrumental in creating efficiency for the company.
So much of the problem that the company has is a PR problem. Until CMG is able to get itself back into the headlines for positive developments, whether it is showing any type of strength in earnings or whether it is from new hires, we're not sure that public perception will be easily turned on the company.
We revert to the mean and remain skeptical on CMG into today's upgrade.
Disclosure: I/we have no positions in any stocks mentioned, but may initiate a short position in CMG over the next 72 hours.
I wrote this article myself, and it expresses my own opinions. I am not receiving compensation for it (other than from Seeking Alpha). I have no business relationship with any company whose stock is mentioned in this article.