U.S. Physical Therapy (NYSE:USPH) has a unique business model. It partners with physical therapists and offers them financing and support to create their own clinics as a startup. This partnership model enables ambitious PTs to have their own pratice sooner out of school, without the risk of financial ruin.
"We generally own a 1% general partnership interest and a 64% limited partnership interest," with the remaining equity split among the managing physical therapist(s). The company aims for profitability within 6-12 months.
Additionally, the company engages in buying clinics outright and then creating profit splitting arrangements with the therapists who run the actual clinic. It's quite a unique model, and enticing proposition for PT's looking to have their own clinic.
Growth has been stellar relative to the Russell 2k: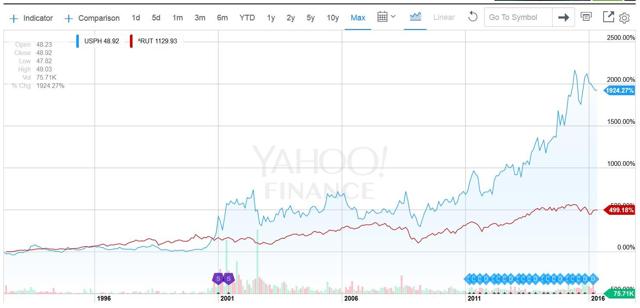 Disruptive Innovation
Businesses compete on the basis of how they are different and therefore better suited to meet the needs of their customers than their competitors. If two competitors share an identical business model, they must compete on secondary dimensions such as price or location advantages. Particularly for businesses constrained from competing on these secondary dimensions, it is desirable to have a unique business model.
An entrepreneur can conceive of a unique disruptive business model over the course of an evening. Business model innovation is thus relatively easy versus competing on secondary dimensions (such creating valuable intellectual property or physical assets). However, many businesses are reluctant to innovate their business model for fear of losing the profit center of the business. Such reluctance and "stickiness" of business models creates an opportunities for new entrants to disrupt existing competitors.
So What is A Disruptive Business Model?
We define a disruptive business model for the purposes of this article as: A novel method of transacting business, which delivers significantly higher levels of customer empowerment than industry standards by substantially deviating from an industry's traditional methods of creating and delivering, goods & services to customers.
Importantly, a disruptive business model may be executed on without proprietary systems or intellectual property. It is argued in this article that companies successfully executing disruptive business models are especially desirable targets for investment. Companies successfully executing disruptive business models achieve outsized cost leadership or differentiation within their respective industries.
Why Disruptive Business Models Matter
The "magic" of disruptive business models is that they can deliver greater customer empowerment without an increase in the production or R&D costs borne by the business. The execution of a disruptive business model could be likened to shuffling a deck of cards to achieve a better hand. The business takes what "cards" already exist in the market, and rearranges them for a better hand. Yet having a disruptive business model alone however no guarantee of success. It does however enable a company to change the playing field of competition, by sidestepping the competition which has a commodified business model.
Conclusions
U.S. Physical therapy's business model is novel in that it enables the company to attract some of the most ambitious and best PTs around for practice partnership. That in turn leads to higher quality of care and better patient satisfaction. The company is a true disrupter, and should fare well in the future as it has in the past.
Disclosure: I/we have no positions in any stocks mentioned, and no plans to initiate any positions within the next 72 hours.
I wrote this article myself, and it expresses my own opinions. I am not receiving compensation for it. I have no business relationship with any company whose stock is mentioned in this article.