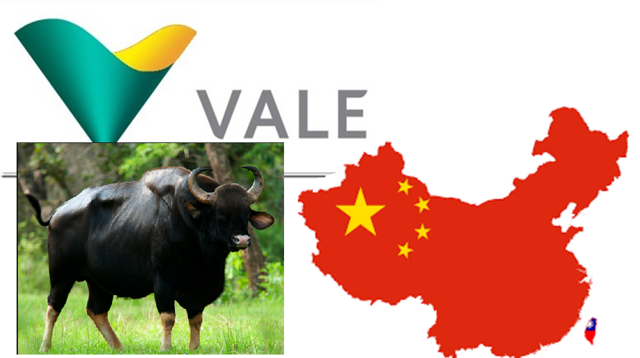 Click to enlarge
A strong iron ore price rally that took place over the last couple of months, initiated a significant growth of the major mining companies. Shares of BHP Billiton (NYSE:BHP) and Rio Tinto (NYSE:RIO) grew by 40%. Glencore (OTCPK:GLCNF) share price recorded 85% growth. But the real winner was Vale (NYSE:VALE). Vale share price was devastated and it reached multi-year lows just shy of the $2 level back in late January/early February, as the company had to face a lot of trouble related to the low metals prices, to the Samarco disaster and also to the Tubarao port operations. The lower the share price had fallen, the stronger it rebounded. Vale recorded a whopping 160% gain in less than three months.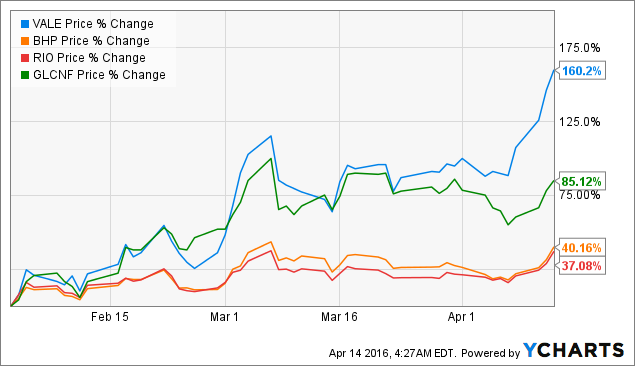 Thanks to the 160% growth (chart above), Vale eliminated a significant part of its 2015 losses. Its share price is 29% lower compared to the beginning of January 2015. As a result, it performed better than BHP (-30%), Rio Tinto (-37%) and Glencore (-51%) over the last 16 months (chart below).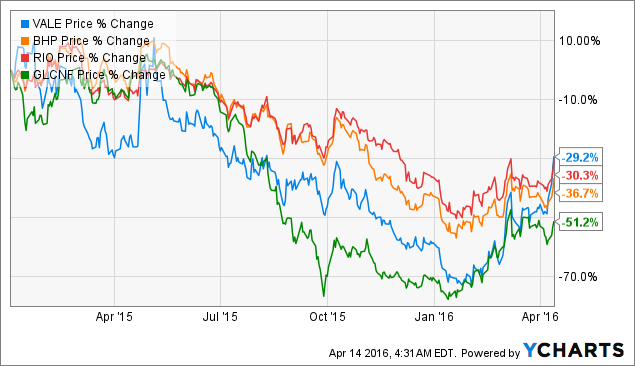 Vale share price grew rapidly and it is possible that a lot of investors who purchased Vale shares close to the bottom are tempted to realize their huge profits which may initiate some downward pressure. But it is not enough to initiate a dramatic sell-off. The overall ability of Vale to maintain its recent gains is almost fully dependent on further iron ore market development.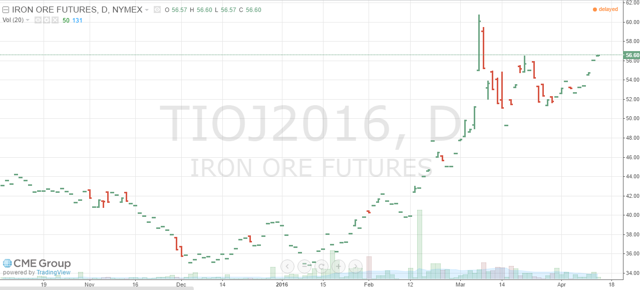 Click to enlarge
The furious increase of Vale share price was driven mainly by the iron ore price rebound (chart above). The iron ore price recovered by 38% since February 2. Taking into account the long term low of $34.87/t reached on January 12, iron ore price is up by 62%. Also copper and nickel prices increased slightly (table below) which supported Vale share price further.

Vale recorded revenues of $5.986 billion and adjusted EBITDA of $1.391 billion in Q4 2015. It produced 88 million tonnes of iron ore and the realized price was $44.6/t in Q4. Assuming that other variables remain unchanged, the iron ore production alone should add approximately $1 billion per quarter to revenues and EBITDA at current iron ore prices.
Although the recent iron ore bull run has been impressive, the outlook for iron ore price is questionable. For example the Australian government increased its 2016 iron ore price forecast by 9%, to $45/t. Although it is more compared to its former forecast of $41.3/t, it is still more than $10 below the current iron ore price. The BHP Billiton CEO expects that iron ore price will remain close to its recent lows for a prolonged period of time due to the iron ore market oversupply. According to McKinsey & Co, iron ore price should decline back to $45/t a trade in the $45-$50/t range for the rest of 2016.
The iron ore rally was supported by optimism regarding the state of the Chinese economy, as some signs of the real estate market recovery started to appear. China is responsible for approximately 50% of global iron ore consumption. It means that the Chinese Q1 GDP and other macroeconomic data that are about to be released tomorrow (Friday 15) should indicate a lot about the iron ore price development over the next weeks. It is expected that the annual rate of growth reached 6.7%, although Chinese prime minister indicated that the reported numbers will be better than expected. If it is true, the iron ore price should be able to maintain its recent gains which is a good news for Vale.
Conclusion
Vale share price increased by more than 160% in less than 3 months and a correction should be expected. The furious bull run has been supported mainly by the strong iron ore price rebound. If iron ore price doesn't decline from its current level, Vale share price should be able to hold above the $5 level. The near term development will depend on Chinese Q1 macroeconomic data that will be released tomorrow.
Disclosure: I/we have no positions in any stocks mentioned, and no plans to initiate any positions within the next 72 hours.
I wrote this article myself, and it expresses my own opinions. I am not receiving compensation for it (other than from Seeking Alpha). I have no business relationship with any company whose stock is mentioned in this article.
Editor's Note: This article discusses one or more securities that do not trade on a major U.S. exchange. Please be aware of the risks associated with these stocks.