In January I published an article "Philippines Conglomerate San Miguel a Strong Emerging Markets Play". Since then the stock price of San Miguel (OTCPK:SMGBY) has risen by over 50%.
In March I published a further article on the Philippines market, "Philippines Long Distance Telephone Company: Solid Dividend, Strong Emerging Markets Exposure Makes this one a Buy". Since then the stock price of PLDT (NYSE:PHI) fell somewhat on talk of changes in the local telecoms market. It has since recovered and paid out a dividend, with a yield of 9.9%.
These developments show both the benefit and the hazards of investing in Emerging Markets. For the active investor who has the time and the inclination to follow the market closely, such companies represent good investment opportunities.
As for Emerging Markets in general, 2016 saw big inflows from international equity investors. Concerning their future direction, every economist seems to be able to give you a different perspective on that. Federal Reserve policy, China's economy and the oil price are all key elements. However if you believe in Emerging Markets as an investment play, then I think the Philippines is a much sounder bet than the much analyzed markets of Russia and Brazil with their extreme political risk profiles.
The Philippines Economy
My March article summarized the benefits of investing in the Philippines. The Asian Development Bank (ADB) and the IMF both forecast growth of over 6% in GDP for 2016. This would be one of the highest in Asia, or anywhere in the world. In fact 6% has been the average growth in the economy during the 6 years of the current government of Benigno Aquino. During this time foreign investment has more than tripled.
There are various bullish factors. The coming general election leads to increased domestic spending though some political uncertainty of course. Business out-sourcing, tourism and overseas workers' remittances remain strong, as does agribusiness. The country's major export is Electronics, which comprise 42.7% of all exports. These might be uncertain in 2016 dependent upon the economies of major trading partners China and Japan. The just released March trade figures from China are promising in this regard. A lower oil price strongly favors this energy import dependent economy.
A major risk for investors who think in USD is of course currency risk when investing in overseas companies. The chart below shows how the Philippine peso fared against the USD in 2015.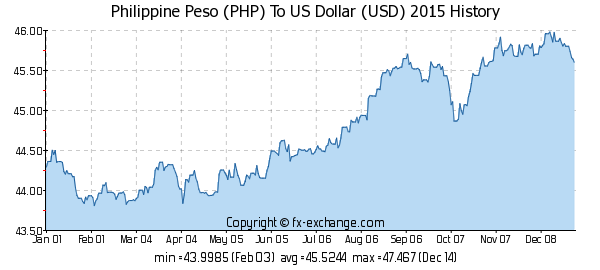 So the depreciation was not too radical, and better than most Emerging Markets in a year when the USD soared. This year it looks likely that the USD will be less strong against the peso, though predicting currency movements is an almost impossible task. Remittance inflows are set to remain strong. These should keep the current account in surplus in 2016-17 and underpin the currency.
San Miguel
San Miguel is the country's biggest industrial and manufacturing conglomerate and as such can be seen to be financially secure. Its market capitalization is only $3.9 billion (all dollar values in USD) which is low in comparison to its importance to the economy. Sales generated by San Miguel are equivalent to about 5% of the country's GDP. Yet its share price has been extremely volatile.
The graph below shows its 3 month price.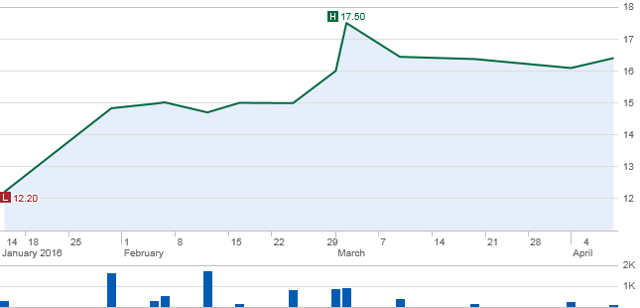 Click to enlarge
This is about the period since I recommended the stock in my January article. In the past 6 months the stock price has risen 53.7%. The price of $16.40 at the time of writing is close to its 52 week high which ranges between $9.45 and $17.50. It is well off historic highs though.
A look below at the 3-year stock price below shows a more daunting picture.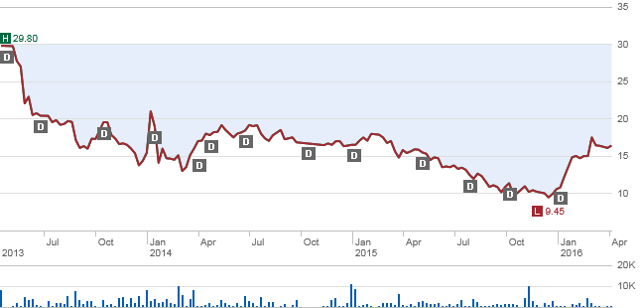 Click to enlarge
In fact, this is only less healthy at an initial glance. One's investment would have been almost halved over a three year period. That sets up future gains from a company in a healthy position and which is paying a 1.8% dividend. Historic highs could be tested within an 18 month time-frame for reasons I cite below.
San Miguel is not much covered by analysts, but Charles Schwab (NYSE:SCHW) ranks San Miguel as an "Outperform" (subscription required). Schwab is especially positive on the company's earnings quality, balance sheet valuation and price momentum.
My January article gave a lot of detail on San Miguel which I will not duplicate here. Since then the big news has been about earnings and about the company's much discussed joint venture plan with Telstra Corporation of Australia (OTCPK:TLSYY), which will not now go ahead.
However San Miguel still plan to go ahead with a new telecoms business to rival the country's current two operators, PLDT and Globe Telecom. Indeed, Globe Telecom (OTCPK:GTMEY) has stated that they would be interested in a joint venture themselves with San Miguel. No doubt they are casting envious eyes at the valuable spectrum frequency in the VSF700 MHz band for which San Miguel has the rights. Whatever happens on this spectrum and on San Miguel's plans, this asset can be seen as a source of unrealized value for the company which is perhaps not reflected in the stock price.
San Miguel's earnings announcement in March has been the biggest single factor in the surge in the share price. Details of the earnings for the full year 2015 is linked here.
The good news on earnings follows what has been somewhat of a helter-skelter ride as the graph below shows.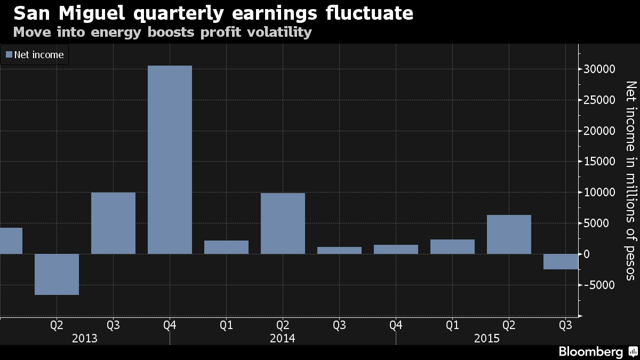 Click to enlarge
One can summarize 2015 earnings as follows:
Consolidated net income +26%
EBITDA earnings +23%
Operating Income +41%
Earnings were up strongly across the main divisions: that is, in F&B, Power, Packaging, Oil Refining and Industrial. The total consolidated sales revenue figure decline was due to the precipitous decline in crude oil prices, but in fact this led to high profitability in the refining business.
One reason San Miguel's share price has been negatively impacted in the past was due to its high debt load as it restructures and diversifies. This makes the company vulnerable to exchange rate fluctuations with dollar-denominated debt amounting to almost half of the company's liabilities. However this seems to be well under control. The company plans to raise 73 billion pesos ($1.6 billion) over 3 years through preferred shares. Its 30 billion pesos ($660 million) offering so far this year has been well oversubscribed. This money is going towards re-scheduling debts and also to fund new investments. The preferred shares are much in demand from some overseas investors for their attractive dividend pay-out.
One argument may be that the company is too well-diversified. Their original base was as a famous beer manufacturer. Now they are involved in mining, banking, oil refining, packaging, construction, utilities and are looking to expand into telecoms. There is some question whether they have the Management expertise to handle all this.
PLDT
PLDT is the country's biggest telecoms operator and as such should represent some stability, though things are not always what they seem in the Philippines. My March article gave quite detailed information on the company which I won't duplicate here.
The graph below shows the 3 month share price of PLDT.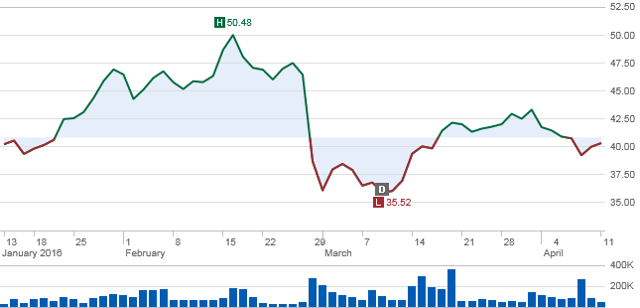 Click to enlarge
So the investor would have ended up in about the same place as 3 months ago, with a few ups and downs to endure in the meantime. However that investor would have received payment of the semi-annual dividend in that time, currently running at a 9.9% yield.
The share price of $40.74 at the time of writing is towards the bottom end of its 52 week range of $35.52 to $68.00. I do not think the intrinsic value or long-term prospects of the company justify this. Its forward P/E of 13.81 is very favorable for a telecoms company. Short interest is at a negligible 0.3%.
Q1 2016 results are expected to be announced on 3rd May. They may be the next active influence on the stock price.
The stock price took a hit on an unexpected announcement of losses in overseas investments, particularly in Germany. An investment in German company Rocket International led to a write-down from 19.7 billion pesos ($430 million) to a revised value of 14.6 billion pesos ($320 million). This led to the cancellation this year of the company's "special dividend." However there is still a very healthy dividend pay-out from PLDT and one with a consistent history, as the graph below illustrates.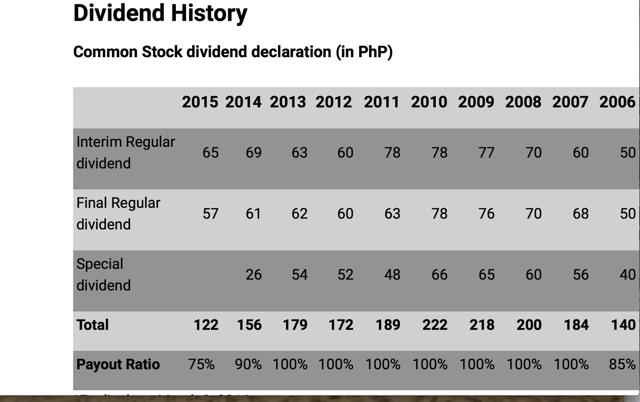 Click to enlarge
The news of the breakdown of talks between San Miguel and Telstra gave a boost to the PLDT stock price again. The company has been losing some mobile share to its more aggressive competitor Globe Telecom. Its share price was though still able to recover rapidly on a return to the status quo. This would indicate to me that the stock is currently quite fairly valued but with upside if the Management changes under way succeed in re-invigorating the company.
As with San Miguel, the 3 year chart looks less healthy.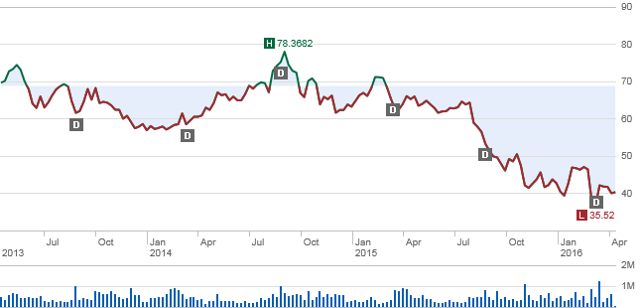 Click to enlarge
However as with San Miguel I see this as more an opportunity than a warning, on the basis that the worst is behind us in Emerging Markets.
Conclusion
In my opinion the Philippines economy remains an excellent investment opportunity. For the non-active investor this might be best done through an ETF such as the iShares MSCI Philippines (NYSEARCA:EPHE).
For the active investor, both San Miguel and PLDT look like good opportunities. This is especially true of San Miguel if one is looking for capital appreciation though a hands-on approach is required by the investor. For PLDT, the company is making a transition from a legacy business to a digital business which it states is a three-year process. This should lead to long-term capital appreciation while the investor meanwhile enjoys a high dividend yield.
Disclosure: I am/we are long SMGBY.
I wrote this article myself, and it expresses my own opinions. I am not receiving compensation for it (other than from Seeking Alpha). I have no business relationship with any company whose stock is mentioned in this article.
Editor's Note: This article discusses one or more securities that do not trade on a major U.S. exchange. Please be aware of the risks associated with these stocks.