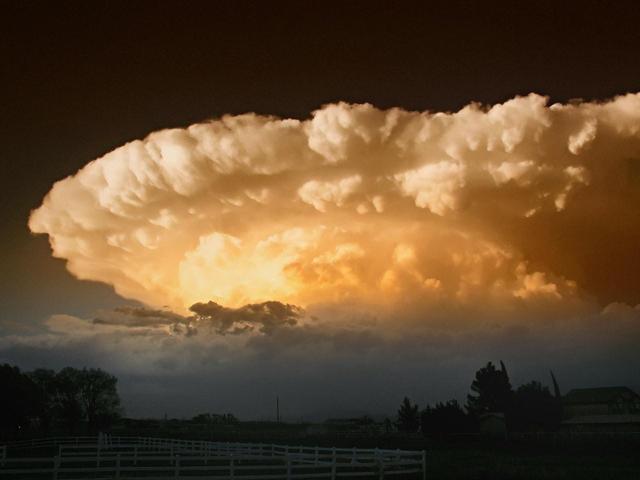 Gold prices dropped on Wednesday on a strengthening dollar. The greenback is not gaining yet on the big catalyst I have been looking toward, European economic softening, but rather on better economic news from China. Give Europe a chance though, as the eurozone outlook is seeing important downgrades since I issued my own warning. Eurozone decline plus China recovery would work in the dollar's favor in a big way, and that works against gold prices. It feels like a perfect storm is gathering over gold.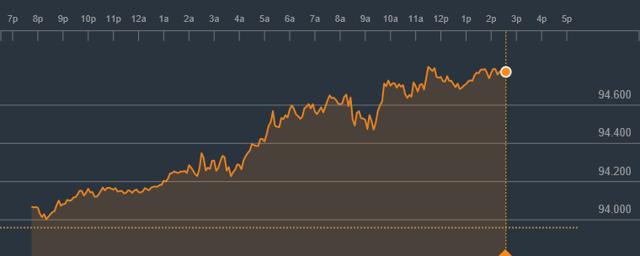 Click to enlarge
Day-Chart of Dollar Index at Bloomberg
The day-chart of the dollar index reflects a 0.9% surge through mid-afternoon trading. Gains in the dollar work against gold prices, and so the performance of gold futures was almost perfectly inverse, down 1.0% at the time we quoted the dollar index (2:27 PM EDT).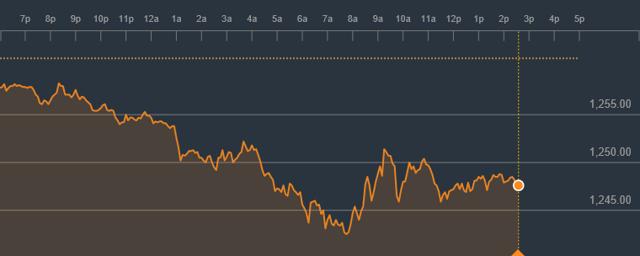 Click to enlarge
In my most recent report on gold, Gold's False Promise, I shared my view that economic deterioration in the eurozone, due to the costs of terrorism and the refugee crisis, would likely result in renewed relative weakness of the euro versus the U.S. dollar. I said that and the likelihood of a still intact Fed rate tightening trajectory would provide renewed strength to the dollar.
Importantly, the IMF agrees with me with regard to Europe. In its World Economic Outlook, published earlier this week, the IMF cut its global growth outlook by two-tenths of a point, to 3.2% for 2016. However, the adjustment to Europe was more severe, given its already anticipated lower rate of growth. The IMF cut the outlook for the 19 nations of the eurozone by two-tenths of a point to 1.5% growth this year. In my time following it, I have noted the IMF is rather reactionary and in my opinion often late and cautious in its forecasting. The IMF has to take that approach because of its influence and following. As an independent and unbiased party with less impact on financial markets, I can say the eurozone is vulnerable to recession this year and not cause damage by saying so - and that is what I am doing. The IMF also has not put the focus of economic pressure on the impact of terrorism and the refugee crisis as much as I have, but I anticipate it will come around to that as data softens, if I am correct.
As I have noted in the past, a weakening eurozone economy would be extremely distressing to European investment considering the great lengths the European Central Bank (ECB) has gone to in order to preserve it. It would likely cause a capitulation moment, leading capital swiftly out of the eurozone and severely impacting the relative value of the euro. The direct result of that is a stronger U.S. dollar given the strength I see returning to the U.S. economy as we get past spring data and as the U.S. Federal Reserve likely continues its trajectory for policy normalization. One might argue that if the dollar strengthens to new highs and concerns heighten dramatically around Europe, then the Fed might hold off. There's just one problem that complicates that argument, China, which appears to be turning a corner.
This week's trade data out of China showed its exports increased by 11.5% in March, year-to-year; it was the first increase in 9 months. Imports declined by 7.6% year-to-year, but there was an important exception. Imports of commodities improved, with copper imports marking a record monthly high. This could be a sign that domestic demand could be stabilizing, but probably also reflects the government's efforts to stabilize economic activity with public spending. In any event, the data combines with last week's PMI improvement that took the figure to near the breakeven mark between contraction and expansion for China. The end result of this positive apparent turn for China is very relative to the U.S., which is appropriately seen tied to China. It does not therefore result in dollar weakening, but strengthening of the greenback. It's relevance to gold, therefore, is inverse and negative for the precious metal.
| | |
| --- | --- |
| Precious Metal Securities | April 14 Early Indication |
| SPDR Gold Trust (NYSE: GLD) | -0.6% |
| iShares Gold Trust (NYSE: IAU) | -0.8% |
| iShares Silver Trust (NYSE: SLV) | -0.1% |
| Direxion Daily Gold Miners Bull 3X (NYSE: NUGT) | -0.6% |
| Direxion Daily Gold Miners Bearish 3X (NYSE: DUST) | +0.9% |
| Market Vectors Gold Miners (NYSE: GDX) | -0.3% |
| Market Vectors Junior Gold Miners (NYSE: GDXJ) | -0.4% |
| Goldcorp (NYSE: GG) | -0.5% |
| Newmont Mining (NYSE: NEM) | -0.7% |
| Randgold Resources (NASDAQ: GOLD) | -0.9% |
| Barrick Resources (NYSE: ABX) | -0.9% |
| Yamana Gold (NYSE: AUY) | -1.0% |
| Gold Fields Ltd. (NYSE: GFI) | +0.2% |
| Silver Wheaton (NYSE: SLW) | -0.6% |
| Coeur Mining (NYSE: CDE) | -0.8% |
After declining by 1.1% on Wednesday, the SPDR Gold Trust , which tracks the price of gold, was indicating another soft start to trade Thursday. That should continue as Europe comes under pressure and if China and the United States continue to stabilize and grow. It makes for a perfect storm against gold.
I often receive criticism in the comment section of reports when authoring articles reflecting expectations for downside for gold (or for any short perspective reports). I ask readers of these reports to not take it personally, as I am simply voicing my God's honest and independent opinion, and not meaning to threaten their long stakes in securities. Unfortunately, sometimes negative commentary is often impurely supported by faulty statements about my performance. The fact is that since first turning negative on gold on February 12 ($118.36 GLD close), the GLD is actually down fractionally based on its indicated open at approximately $118 on Thursday. And I also need to remind investors of my unbiased nature and willingness to take both long and short stakes based on my honest opinion. For instance, we booked 11.6% upside from my January 25 long gold recommendation to my February 12 turn to negative. Unfortunately, I cannot point to written evidence of my long favor of gold from the start of 2016 to February 12, which would tally a gain of approximately 17%, because I took a break from regular publishing at the start of the year. Still, investors should respect my independent nature, and understand that when I author negative views and take negative stakes in gold, it is to enhance and protect performance against my physical gold holdings that I maintain for the longer term for wealth protection and diversification purposes, like many of you. Periodic short stakes in securities can enhance performance, but may not be appropriate for unsophisticated investors. For those interested in independent, unbiased and honest opinions on gold and the factors influencing it, I welcome you to follow my financial column here at Seeking Alpha.
Disclosure: I/we have no positions in any stocks mentioned, and no plans to initiate any positions within the next 72 hours.
I wrote this article myself, and it expresses my own opinions. I am not receiving compensation for it (other than from Seeking Alpha). I have no business relationship with any company whose stock is mentioned in this article.