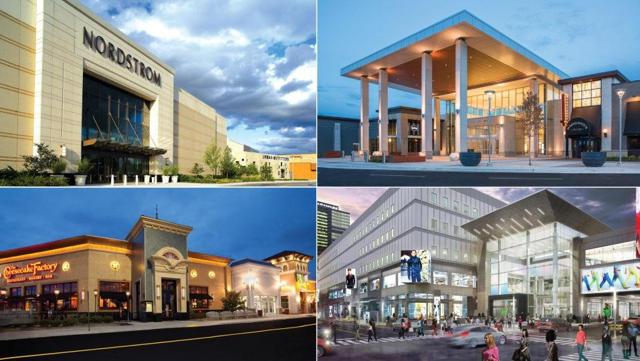 Click to enlargePennsylvania REIT (NYSE:PEI) is one of the older real estate investment trusts, or REITs, around. However, the mall REIT entered the 2007 to 2009 recession with a heavy debt load and too many lower-quality malls. That led to a dividend cut and a big corporate revamp. It's achieved a lot since that point, but there's still plenty to do from here.
SOLD!
Recent news from Pennsylvania REIT trumpeted yet another non-core asset sale. In late March it closed on the disposition of four malls for a little over $90 million. That completes a long process started in 2011 to get out from under its 13 worst performing assets. This is, in many ways, very good news as it shows that Pennsylvania REIT is making progress towards a key long-term goal.
And the impact is notable. For example, according to the company, in 2012 just 23% of its revenues came from malls with sales per square foot of more than $450. At the end of 2015 that number had increased to roughly 40%. A lot of that change relates back to a steep decline in the percentage of revenues from malls with average sales per square foot of less than $350.
To put some more numbers on that, the average sales per square foot of the 13 malls Pennsylvania REIT has jettisoned was about $267. The average rent was roughly half that of its core malls. And occupancy was 10 percentage points lower than in the REIT's core portfolio. This was definitely the right move. Better yet, the proceeds from the sales have helped the REIT lower its debt profile.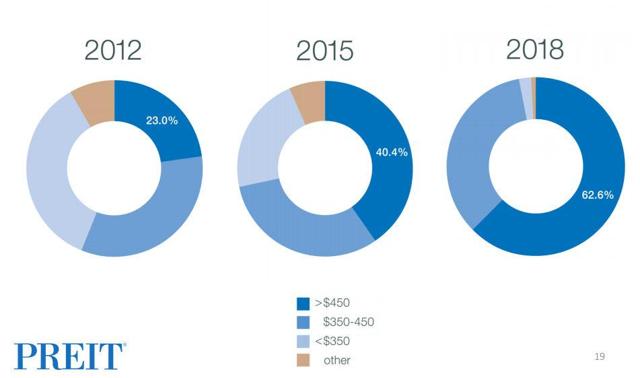 Click to enlarge
Without a doubt, Pennsylvania REIT is doing the right thing. But here's the rub, a high end mall can sell with a capitalization rate of around 4%. The four malls just sold in two separate transactions were at capitalization rates of 17% and 18%. This was, fairly obviously, a fire sale. That's great for the buyers, since it will give them breathing room to lower rents and spend on upgrades. But Pennsylvania REIT "paid" a high price to get rid of these assets.
This turnaround ain't over
While Pennsylvania REIT has been selling assets and strengthening its balance sheet, it's also been working to upgrade its core portfolio. That's another good move. But, even after all of this work, the core portfolio's average sales per square foot was only around $460. Compare that to Taubman Centers (NYSE:TCO), where the average sales per square foot was $800 last year. Simon Property Group (NYSE:SPG) and Macerich (NYSE:MAC) are both in the $600 range. And General Growth Properties (NYSE:GGP) is in the high $500s.
So it's pretty clear that Pennsylvania REIT is on the right track, but it still has room for improvement before you can put it up against some of the biggest and best run mall REITs. In some ways, Pennsylvania REIT is coming back from the abyss, so the progress it's made is impressive. But it's just not there yet.
Which makes it all the more interesting to look at the yields offered by the various mall REITs. Pennsylvania REIT's yield is roughly 3.75%. Taubman's yield is 3.4%, Macerich's is 3.4%, Simon's is 3.1%, and General Growth's is 2.6%. It' makes complete sense that Pennsylvania REIT's yield is higher than this quartet. But is the difference enough to justify the added risk of investing in a turnaround that's not done yet?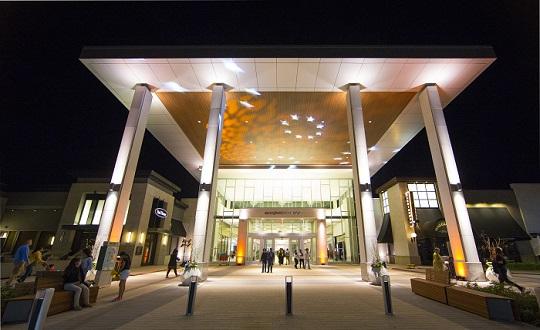 Essentially, the yield is 10% or so higher than two of the best run mall REITs, Taubman and Macerich. And while the yield spread between Pennsylvania REIT and mall giant Simon is more extreme, Taubman and Macerich both have smaller but higher performing portfolios. And General Growth, with the lowest yield of them all, is really another recession horror story, since the REIT took a trip through bankruptcy court at the end of the 2007 to 2009 recession. (Despite the pain of that move, it kind of helped to jump start a turnaround.)
In other words, the two REITs that I'd hold up as representing the gold standard can be had with just a slightly lower yield than Pennsylvania REIT, which is still working out of the ditch. That's not to diminish the work; what's been accomplished is impressive. It's just that there's been a very real cost to that work and there's still more to be done. A 10% yield discount isn't enough to justify taking on the history or the continued risk.
That said, I'd argue that the low yields in the mall space suggest that investors are pricing these assets a little too dearly overall, anyway. That's especially true in the face of increasing competition from online shopping. I don't think malls are going to go away, but I do believe that location and quality are going to become increasingly important for mall owners. Which is why Pennsylvania REIT is refocusing around top-tier malls. Taubman has been doing that from the start...
If you are looking for a mall REIT right now, I'd stick to higher-performing fare like Taubman and Macerich. That said, if you are looking for a good price, I'd step back from the mall space and watch for now. At some point a better buying opportunity will present itself. Maybe by that point, Pennsylvania REIT's turnaround will be further along and it will stack up better to the industry's leaders.
Disclosure: I/we have no positions in any stocks mentioned, and no plans to initiate any positions within the next 72 hours.
I wrote this article myself, and it expresses my own opinions. I am not receiving compensation for it (other than from Seeking Alpha). I have no business relationship with any company whose stock is mentioned in this article.