Platinum Group Metals, Ltd. (NYSEMKT:PLG)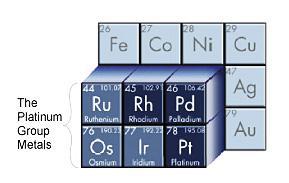 This article is an update of my previous article on Platinum Group Metal on January 19, 2016.
Note: WBJV Project 1 will be named the Maseve Mine.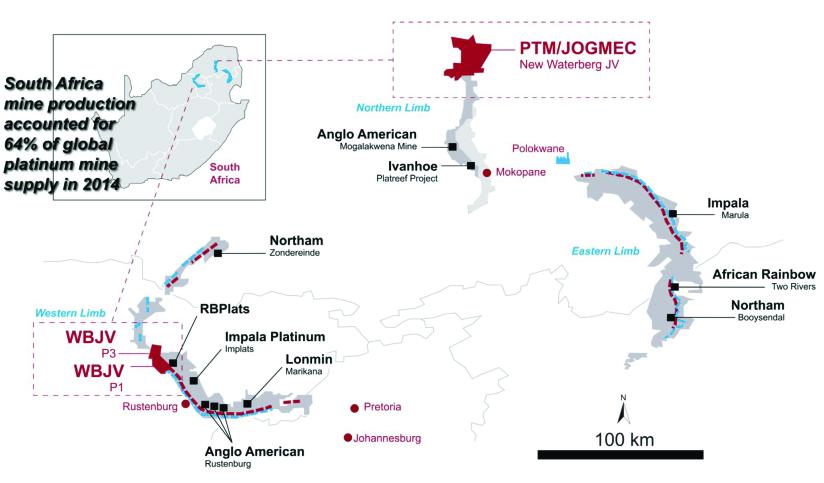 Platinum Group Metals released its Second-quarter 2016 results on April 12, 2016.
Recent Highlights

The Maseve Mine surface milling facility is now complete. Hot commissioning and final checks and testing of the mill were completed in February and March, 2016.
The Maseve Mine mill ran for 20 days during hot commissioning in February, 2016. A total of 66,231 tonnes of low grade development material were milled from which 1,049 4E ozs in concentrate were produced and shipped. Commissioning was smooth and mill recoveries and performance has been good.
Grade reconciliation from underground sampling to the deposit block model has been good. Underground development has accessed the Merensky Reef in more than 15 headings. Underground development is fully staffed and equipped but is behind schedule.
On March 17, 2016 the Company reported new high grade T zone drilling results from the Waterberg deposit including;

Hole WB195 - 13.91 g/t 3E over 11.87 meters (or 15.03 g/t 3E over 8.68 meters, from 898.32 meters to 907.00 meters).
Hole WB186 - 5.84 g/t 3E over 19.00 meters from 812.00 meters to 831.00 meters (this hole first announced December 4, 2015).
Hole WB200 - 5.92 g/t 3E over 7.56 meters from 938.44 meters to 946.00 meters.

On January 12, 2016 the Company announced an expanded diamond drilling program at Waterberg, located on the Northern Limb of the Bushveld Igneous Complex, South Africa, to delineate and upgrade shallow mineral resources. Pre-feasibility work at Waterberg continues at present.
On November 20, 2015 the Company announced the draw-down of both a $40 million Senior Secured Loan Facility from the Sprott Resource Lending Partnership and a $40 million Loan Facility from Liberty Metals & Mining Holdings, LLC, a subsidiary of Boston based Liberty Mutual Insurance and the Company's largest shareholder.
From the 6K filing on April 12, 2016.
February 29,2016
Reverse split 1:10 on January 28, 2016
November 31,2015
August 31,2015
Cash and Cash equivalent in $ million
48.248
-
80.784
39.082

Total current assets

in $ million

54.250
-
87.041
49.484

Total assets

in $ million

482.264
-
525.864
498.342

Total Liabilities

in $ million

88.943
-
92.557
24.996
Total shareholder' equity in $ million
393.321
-
433.307
473.346

Net LPS

in $ million

0.023
-
0.71
-

Loan Payable value - Carrying value

in $ million

76.762
-
74.643
-

Common shares outstanding basic and diluted

in million

77.5915
77.5915
775.915
768.943
Liquidity:

The Company reported a net loss of $2.5 million for the six months ended February 29, 2016 (six months ended February 28, 2015 - net loss of $1.1 million) and as at February 29, 2016 had working capital of $42.6 million (August 31, 2015 - $33.1). At February 29, 2016 the Company was indebted for a principal amount of $80 million pursuant to the Sprott Facility and the LMM Facility (both as defined below) to fund the development, construction and start-up working capital needs of its Maseve Mine.

Maseve Mine is behind Schedule:

The Company commenced production in February 2016 largely with low grade stockpile material to hot commission and balance the mill and flotation circuits. Milling in March of 2016 continued primarily with low grade stockpile material. Mill feed in April 2016 is scheduled to include a higher proportion of ore mined from planned mining blocks.

Development work in blocks 12, 11, 10 and 9 in the north mine and block 16 in the south mine are critical to the underground mining plans and ramp up profile of production for the Maseve Mine. Underground development at Maseve is behind schedule and Company engineers and third party specialists are working to improve development rates.

The volume of stoping material must increase in accordance with the mine plan to meet production ramp-up plans and covenants according to existing loan facilities. Continued performance behind the mine plan schedule, lower metal prices, delays in production ramp up or a stronger South African Rand could all result in requirements for further financing.
Commentary:
It seems that the 1Q'16 and the reverse split 1:10 that followed are distant memories almost forgotten, and yet, it happened a few months ago.
PLG traded at $0.11 when the reverse split took effect, and the price per share was below $1.10 just after the conversion.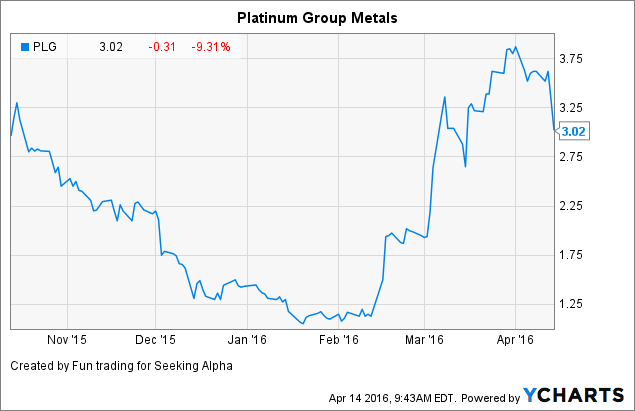 It is now around $2.88 - $3 down almost 10% today, after trading recently above $4 early April. I bought back in $2.89 this morning.
The Maseve mine has a very good potential and a rapid look at the reserve show why from PLG website -- Split in two segments the Merensky and the UG2, with a total of 4.117 M Oz Au Eq: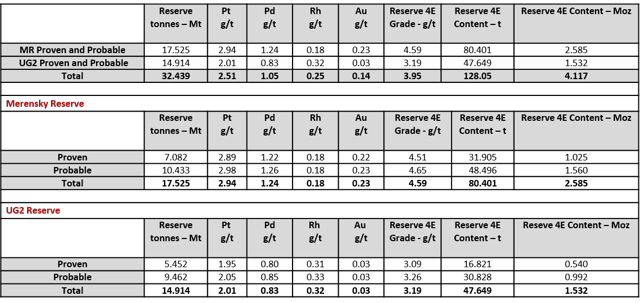 Click to enlarge
A few topics:
1 - As I said many times before, reserves are of a paramount importance. Yet, this is "metal in the ground" that can be only considered valuable, if the "extraction process" is done professionally -- on schedule according to plan -- and economically to allow a good profit after paying off the debt, labor and else.
The stock suffered a sell-off today, because the company indicated some delays in execution -- Read above -- which, if not mitigated soon, may force the company to seek again additional financing.
This is an immediate risk of dilution that cannot be brushed away, and a subject of disappointment for investors, I understand that, whereas, it is well within what we should have expected. The mine entered production phase and this is what counts.
2 - I believe the Maseve mine will do well in a few months, when the high-grade ore will be extracted and processed. Up until now, I do not think PLG will be forced to finance through additional financing if the mine get back to normal. If not, the company may need an extra $20 million? I do not see that as a big deal.
3 - However, if we look at the company long-term, one real positive seems evident to me, and makes a huge difference: It reside on the promising New Waterberg JV, next door.
The Waterberg Project represents a large system containing multiple, thick mineralized layers between 3 and 60 metres in thickness that will likely be amenable to low cost mechanized mining methods. The most recent resource estimate was published on July 22, 2015. The estimated Inferred Mineral Resource stands at 25.64 million ounces ("3E") of platinum, palladium and gold - 246 million tonnes grading 3.25 g/t 3E (0.98 g/t Pt, 2.11 g/t Pd, 0.16 g/t Au, 2.50 g/t cut-off). The estimated Indicated Resource stands at 12.61 million ounces ("3E") of platinum, palladium and gold - 121 million tonnes grading 3.24 g/t 3E (0.97g/t Pt, 2.11 g/t Pd, 0.16g/t Au, 2.5 g/t cut-off). The resource estimate includes the T1, T2 and F layers with the shallowest edge of the known deposit on the T2 layer at 130 meters below surface. The resource estimate has been cutoff at 1,250 meters vertical. The deposit is 13 kilometers long and remains open along strike to the north.
This is the reason why I see PLG as a good investment potential, not because of the quality of the Maseve mine -- which is undeniable -- but because of the potential of the new Waterberg JV.
3 - Platinum is heading upward technically -- golden cross -- and the long-term PLG value per share will mirror that upward trend, thereby, if the precious metal prices falter, PLG will follow the downturn of course.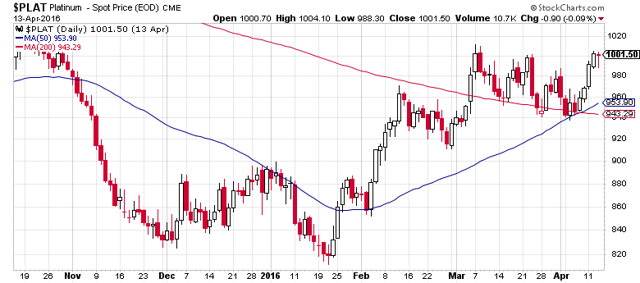 Click to enlarge
Conclusion:
I recommend to buy PLG on weakness under $3.
Disclosure: I am/we are long PLG.
I wrote this article myself, and it expresses my own opinions. I am not receiving compensation for it (other than from Seeking Alpha). I have no business relationship with any company whose stock is mentioned in this article.
Additional disclosure: Bought back today...