Introduction
The ongoing SunEdison (SUNE) saga continues with news of both a missed bond payment from earlier this month that could potentially trigger a default and an 8-K filing today notes that the independent council had found no "material misstatements in the Company's historical financial statements." However, the filing also criticized SunEdison's "overly optimistic culture and its tone at the top."

What matters right now for investors is whether or not SunEdison will file for Chapter 11 bankruptcy protection. This piece will examine the possible bullish and bearish scenarios that come next.
Bulls versus Bears
The first thing that needs to be kept in mind is what is going on with SunEdison's $725 million second-lien credit facility that it got back in January. As I've argued previously, a key provision requires SunEdison to release audited financials for 2015 by March 30 or technically be in default. But if SunEdison negotiated a 15-day extension on this provision, then it still has until tomorrow to file its 10-K or be in default.
But today's 8-K is very important because this is what SunEdison has claimed is holding up the release of its 10-K. Now that this internal audit is cleared, it goes to reason that SunEdison will finally release its much-anticipated 10-K.
However, bulls should keep in mind all of the many other lingering issues that remain outstanding. Yesterday's missed bond payment will trigger a default by May 1 if it remains unpaid. Then there is TerraForm Global's (NASDAQ:GLBL) 8-K from last month, which makes it appear that SunEdison is preparing to file for Chapter 11 bankruptcy protection. Then there was the resignation of former CFO Brian Wuebbels from all of his positions at Terraform Power (NASDAQ:TERP) and Terraform Global. Finally, SunEdison is still facing investigations from the U.S. Department of Justice and the U.S. Securities and Exchange Commission. All of this points to an extreme degree of turmoil and uncertainty.
On the other hand, a few funds did pick up shares in SunEdison during Q1 of this year.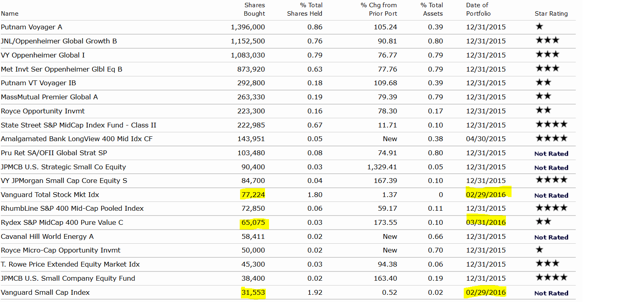 Click to enlarge
Source: Morningstar.com
Although the totals are low and several funds sold out of their positions, it does appear that some money managers believe SunEdison may still survive.
The best case scenario for bulls remains a restructuring of SunEdison's debt. If SunEdison is able to restructure its debt without filing for bankruptcy, then this will definitely lead to a short squeeze. Current trading today suggests that some short sellers are covering their positions, but these gains could easily be given back if SunEdison goes into default tomorrow.
Bears of course still anticipate that SunEdison will file for Chapter 11 bankruptcy protection. While this remains likely, the completion of this audit means that SuneEdison could release its 10-K at anytime.
Conclusion
The only thing certain with SunEdison remains its predictably unpredictable behavior. Although SunEdison has rebounded from its 52-week low of $0.20/share from earlier this month to around $0.62/share today, these gains could easily be pared back if SunEdison files for Chapter 11 bankruptcy protection. Investors should continue to tread carefully as extreme volatility will remain in the days ahead.
Disclosure: I am/we are long SUNE, GLBL.
I wrote this article myself, and it expresses my own opinions. I am not receiving compensation for it (other than from Seeking Alpha). I have no business relationship with any company whose stock is mentioned in this article.
Additional disclosure: I am long SUNE through call options. Positions may change at any time and investors are reminded to complete their own DD before investing.
Editor's Note: This article covers one or more stocks trading at less than $1 per share and/or with less than a $100 million market cap. Please be aware of the risks associated with these stocks.