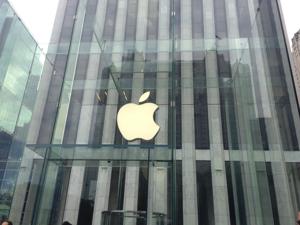 Three of the words I hear most in today's market are "Apple (NASDAQ:AAPL) is undervalued." Many investors cite cash flow or earnings multiples, comparisons to other tech giants, or even sky-high analyst price targets (seen below) as their reasons for saying this. But no matter how many people say the stock is undervalued, the key question remains, how can Apple get its multiple to increase and thus get its stock to a fairer value?

Some people are calling for the company to do something major. Some are calling for a massive dividend hike, which I personally don't believe makes sense in this market environment. While I'm sure a group of investors will like the extra cash, won't others just argue that the company is out of ideas? There are a number of old tech names that have been called dead money once they start paying out large dividends. Apple could easily go out and buy a Twitter (NYSE:TWTR) or Netflix (NASDAQ:NFLX) if it wants revenue growth, but then people will complain about margins and potentially overpaying. Perhaps we can find a solution that doesn't require tens of billions of dollars.
The key part of this could lie in Apple's latest product category, the Apple Watch. There are those out there calling the device a flop since the company won't disclose unit sales on a quarterly basis, despite the fact that Apple likely dominates the wearable industry in terms of revenue generation. As we get closer to the likely launch of a second edition Watch, management should certainly think about disclosing unit sales. If the iPod was still being broken out at just a few hundred million in quarterly revenues, why can't the Watch be detailed at that kind of level?
The overall solution goes beyond the Watch, however, and I'm talking about increasing transparency overall. Look at how the Street cheered Amazon (NASDAQ:AMZN) when it broke out AWS, or when Alphabet (NASDAQ:GOOG) (NASDAQ:GOOGL) started discussing its "other bets" in more detail. While Apple is more profitable and has better capital returns than those other tech giants, investors love the perception of growth.
In Apple's December ending fiscal Q1 period, the company reported more than $10.4 billion in revenues not coming directly from the iPad, iPhone, or Mac lines. While these revenues from the services and hardware categories only represented about 13.7% of the quarter's total, that's more revenues in a quarter than Netflix is projected to do in total this year! In certain quarters, Apple's services category does more revenues than other product lines such as the iPad.
Providing more detail in quarterly reports could also help to take the focus off of segments that perhaps are not doing as well. For the soon to be reported Q2, for example, it would be nice to see how Apple Music is generating hundreds of millions in quarterly revenues and showing strong subscriber growth. What about discussing the revenue growth of Apple Pay, a key phone feature that the company loves to market? When Netflix doesn't meet its top or bottom line expectations, the stock sometimes gets a pass as long as its subscribers grow nicely. With the iPhone and iPad currently struggling, Apple should use this opportunity to increase its discussion of areas that are doing exceptionally well.
In the end, increased transparency might be the best way for Apple to gain favor with investors and analysts, a solution that won't cost tens of billions of dollars. Everyone cheered the breakout of Amazon's AWS and Alphabet's other bets, so maybe Apple management could learn from those examples. Why not break out the Watch, Music, Apple Pay, or other items, especially ones that are growing at decent rates? Growth names in this market are getting above average multiples, so perhaps increased transparency is a way for Apple to increase its multiple.
Disclosure: I/we have no positions in any stocks mentioned, and no plans to initiate any positions within the next 72 hours.
I wrote this article myself, and it expresses my own opinions. I am not receiving compensation for it (other than from Seeking Alpha). I have no business relationship with any company whose stock is mentioned in this article.
Additional disclosure: Investors are always reminded that before making any investment, you should do your own proper due diligence on any name directly or indirectly mentioned in this article. Investors should also consider seeking advice from a broker or financial adviser before making any investment decisions. Any material in this article should be considered general information, and not relied on as a formal investment recommendation.